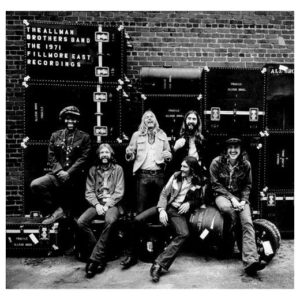 For many of us, a live album is the next best thing to being there. Throughout the years this has always been so. There are some great live albums, and some really, really bad ones too. Then there are the live albums that we have worn out several copies of: some of them on vinyl, then cassette, and even CDs.
You know the ones we mean: These are the ones that older brothers and sisters turned us on to. These are the ones that parents have made a point of turning their children on to. These are the ones that we grabbed up when we were put out in the street by our crazy ex-boyfriend/girlfriend/fill-in-the-blank.
This is our list. There are many like it, but this list is ours.
  At Fillmore East by The Allman Brothers Band  Capicorn Records, 1971
Often referred to as "one of the greatest live albums in history," this is the album that was the real breakthrough for the ABB. This is the one that put them on the map. The twin guitars of Dickey Betts, with Duane Allman on slide, along with the deep-pocket rhythm section of Jai Johanny Johanson and Butch Trucks on drums, and Berry Oakley on bass, was topped off with the perfectly interspersed voice of Gregg Allman's keyboards and his deep, gritty, up-from-the-depths-of-the-gravel-pit vocals.
What made this album all the more immediate and convincing was the fact that every player here was hungry. They were hungry to be heard, they were hungry to be honest, and to be better than what had come before. And they were. They knew that their best performances were live, on the road, and not in the studio. Was this rock? Was this jazz? Was this soul? Yes, it was! And indeed it was like nothing that had come before it.
2.   Sam Cooke Live at the Harlem Square Club, 1963   RCA Victor, 1985
Originally recorded in January, 1963 at the Harlem Square club in Miami, the music was held back for over 20 years by the label, who considered the music loud, and "too gritty and raw and possibly damaging to his pop image." The energy of this show just oozes all over listeners as they are just caught up in the frenzy, alternately dancing, shaking, crying, and in general, marveling at the raw, powerful performances they are swept up into.
3.   Live At Theresa's 1975 by Junior Wells  Delmark Records, 2006
Originally recorded on two separate dates in January, 1975 at Chicago's mythic blues mecca Theresa's Lounge, these performances witness Junior Wells at the pinnacle of his powers, the supreme preacher of the blues gospel preaching to his devoted flock. Although the album is gritty, and the band is rough around the edges here and there, this truly is one of the finest, most sincere live performances ever captured. Personnel included guitarists Phil Guy, and Byther Smith or Sammy Lawhorn. Rough as they are, they're still head and shoulders above most.
4.  At Newport 1960 by Muddy Waters  MCA/Chess 1960
Often referred to as one of the first live blues albums, At Newport 1960 brought the blues to a whole new, more expansive audience. With a band that included Waters on guitar, James Cotton on harmonica, and Otis Spann on piano, this historic set moved the audience and was extremely well received. Cub Koda in his writing for AllMusic noted that Waters "lays it down tough and cool with a set that literally had [the audience] dancing in the aisles by the set close."
At Newport 1960 was listed at number 348 on Rolling Stone's "500 Greatest Albums of All Time" in 2003, and listening to it, there's no doubt as to why. Artists still today hold up this album as a source of inspiration. And if the music isn't enough to make you smile, check out Muddy Waters' pre-Michael Jackson dance moves!
5.  Live in Cook County Jail by B.B. King  ABC/later MCA  1971 (LP)
Aside from being one of the greatest live albums ever, Live in Cook County Jail by B.B. King is as timeless and elegant as the music of Duke Ellington, recorded decades earlier.
Whether knee deep in a ballad like "Darlin' You Know I Love You," or the powerful "The Thrill Is Gone," King and company don't miss a step. King's guitar tone is to die for, and his vocals are full of passion. Any person that doesn't have this in their collection should be ashamed of themselves!
6.  In Session  Albert King with Stevie Ray Vaughan  Stax Records 1999
Recorded for a television show in Canada in December 1983, this masterpiece almost didn't happen. King was not going to do the show because he was not aware that Stevie Ray Vaughan was the same "little Stevie," the "skinny kid" that he'd let sit in when he'd played Texas. After realizing who Vaughan actually was, everything was copacetic.
The initial release featured Vaughan's "Pride and Joy," with the rest of the performances being Albert King's normal set material including his takes on classics like "Call It Stormy Monday," "Match Box Blues," and "Don't Lie To Me." The playing here is simply stunning. King was a bigger than life itself kind of guy, and yet, even he is impressed with what Vaughan's guitar has to say.
7.  Live at the Apollo (1963) by James Brown and the Famous Flames  King Records  1963
Here's another record that almost never saw the light of day. King Records believed that because the album (recorded at James Brown's own expense) contained no new material, it would not be a profitable release and balked. Eventually Brown and his manager Bud Hobgood convinced the label to release the album, and what-do-ya-know, it was a huge seller. The album lived 66 weeks on the Billboard Top Pop Albums chart, peaking at #2.
This is raw, very real, unbridled, explosive James Brown. He's on it, the band is all over it, the women in the audience are eating it up, and oh yeah, by-the-way, the music is great too.
8.  The Last Waltz by The Band    Warner Bros.  1978 (3 disc Soundtrack Album)
No one ever thinks about "goodbye" concerts without thinking of the The Last Waltz. That's because it is the goodbye concert for the ages. Recorded on Thanksgiving Day 1976 at the Winterland Arena in San Francisco and produced by Robbie Robertson, it was supposed to be a celebration of the last show by this, the original configuration of The Band.
The Band is joined by a multitude of guests including former bosses Ronnie Hawkins and Bob Dylan, Neil Young, Dr. John, Joni Mitchell, Muddy Waters, Eric Clapton, Van Morrison, Mavis Staples, Pops Staples, Emmylou Harris and more. The music here is timeless and etherial. This is everything a live album should be: inspiring and satisfying. One of the standards that all live albums have been measured by since its release.
9.  Rock 'n' Roll Animal by Lou Reed   RCA Records  1974
Recorded live at Howard Stein's Academy of Music in New York City, this album is an emotional roller coaster! The depths of addiction are explored in gut-wrenching detail on the Velvet Underground classic "Heroin," and the joys of rock on the radio are celebrated in the juggernaut that is "Rock 'n' Roll." The album also contains the classics "White Light/White Heat," "Sweet Jane," and of course, "Lady Day."
What sets this album apart from many of its day is the brilliant guitar work of Steve Hunter and Dick Wagner, and the insanely in-the-pocket rhythm machine of drummer Pentti "Whitey" Glan and Prakash John on bass, all colored with the keyboard art of Ray Colcord. This is the release of pent-up, unrequited adoration of rock and roll with punk underpinnings that had previously not been expressed with such substantial, orgasmic, exhausting, convincing authority, and command of the medium. This is music without a net, and it is every inch of glorious!
10.  Stop Making Sense by Talking Heads  Sire/Warner Bros. 1984
The Talking Heads are definitely not your mommy and daddy's rock band. They weaved elements of "world music," jazz, soul, punk, and rock together seamlessly. The core band of David Byrne, Tina Weymouth, Chris Franz, and Jerry Harrison is supplemented here by brilliant musicians including Bernie Worrell of Parliament-Funkadelic fame. The album is a soundtrack of the film of the same name.
A testament to the universal pleasure this album brought to listeners is the fact that it lived on the Billboard 200 chart for 118 weeks. The quality of the musicianship here is without question and there is hardly a song on this record that we don't find ourselves singing along to and either dancing around the room, or doing the Wayne's World head-bob to as we head down the highway with the volume turned to that magical "11."