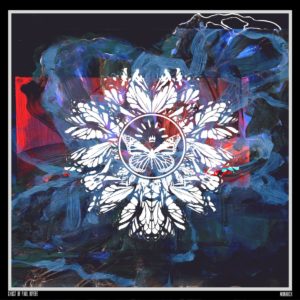 The thing about The Ghost of Paul Revere that impresses most is the way they add portions of gospel, folk, bluegrass, roots, and Americana to their sonic stew, stir, and then serve it up to audiences with conviction and a whole lot of love. Not too shabby for folks that "grew up listening to Radiohead and the Beatles and Led Zeppelin and Pink Floyd" according to the group's singer and guitarist, Griffin Sherry.
On their Facebook page, they refer to their music as "holler-folk" as it recalls and tips the hat to the tradition of field hollers. Initially called "rowdy pickers from the north" and based in Portland, Maine, the group has a unique looking glass they view their world through. Being where there is so much beauty to take in, whether it's the crisp autumn air, the timelessness of the sea, a smorgasbord of musical genres to enjoy, or the lighthouses and mansions, everything contributes to the strength and beauty of their music.
Monarch is the group's second album. They issued their full-length debut, Believe in 2014, and an EP, Field Notes Vol. 1 in 2015. This outing they wanted to try something different, as Sherry explains, "We approached this one differently. It was the first time we did a lot of arranging and writing in the studio. We decided we'd worry about learning how to present the songs live after we'd recorded everything instead of the other way around." Sean McCarthy, the singer, and bassist adds, "It enabled us to get a lot more adventurous with our ideas. We wanted to do something new and explore where we could take the sound while still staying true to who we are."
As we listen to Monarch, we would agree that they have indeed been successful. This album is adventurous, daring even. The personnel here are Griffin Sherry on guitars and vocals, Sean McCarthy on bass and vocals, Max Davis on banjo, and special guest Tony McNaboe on drums. The sparse production and excellent sound quality insist these songs burst forth spreading their infectious energy as they unfurl.
These performances are sonic works of art, each a snapshot with something to say. There is exuberance throughout whether it is joyful and boisterous as on "Little Bird," or more subdued but none the less potent, as on "Next Year." The harmonies the group achieves are layered, full, and resonant. We especially enjoyed "Wild Child," with its striking lead vocal and harmonies, and also those same exquisite harmonies set against the electric guitar back drop in "King's Road." The instruments and vocals come together perfectly on "Need Somebody," creating a mesmerizing sense of drama that seduces us effortlessly.
Aside from the remarkable music The Ghost of Paul Revere present us with on Monarch, these songs are the portrait of a journey of self-discovery. It begins with the excitement and unbridled enthusiasm of "Little Bird," and the abandon of "Wild Child," moves through the searching and self-assessment of "Need Somebody," and closes with the emergence of a new spirit in "Welcome Home."
The gift of Monarch lies in its honest simplicity. It appeals to the sunshine that lives in most of us and dares to try to brighten the grey skies that hold others hostage. It succeeds in lifting up all those it reaches out to.
Monarch by The Ghost of Paul Revere
Tracks: 11 (plus 2 bonus tracks)
Able Partners Group
Runtime: 41:00
Upcoming tour dates include:
Oct. 26 – Walter's Downtown – Houston, TX
Oct. 27 – The Rustic – Dallas, TX
Oct. 28 – Stubb's Jr. – Austin, TX
Oct. 31 – Eddie's Attic – Decatur, GA
Nov. 1 – Private Event – Atlanta, GA
Nov. 2 – Isis Music Hall – Asheville, NC
Nov. 3 – The Southern Cafe – Charlottesville, VA
Nov. 4 – Concerts in the Studios – Freehold, NJ