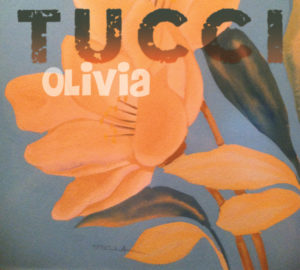 Florida is prime breeding ground for music. The influences that conjoin in the Sunshine State include blues, soul, funk, latin, R&B, jazz, and rock n roll. Rarely does one group integrate all those influences into their performance. Tucci is such a group, and their latest release on Hideaway Records, Olivia, is a prime example.
Formerly known as the Toler-Tucci Band, they've been a Florida festival circuit mainstay for years. "Dangerous" Dan Toler was the band's musical Sherpa. A veteran of the Allman Brothers Band, Gregg Allman Band, and Dickey Betts & Great Southern, Toler brought decades of experience, and a certain magic to the group. His death in 2013 left a gaping hole, that took much time to heal. Heal they did, bringing Arkansas blues powerhouse, Larry McCray into the mix on eight of the eleven original tracks.
Olivia begins with "High Roller." A true blues rocker with a tinge of latin zest, McCray's vocals and guitar kick the album straight into high gear with this one. The band itself is authoritative, and genuine. Made up primarily of Steve "Doc" Tucci (guitars and vocals); Michael Tucci (drums); Shawn Murphy (sax and vocals); and Harry DeBusk (bass and vocals), the group provides a substantial sound throughout the release. Additional friends appearing on Olivia include Donnie Richards (Hammond B-3), Ira Stanley (slide guitar) Dan Ryan (keyboards), Al Owen (vocals) and Bob Dielman (guitar).
The title track has Tucci on lead vocals. Though not having quite the vocal authority of McCray (but c'mon, who does?) he does a proper job in belting out this party style love song. The combination of B-3, horns, and Tucci's guitar heat it up nicely though. The organ solo on this one is top-notch.
"I Don't Need It," comes in with more flavor from the Islands, again with McCray in peak form. On the funky "Gimme Some Of Your Love," Murphy puts down a sweet sax solo followed by more of Ryan's keyboard mastery. On "Overtaxed Blues," it's McCray's guitar complimenting Tucci's vocals. A catchy blues tune with clever lyrics, it jumped right onto our favorites list.
There are a few cuts that display Toler's Allman influence. "Hey Florida" is the first of these. An upbeat, jam song with harmonizing guitars, it has a very familiar vibe. "Without You," has that atmosphere as well, in a slower, far more bluesy way. The album closer, "Third Eye," has that immediately recognizable ABB sound. Again, the harmonizing guitars, back-and-forth leads, rock-solid backbeat, and incredible B-3 sound make this twelve-minute jam worthy of a replay or three.
True blues come into play on "Train Blues," and "You Hurt Me." There is no debating the electrified BB King influence on "You Hurt Me" particularly. The barrelhouse piano solo is a sweet inclusion.
Toler himself makes a spectral appearance on "Play By the Rules." Hands down our favorite track on Olivia, it's an incredibly soulful tune. The addition of possibly the last recorded performance of "Dangerous" Dan, makes it all the more bittersweet. His guitar was recorded during the Doc's Hideaway sessions in 2012, prior to his death.
A valid, and well constructed album overall, Olivia may just be the vehicle that transports Tucci into the world-wide limelight.
Artist: Tucci
Title: Olivia
Label: Hideaway Records
Running Time: 1:00:58