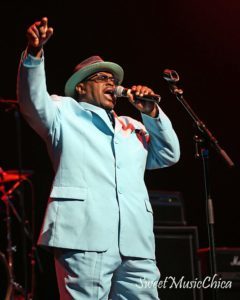 Editor's Note: Updated on 11.01.17 to reflect information regarding Funeral Services:
Services for Joseph Holman will be held on Tuesday, November 7th at Guy & Allen Funeral Home, 2959 W 11th Ave, Gary, IN 46404, (219) 949-6325. Viewing at 10 am, Funeral Service at 11 am.
The blues universe is a lot poorer with the passing of Tweed Funk frontman Joseph "Smokey" Holman following his tenacious struggle with cancer. He was 64 years old.
The blues community first learned that Holman was ill in April 2016 when Tweed Funk announced that Holman had been diagnosed with Multiple Myeloma and that he'd begun treatment with chemotherapy. Later, Holman would also receive a Stem Cell transplant and other medical therapy.
A brief post on Gregory Holman's Facebook page says:
My Brother JOSEPH "SMOKEY" HOLMAN passed away this morning (Oct 29,1017). The HOLMAN FAMILY will be notifying relatives and friends of arrangements.
Tweed Funk was formed in 2010 and since then the Milwaukee based horn-fueled, Memphis flavored soul infused band has released four charting albums and won multiple WAMIs including the 2017 WAMI Award for R&B/Soul Artist.
In our December 2016 interview with Holman he spoke of turning his life around after a dark period. "I got into some questionable things; drugs is what it was. I kinda looked at my life… You know how you can have something planned and you can actually see it materialize as you get closer to that goal? Well when I looked at my life, I didn't see anything but black. And I perceived it as, death. It kind of opened some doors for me though."
Eventually, through hard work on himself, and through music, Holman would not only find his way back, but he would blossom and thrive. He spoke of meeting J.D. Optekar, the guitarist in Tweed Funk saying, "I went to an open jam here [Milwaukee], about six or seven years ago, and I met JD. He came over to me and said, 'Where have you been?' I told him I'd been around. He said he had an idea for a project…" And so, Tweed Funk was born.
Holman was elated and loved what he was doing with Tweed Funk telling us, "Great bunch of guys that I'm with!"
As he became ill and battled back, he was grateful for all the efforts people were making for him and on his behalf, such as a fundraiser to help with bills and medical expenses. "That was overwhelming. I didn't realize that so many people cared about me."
A post on the Tweed Funk Facebook reads:
It is with great sadness that we announce the passing of Joseph "Smokey" Holman. Smokey passed away at Methodist Hospital in Gary, IN as reported by his family. Smokey has been courageously battling multiple myeloma cancer for the past 1.5 years and we are shocked to learn of his passing. Our condolences to his family. Smokey was a 100% authentic friend, family member, and soul-blues man. Truly the real deal. Our hearts are breaking at the loss of this true friend and showman. Details to follow regarding the family's plans for his funeral service.
As we ended our conversation with Holman this past December, he left us with this thought for his fans:
Well, I'll tell you; sometimes life can throw you a curve. Take a swing. Who knows? You may hit a home run, but you got to stay in the game.