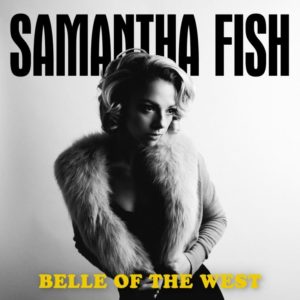 Samantha Fish has always been on the move. On top of an exhaustive tour schedule, Fish just released Belle of the West on the Ruf Records label. This is her sixth album release in eight years. Add to that her work with Cassie Taylor, Victoria Smith, and Dani Wilde (Girls With Guitars), and Jimmy Hall, Reese Wynans, Kate Moss, Danielle and Kris Schnebelen (The Healers), and you'll see a damned impressive resume.
Fish doesn't stay in one place sonically either. She's rounded the bases with blues rock, R&B, soul, rock n roll, and traditional blues in her repertoire. Belle of the West is Fish's second record release this year, and again, she shifts gears, drops the clutch, and leaves us in the wake of another genre-bending offering.
Produced by Luther Dickinson (North Mississippi Allstars), and recorded at his Zebra Ranch Studio, Belle of the West is a combination of country blues, and just plain country. Her distinctive voice shape-shifts to fit whatever breed of song she is tackling at the time. Her remarkable guitar skills can switch from uber electric rock to laid back acoustic balladry at the drop of dime, leaving us eight cents change. This time, it's more the laid back, creek side, under the stars vibe of the Mississippi hills that has us so entranced.
"You should always get outside of the box," Fish says. "Challenging yourself is how you grow."
Challenge herself she did, stepping, once again, into the deep South for a brilliant rendering. Fish also brought in a group of regional musicians that add even more legitimacy. From the very first cut, "American Dream," you can feel the vibe. Third generation fife player, Sharde Thomas (grandaughter of Othar Turner), adds her skills, keeping the fife and drum tradition of North Mississippi not just alive, but vibrant. Singer and multi-instrumentalist Lillie Mae Rische, brings not only her stellar fiddling skills, but provides feature vocals on "Nearing Home." Producer Dickinson also provides guitar and mandolin throughout the album.
Juke joint mainstay, Lightnin' Malcolm is present and featured on the 21st century upgrade of R.L. Burnside's "Poor Black Mattie." The call and response between Malcolm and Fish is the stuff of house party legend. Squirrel Nut Zippers alum, Jimbo Mathus plays Fender Rhodes, harmonica and sings. He also wrote the title track. Other guest artists include bassist Amy LaVere, and drummers Trina Raimey, and Tikyra "TK" Jackson of Southern Avenue fame.
From the haunting "Blood in the Water," to the lugubrious "Daughters," to the countrified "Don't Say You Love Me," Belle of the West runs the gamut. Our personal favorite from this record is the foot-stomping "Gone For Good." The final track on Belle of the West, it had us feeling the vibration of cypress floor boards, with Spanish moss swaying to the slide guitar.
We've said it before, and we'll say it again here. Belle of the West is, quite possibly, Fish's finest work to date. It's a return to the blues by an artist who refuses to be compartmentalized.
"I'm never gonna be a traditional blues artist, because that's not who I am," Fish asserts. "But it's all the blues for me. When Muddy Waters and Howlin' Wolf came out, what they were doing didn't sound like anything that had been done in blues before. You've gotta keep that kind of fire and spirit. I'm never gonna do Muddy Waters better than Muddy Waters, so I have to be who I am and find my best voice."
Samantha Fish has not only found it, she's gifted it to the world on Belle of the West.
Artist: Samantha Fish
Title: Belle of the West
Label: Ruf Records
Release Date: November 3rd, 2017
Running Time: 46:42