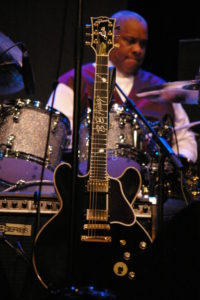 For over four decades, B.B. King and his beloved guitar Lucille traveled the world together. Why did B.B. King name his guitar Lucille? The story is as grand as the King of the Blues.
B.B. King explained his love for Lucille in his song "Lucille" on the 1968 album of the same name. He tells us, "I'm very crazy about Lucille. Lucille took me from the plantation; you might say, brought me fame."
King had many Lucilles, but his first was on a cold evening in 1949, while performing at a dance hall in Twist, Arkansas. In those days, the room was heated by a large barrel containing burning kerosene oil. When a fight broke out, the barrel was knocked over, and fire spread quickly.
Everyone ran to safety, but King ran back into the fire to retrieve his $30 Gibson guitar inside. He learned later the fight had been over a woman named Lucille, "and that's been Lucille ever since to me," said King.
Traditionally, B.B. King's lucille has been a Gibson ES-335, though he owned many variations.
Later, B.B. King partnered with Gibson to create a line of signature "Lucille" guitars — a modified Gibson ES-355. During his stellar career, Lucille was always at his side, and they made beautiful music together. King had said, "The minute I stop singing orally, I start to sing by playing Lucille."
In 2007 Guitar Player magazine quoted King saying, "Fenders, Gretsches, Silvertones; you name them, I've probably had one. When I found that Gibson with the long neck, that did it. That's like finding your wife forever."
For a brief time, King and his beloved Lucille were torn apart. Four years earlier on his 80th birthday, Gibson had gifted the King of the Blues a one of a kind, limited-edition Lucille as a gift. In 2009 the guitar was stolen.
Sometime later guitar collector and appraiser Eric Dahl came upon the guitar in a Las Vegas pawn shop, with only 'Prototype 1' on the headstock.
After researching and calling Gibson and others, no one could explain the stamp on the back of the headstock. Eventually, Gibson told Dahl that the guitar had been made for King for his birthday and had been his main guitar until it was stolen.
Dahl met with King to reunite the bluesman with Lucille. In turn, King signed and presented Dahl with an 80th Birthday Edition "Lucille" he'd had Gibson deliver to him that very morning.
For over 60 years King and Lucille were faithful to each other, together giving audiences songs that are now standards such as "The Thrill Is Gone," "Sweet Little Angel," and "Ghetto Woman." They also contributed to the music of more contemporary artists such as U2 on their live classic, "When Love Comes to Town," bringing their voices to new generations of fans.
Some would argue that Lucille is silent now, having been buried with B.B. King in Indianola, Mississippi. Others choose to believe her voice still sings as people listen to King caressing her strings every day, all over the world.