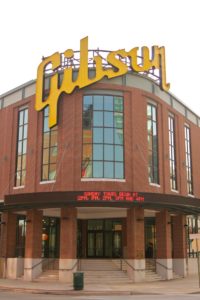 Memphis, TN — Famed guitar maker Gibson Brands Inc. will sell its facility here in the "Birthplace of Rock 'n Roll." The company is looking to find a smaller facility to eventually move into.
The facility located at 45 Lt. George W. Lee Ave has been Gibson's Memphis home for 18 years. For a mere $17 million you can be the proud owner of this 127,620 square foot behemoth. Fret not though because it also comes with a parking lot capable of accommodating 330 vehicles.
Gibson is hoping to stay in place for the coming 18 to 24 months while they assess the amount of space required for their new digs, and then begin to look for something suitable.
The Memphis facility offers tours and builds the iconic hollow-body and semi-hollow bodies Gibson is known for and made famous by players such as Eric Clapton, Chuck Berry, B.B. King, Warren Haynes, many others. The company builds their electric guitars at their Nashville facility, while their coveted acoustic guitars are built in Bozeman, Montana.
Company CEO Henry Juszkiewicz said in a statement:
We are extremely excited about this next phase of growth that we believe will benefit both our employees and the Memphis community. I remember when our property had abandoned buildings, and Beale Street was in decline. It is with great pride that I can see the development of this area with a basketball arena, hotels, and a resurgent pride in the musical heritage of the great city of Memphis.

We continue to love the Memphis community and hope to be a key contributor to its future when we move nearby to a more appropriate location for our manufacturing based business, allowing the world the benefit of our great American craftsmen.
Hopefully, this sale will help in Gibson's struggle with widely reported financial difficulties.