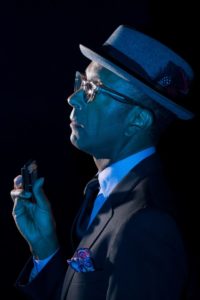 The Reverend Shawn Amos is on the verge of releasing his latest offering, The Reverend Shawn Amos Breaks It Down. It is scheduled for release on February 16th, on his own Put Together Music imprint. On this album Amos delves deeper into his production of "21st Century freedom songs." His blues repertoire gives way slightly to a more soulful sound, and The Reverend Shawn Amos Breaks It Down is, in a word, fabulous!
The incredible backstory of the 50-year-old Amos leaves no doubt as to why he sings the blues. However, like the blues, Amos' sound has evolved over time. Key points in his life have triggered changes in his style, his music, and his outlook on the world. The Reverend Shawn Amos Breaks It Down is no exception.
Beginning with the Gospel-flavored "Moved," Amos immediately sets the tone. A haunting piece it features just Amos on vocals and harmonica, with Chris "Doctor" Roberts on guitar. Recorded at the world famous FAME Studios, Sharlotte Gibson and Kenya Hathaway add some subtle, yet evocative backing vocals.
Muscle Shoals is not the only city in which recording took place. Tracks from The Reverend Shawn Amos Breaks It Down were also recorded at The Audio Labs, and Ocean Studios in Los Angeles, and the Clayborn Temple and Willie Mitchell's Royal Studios in Memphis.
A small army of uber talented artists back the tracks, including the surviving members of Al Green's 70s rhythm section, and a string section reminiscent of B.B. King's "The Thrill Is Gone," and Marvin Gaye's "What's Going On."
The second track, as well as the second released single, is "2017." This one became our choice for favorite track as it hits the nail on the head as far as combining the style of the 1960s protest songs with today's issues. "I've been listening to a lot of music from the Staples Singers, Freedom Singers, and other '60s blues, folk and gospel acts," Amos says. "Music meant to stir our conscience. We're living in similar times; We need songs to help us stand up."
"Hold Hands" follows the theme of fellowship and brotherhood. With a bit more rock n roll flair, the simple lyrics bear a powerful message. "Why can't we hold hands? Why can't we love one another like sisters and brothers? People why can't we hold hands?"
Track number four is the first of two cover songs. David Bowie's "The Jean Genie," gets a funky blues covering with Amos' voice a compelling whisper. The only other cover comes at us on track number nine. "(What's So Funny 'Bout) Peace, Love, and Understanding," was written by Nick Lowe, and has been covered by Curtis Stigers, Elvis Costello, Keb' Mo', Joe Louis Walker, and Steve Earle to name just a few. On Amos' version, we're treated to a churchy, harmony filled Gospel variant.
Three songs, smack dab in the middle of the album make up the "Freedom Suite." Rev. Amos goes a capella on the traditional "Uncle Tom's Prayer," recorded in the hallowed Clayborn Temple. On "Does My Life Matter," Amos voice takes on that whispering vocal that forced us to sit up and pay attention. Songwriting credits on "Does My Life Matter" are shared between Amos and Booker T. Washington. The final song of the suite is "(We've Got To) Come Together." This one is foot-stomping, hand clapping, catch the Holy Ghost, Gospel blues. Not only does it pick up the pace, but Amos' voice takes on a preaching shout, combined with his screaming harp. We'd attend this church anytime.
"Ain't Gonna Name Names" returns us to the 12-bar blues we know and love. It's a bluesy love song in the grand tradition, with stand-up bass (Hannah Dexter), resonator guitar (Producer James Saez), and a sexy horn section made up of Vikram Devasthali (trombone), and Joe Santa-Maria (baritone sax).
Just when we thought it was over, "Diggin' My Potatoes" crossed our speakers. This bonus tracks takes us right back to the beginning with Roberts' guitar, and Amos' voice, and harp on a simple, yet brawny closer.
If you're a lover of blues, soul, Gospel, or simply socially conscious, you're gonna want The Reverend Shawn Amos Breaks It Down.
Artist: The Rev. Shawn Amos
Title: The Reverend Shawn Amos Breaks It Down
Label: Put Together Music
Release Date: February 16th, 2018
Running Time: 33:51