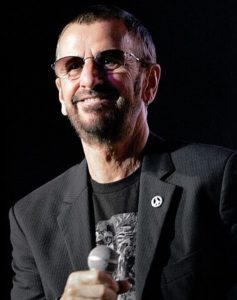 Former Beatles drummer Ringo Starr has been awarded a knighthood as part of Queen Elizabeth's annual New Year's Honours. The 77 year old Starr, whose real name is Richard Starkey follows in the footsteps of his former Beatles bandmate Sir Paul McCartney, who was himself knighted 1997.
Starr, along with the rest of the Beatles had been a recipient of the Member of the Most Excellent Order of the British Empire (MBE) in 1965.
Commenting on his knighthood Starr said "It's great! It's an honor and a pleasure to be considered and acknowledged for my music and my charity work, both of which I love. Peace and love."
Inducted into the Rock and Roll Hall of Fame as a member of the Beatles in 1988, he was again inducted into the Hall as a solo artist in 2015, receiving an Award for Musical Excellence.
Among the other honorees were surviving Bee Gees member Barry Gibb, who dedicated his awarded knighthood to his late brothers Robin and Maurice, and actor/musician Huge Laurie, who was named a Commander of the British Empire.
The honors list is published by the Cabinet Office and announced twice yearly: on the Queen's official birthday in June, and at the close of each year.
*Main image by Jean Fortunet