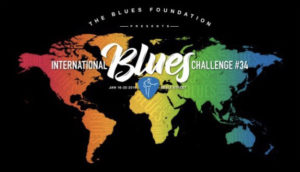 Memphis, TN – Once again, The International Blues Challenge (IBC) will officially open at the Clayborn Temple, where Dr. Martin Luther King spoke during the civil rights struggle of the 1960s. In the spirit of Dr. King's message, the blues is all-embracing and knows no boundaries of color, nationality, or gender.
And so, The Blues Foundation felt it a fitting place to begin the IBC as we welcome artists from around the world to perform on the night before The Challenge officially begins. The International Showcase will expand in a number of clubs on Beale Street beginning at 9 pm. Open to the Community – No Charge
Also Tuesday, January 16th, Tas Cru's 10th Annual Generation Blues Jam takes place at the Rum Boogie Cafe, kicking off at 8 pm. There's no cover with an IBC Pass and donations are encouraged.
To see what artists are performing at the Clayborn Temple and other venues, view and download this schedule.
This year's IBC features a plethora events taking place throughout Memphis in addition to the musical competition itself. Two special events of note include A Conversation and Book Signing with John Oates centered around his new book, Change of Seasons, and this year's Panel: Blues and Social Action, which will include Steven Van Zandt.
There are numerous musical showcases including the Women In Blues Showcase, the Blind Raccoon & Nola Blue Showcase, the Fernando Jones Blues Camp – Youth Workshop, and more.
Other events include Health Fairs and Screenings, Blues Networking for musicians, and daily 12 Step Meetings. For more information, check the daily schedule(s) here.
At IBC there are always opportunities for growth with an abundance of workshops. This year musicians can learn with Bob Margolin, Bob Corritore, Doug MacLeod, and more!
We hope to see you there. Watch this space for IBC news as it happens.