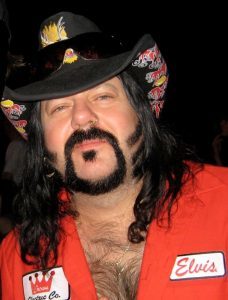 Drummer Vincent Paul Abbott, aka Vincent Paul, has passed away. Paul was 54 years old.   As of this writing, the cause of death has not been made public. A post on the official Pantera Facebook page reads:
Vincent Paul Abbott aka Vinnie Paul has passed away. Paul is best known for his work as the drummer in the bands Pantera and Hellyeah. No further details are available at this time. The family requests you please respect their privacy during this time.
Paul co-founded the pioneering metal band Pantera in 1981 with his late brother, Dimebag Darrell, known as Diamond Darrell at the time. The band would morph through several lineups and they broke out with the release of their fifth album, Cowboys From Hell in 1990. When Pantera dissolved due in large part to ongoing acrimony between the Abbott brothers and vocalist Philip Hansen Anselmo, the brothers formed Damageplan with Robert Kakaha on bass and Patrick Lachman on guitar.
Damageplan released their debut album New Found Power in February of 2004. In December 2004 while performing in Columbus, Ohio, Dimebag Darell was shot dead onstage by Nathan Gale. The group was disbanded soon after the shooting.
After grieving and taking time off for himself, Paul joined Hellyeah. The group has released five albums to date.
UPDATED June 27th, 2018 at 18:45:
The following has been posted on the Pantera Facebook page
VINCENT PAUL ABBOTT
March 11, 1964 – June 22, 2018
VINNIE PAUL
A PUBLIC CELEBRATION OF LIFE
This Sunday, July 1, 2018
3:33 PM
The Bomb Factory
2713 Canton St.
Deep Ellum, Dallas, TX 75226
LINE FOR WRISTBANDS BEGINS AT 
12 NOON ON SUNDAY.
THERE ARE NO ADVANCE TICKETS, LINES OR LISTS.
*Featured Image by Mjfelker