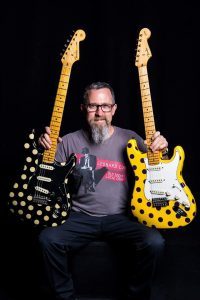 For the past two and a half years Chris Bynum has been living every guitar techs dream, working alongside blues guitar legend, Buddy Guy.
Born and raised in Texas, Bynum's love of music was ignited by an all-star New Year's Eve concert in Houston that saw Willie Nelson, Waylon Jennings, and Leon Russell take to the stage. Country music quickly became his go to, and it wasn't until he had left school and was working as a US coast guard that his love affair with the blues began.
"I was a US coast guard and when I got out I worked in the oil field offshore in the Gulf of Mexico. I had this boat captain I worked for and I would stand watch with him from midnight to 4am. This was in 1991 before the internet, so we'd be off shore and he'd have me with the radio trying to find an AM station. Every time it would come in and there wasn't loads of static if it wasn't blues, he'd make me change it and find something else.
"Then we had a cassette player and he would play Lightin' Hopkins, and Freddie King, so he was the first guy to teach me about what the blues was in an indirect way. I would work six weeks on a boat, then have three weeks off where I could do whatever I wanted, and during my time off I started going to blues jams around Houston and started meeting musicians. That's where I really became an enthusiast. I don't play, but I'm a good mechanic, and I can work on things and fix things."
By 1993, Bynum's enthusiasm for the blues had resulted in newfound friends, one of whom was Billy Gibbons' guitar tech. Despite having no experience working on guitars, he was offered to tag along on ZZ Top's "Antenna" tour to learn the ropes. Although the tour got delayed Bynum quit working on the boats, and landed his first official job as a guitar tech with a young band called Sunset Heights.
"I met this other band called Sunset Heights, with a guitar player called Vince Converse. I walked up and introduced myself, I said 'hey man, I'm going to be working for ZZ Top at some point, I don't know anything about working with a band, can I help you guys out?' and they were broke, and just starting out so they didn't know anything, and they said 'yeah sure, c'mon.'
"They'd just recorded their first record and so I went and followed them around and started helping them out. Vince taught me how to tune a guitar, and he used to break a lot of guitars, and tear them up, he'd slam them on the ground, and bang them on the stage, and sometimes he'd light them on fire, and we didn't have any money so my job was figuring out a way to put them back together. That's basically how I learnt to work on guitars."
After a stint with Sunset Heights, Bynum eventually started with ZZ Top in '94, where he spent nine months working before going on to manage the owner of his favorite guitar, Texas blues musician Tracy Conover.
"…I ended up managing Tracy, and I would never take it from her, but I think my favorite guitar that I've ever worked on, the one that I think has the most soul, is her 1958 Stratocaster. She taught me about the blues, guitar tone, what a guitar should sound like, and what amps should sound like. Everything I know about guitar tone I learnt from Tracy Conover.
"The story of her 1958 Stratocaster is a great one. There was a big guitar show in Dallas, Texas and she went up there in 1989 or 1990, and she sees Billy Gibbons from ZZ Top, and he's looking at this Stratocaster and someone had lit it on fire like Jimi Hendrix at Monterey.
"It's a sunburst Stratocaster, but the top is burnt, it's all blistered and bubbled where it had been lit on fire, but it's working, the pickups are in it. So, she was standing right behind Billy as he was looking at it, he was playing it, and I know Billy, he never pays full price for anything, and he never buys it right at that moment, he'll show you his interest, he's an incredible negotiator. So he was like 'yeah, maybe I'll buy it, let me go take a walk around and I'll see,' he really loved this guitar but he didn't want to pay full price, even though he's got a bazillion dollars, he likes to negotiate that's his thing. So when Billy walked away, Tracy walked right up to it, picked it up, asked how much the guy wanted for it, he gave her the price, and she pulled out the cash and said 'that's my guitar, I'm taking it.'
"It's was her number one guitar, and over the years she wore it down and wore it down, so it looks like Rory Gallagher's or Bonnie Raitt's guitars. That guitar is probably my favorite one that I've worked on, just because of the soul it has and the story…."
Working alongside Tracy and her 1958 Stratocaster equated to some of Bynum's most significant career opportunities, including his first big-time break working full time for Leonard Cohen. That came about during the recording of Conover's debut album.
"…Along the way, she was going to do an album and we had asked Roscoe Beck to produce it. Roscoe is a bass player from Austin, he's played with Robin Ford, Stevie Ray Vaughan, Eric Johnson, Leonard Cohen, and The Dixie Chicks, he has played with a ton of people. So while we were in the studio doing this record, we became friends, and Roscoe had started working for Leonard Cohen, putting a band together for his last tour.
"One night after the studio he was like 'hey, I'm doing a jazz gig, an upright gig in this place in Austin,' and he was having an issue with his back, so he wanted me to help him carry his upright bass down these stairs. I thought the least I could do was carry his bass for him. So, after work I bought the bass back to his house and he said, 'hey we really need another guitar tech to work for Leonard Cohen, are you interested?' and I was like 'yeah, absolutely, find me the details.' I got the details from the tour manager, and I started with Leonard just a few weeks later in rehearsals which were September 1st in 2008, the day after my birthday."
Bynum's meeting with Leonard was the start of a five-year world tour that ended in New Zealand in 2013, where the poet announced the end of his touring days. It was then that Bynum decided to take some time away from music, move out of Austin and help his brother with some work, a move that would unknowingly lead to Buddy Guy.
"During that time, I went and saw The Experience Hendrix Project. They came through town and I had a mutual friend Bill Webb who's one of the guitar techs, and I know Eric Johnson. So, I called them and said, 'Hey I'm sort of broke can you slip me in the back door and let me in,' and they said 'Yeah come on, we'll put you to work.' So, I ended up working that night, and helping out.
"A couple months later Bill called me and said, 'Buddy needs a new guitar tech,' and Buddy's manager Max lives real close to me in Nashville, so we met for coffee. Buddy, he's one of my heroes. When CDs first came out, the first two I ever bought were Dire Straits' Brothers in Arms, and Hoodoo Man which is Buddy and Junior Wells. When I found out what kind of touring schedule Buddy has, and all the details I was like 'Absolutely, I want to do this!' and I'm really glad I did. It's been a great job, a great almost two and a half years."
While the opportunity to work for his hero was an exciting one, Bynum's first encounter with the guitarist was very matter of fact but has blossomed into a "special" work relationship that now sees the pair exchange stories between shows.
"The very first time that I went to work for Buddy was in Chicago at The House of Blues. It was a private party, and I walk into his dressing room and he looks at me with his cognac in hand, and he goes 'You know, I'm gonna tell you what my daddy told me when I worked for him in the cotton field: Son, if you do something wrong I'm gonna tell you once,' and then he just ignored me and didn't say another word to me for a month. He wasn't mean or anything, he's just very direct which is all I could ask for in a boss.
"Now that we've been working together for a couple of years, we actually talk. He's a very easy-going guy to talk to when you get him alone. One morning we were at the airport and I was walking towards the gate trying to wake up, and Buddy just started talking. I asked him what he was going to do on his break and he said, 'I'm going to go to the grocery store, and I'm gonna buy me some beans, and put some in the slow cooker. I get up at 4:30 every morning and start cooking…' So he goes into this whole story about what he's going to do on his break, involving what kind of food he's going to cook.
"He's really nice now that he's gotten to know me. In the beginning, it was very direct and very businesslike, which is fine. I'd rather have that than have him throw a surprise at me and throw a fit if I didn't do something because I didn't know he wanted it done, but he was never like that. He's always been extremely nice to me and very much a gentleman. I've been so blessed and lucky to work with people like that."
It's no secret that what every blues master needs is a favored axe to help them get the job done right. With pleasantries exchanged and trust built Buddy advised Bynum that he was on the hunt for a "missing" guitar, a black and white polka dot custom shop Fender Stratocaster that would soon be found in a dodgy old case in the store room at Legends, and become his new number one.
"When I started with him he was playing his cream-colored guitar that Fender had made for him; it's custom made, it's got special pickups in it, they're called vintage noiseless pickups. He likes the neck a certain way, and the feel. The electronics are all wired a certain way. So, when I started working for him he was playing this guitar and the previous guitar tech said 'yeah, this is the one he likes.
"In the month of January, he just plays at his club Legends. We do 16 shows, and there's a storeroom where a lot of his guitars are stored. One night he was playing the blue and white polka dot guitar and the little button for the pickup selector switch popped off, and on a Strat it happens every once in a while: you'll hit it really hard and there it goes flying off. Sometimes you're lucky and find it on the stage and other times it's just gone. So that happened and we lost it but I knew there were a ton of guitars up there so I thought, 'I'm going to go find one.'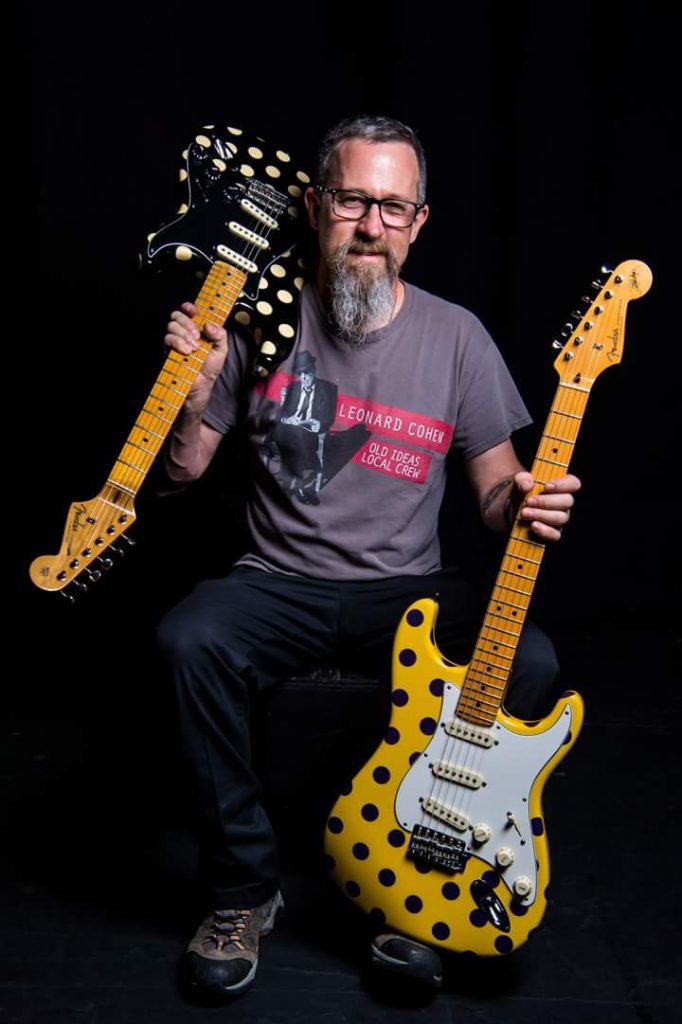 "I'm rooting through this store room with all these guitar cases: the club has hundreds of guitars hanging on the walls, all autographed by Tom Petty, BB King, Jeff Beck, Stevie Ray Vaughan, Jimmie Vaughan, The Rolling Stones… There are all these different guitar cases in there, and I knew some of them had guitars in them. I'm looking through and I see two really cheap guitar cases that you'd get at a music store, really thin ones they give you for cheap guitars, ones that you would never use to carry a good one. I thought 'I wonder what's in here,' because sometimes people give him guitars, I open it up and I go, 'Oh my God, that's the black and white polka dot Strat he told me about!'
"He said 'Man, if you ever find that guitar, I really like it but I don't know where it is! I don't know if it got stolen or what happened, it's missing. If you find that guitar Chris, let me know.' I was like 'Holy smokes, that's the guitar.' It was an American made one; it had his name on the back, it wasn't like a black and white polka dot one that Fender sells, a Buddy Guy signature one. I knew this was a custom shop American one.
"Then underneath it I found another one, which was yellow and purple, and those are the colours for Louisiana State University, LSU. Before Buddy moved to Chicago he worked at LSU as a groundskeeper, and that's how he made enough money to get the train to Chicago. Then when he got to Chicago, he worked for the University of Chicago doing the same job but making more money. That's when he told his mom 'Mom, I'm gonna come back, and I'm gonna make so much money working in University of Chicago that I'm gonna drive a polka dot Cadillac.'
"That's where the whole polka dot thing came up, and his mom never got to see him play because she had a stroke at an early age and died before she ever got to see him get famous, unfortunately. But that's where the polka dots came from, as a kind of tribute to his mother.
"So, the black and white one that I found that night: I plugged it in and it sounded terrible. Someone had messed with the pickups and the electronics, it was wired wrong and I didn't have time to fix it, it was literally about 45 minutes before a show, but I told Buddy about it. Then the yellow and purple one, the pickguard was missing and all the electronics out of it were either stolen or missing. I took both guitars back to Nashville and I had a friend of mine named Manuel Delgado put them back together.
"At the time Buddy was still playing the cream one but I had to go back to Chicago the next week and he was going to record a song for Christone 'Kingfish' Ingram, an 18-year-old blues player from Clarksdale, Mississippi, so I brought along the black and white polka dot guitar. He plugged it in, played it for about 30 seconds and said 'That's it! That's my new number one guitar!' He loved it.
"So, that's the one he's been playing. We saved the yellow and purple one for when we played New Orleans Jazz Fest, because all of the people in New Orleans are very loyal to the LSU Tiger football team, and so we knew all the fans would love that if he came out with a guitar with those colours on it. He still plays it occasionally, but that black and white one is the one he really likes. I don't even fuss with him anymore: if that's the one he likes then that's the one I give him. I mean he's Buddy Guy; am I going to tell him what guitar to play?! No."