Touring art shows of varied formats, materials, and styles have been around forever. It's a simple concept really. Gather a number of pieces representing a common theme that the artist(s) believe will excite, and inspire guests.
Every piece is a cauldron where experience, technique, love, and longing are mixed with… angst? Desire? Whimsy? Joy? As a whole, such an exhibit can leave visitors spent, yet still hold them enthralled.
Imagine if you will an exhibit that is a perfect embodiment of this adventure. Ocala, Florida is among a number of cities and towns that have not had to imagine; they have experienced this delightful and informative adventure for themselves.
From May 19th, the Appleton Museum of Art has played host to Medieval to Metal: The Art & Evolution Of The GUITAR, a touring exhibition of the National Guitar Museum. As I walked among the instruments on display one thought danced through my mind: Guitars were sexy even in the 1400's! Another observation is the sheer artistry and technique that goes into creating these instruments which are works of art in their own right before a single note has been played upon them.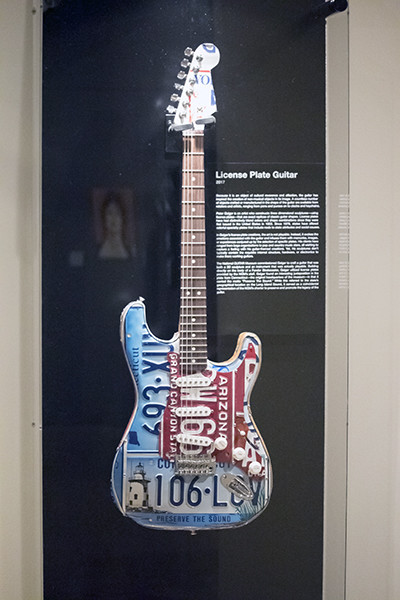 Established in 2009, the National GUITAR Museum is a touring museum in search of a "forever" home. It is the brainchild of former Guitar Magazine editor H.P. Newquist who gathered folks from diverse backgrounds in the music industry and eventually the museum was born. The impetus for this undertaking was basically the ribbing of a friend who joked that Newquist's home looked like a museum with all the guitars he'd collected.
The initial touring show, The Science of Sound, opened in 2011at the Orlando Science Center and has traveled to 17 museums and other locations across the country. This exhibit is booked well into 2020.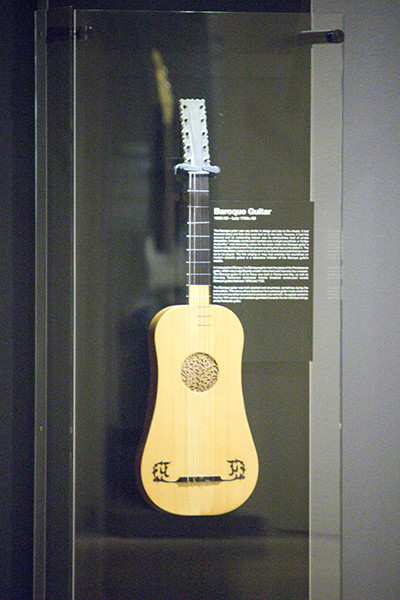 The National Guitar Museum Board of Advisors includes Steve Vai, Tony Iommi, Steve Howe, Joe Bonamassa, Ritchie Blackmore, and Liona Boyd. Johnny Winter also served on the board prior to his death in July of 2014. Curators include content specialist, musician, and forrmer Editor In Chief of Guitar Magazine Rich Maloof, and music journalist and guitarist Pete Prown.

As I walked among the instruments on display I was at once awed, captivated, and seduced by their mystique. Among the 40 instruments on display were the anticipated Fender Stratocasters and Telecasters, as well as Gibson Flying V's and of course a Martin acoustic guitar.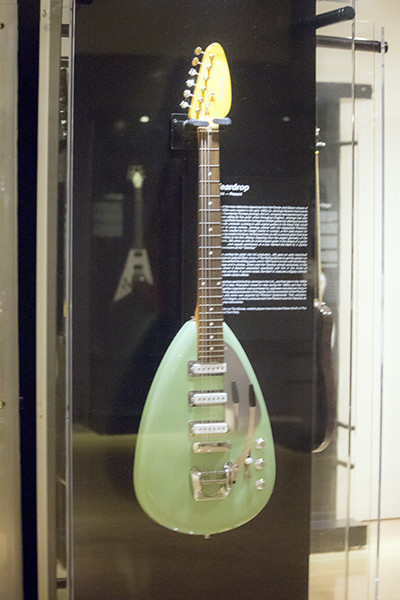 Other instruments that captured my attention were the Vox Teardrop, and a Theorbo, which is a string instrument of the lute family, having a long neck and an additional pegbox. There was also a baroque guitar, c.1600-1700, an Oud, a Fender Stratocaster whose top is made of license plates, and a carved original "Crossroads" guitar.
There were also posters, illustrations, and photographs displayed at various locations throughout the exhibit that touch on historical and design aspects of the instruments. There's an area for people to sit and play if they want to: Two Strat style guitars and an acoustic guitar, as well as an amplifier, stand ready. On the front and side walls are portraits of famous musicians including Slash, Stevie Ray Vaughan, Jimi Hendrix, Tom Petty, and more courtesy of local artist Mel Fiorentino. Portraits elsewhere in the exhibit space by Fiorentino include Johnny Cash, B.B. King and others. There were also black and white photographs by Neil Zlozower depicting performers playing their instruments including Angus Young, Pat Metheny, Lita Ford and more.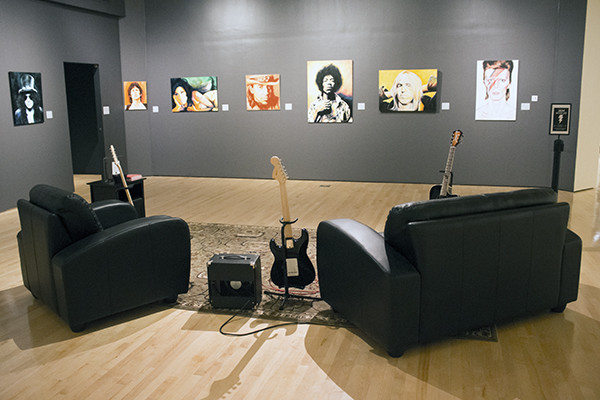 The instruments and artwork almost come alive as I walk through this remarkable exhibit, arguing in my head which guitar I most want to hang on my wall!
Medieval to Metal: The Art & Evolution Of The GUITAR runs through this weekend in Ocala, Florida. What an entertaining and informative way for music lovers and musicians alike to spend a morning or afternoon. If folks have a chance to experience any touring exhibit of the National Guitar Museum in their hometown, they should jump all over it.
*Featured Image Photo by Barry Kerzner