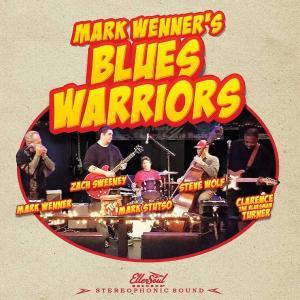 Harmonica master Mark Wenner goes non-stop. As the founder/leader of the blues and roots rock band, The Nighthawks, he's been kicking out great music for over 45 years. The Nighthawks have amassed a release collection of nearly 30 albums, and Wenner has released four solo projects. Now, he brings us Mark Wenner's Blues Warriors.
First off, don't panic, The Hawks are alive, well, and still touring. The Blues Warriors is a different breed of music is all.
"This band is actually a blues band," says Wenner, addressing comparisons to the 'Hawks. "The Nighthawks are a blues and roots-rock band. This band, with upright bass, is more authentic, old school and swinging. It's closer to the Cash Box Kings than J. Geils; a whole different animal."
The album kicks off with some true Chicago blues, covering Muddy Waters' "Diamonds at Your Feet." A swinging version, it features Clarence "The Bluesman" Turner on vocals and guitar, and Wenner playing some Little Walter style harp. Blues 101: This is how you start an album.
Besides Wenner and Turner, the Blues Warriors is made up of Zach Sweeney (guitar), Steve Wolf (upright bass), and Hawks drummer Mark Stutso. Although Washington, D.C. based, these cats are the real deal. This is real blues music, interpreted and performed by masters of the craft.
Next to grace our ears was a bluesified version of Elvis' "(Let Me Be Your) Teddy Bear." They got the sexy vocals down pat, and added enough attitude so that dancers can slow grind or hip shake to their hearts' content. "Rock a While" is a lesser known tune from the Boss of the Blues, Big Joe Turner, and the Warriors do it up proud. Wenner's harp is, as always, a fine addition to the mix.
Then it dawned on us. We're traveling here. In three songs we've gone from Chicago to Memphis to Kansas City. We couldn't wait to find out where the next stop would be. It didn't take but a second to realize we're back in Chicago with "Checkin' On My Baby." According to Wenner, "We opted for Junior's (Wells) version, bringing us into the early 60's when Buddy Guy and Junior were using James Brown grooves in the Chicago Blues sound."
Staying with the Windy City sound, next up was another Muddy tune, "Just To Be With You." This time things get low and slow. You know the vibe we mean. That real late, gritty grind that has you whispering bad intentions into your dance partners ear.
Slim Harpo's "King Bee" was one of the first records Wenner ever bought, and one of the first songs he learned. This version is a funkified re-imagining that held us in awe. We played it over and over, and each time, pictured the band live, performing the cheering masses.
Stutso shines on the B.B. King classic, "It's My Own Fault." Those lucky enough to have seen him sing this live with Jimmy Thackery, Tab Benoit, or Jason Ricci, will want this one for posterity. It's the first studio capture of his growling, soulful vocals on a truly great song.
Things really get rocking on "Hello Josephine," and Wenner does some swaggering on "Trust My Baby," raising the ghost of Sonny Boy himself. "The Hucklebuck" gives Sweeney and Wolf their chances to beam. A great instrumental, we could feel the bass slapping.
Another instrumental followed with "Just Like Jimmy." The only original track on the album, Wenner pays homage to his hero Jimmy Reed. Recorded on the fly, this is a one-take, on-the-spot creation that truly impresses.
The album ends with a harmonica driven version of "Dust My Broom." It may be one of those tunes that almost everyone covers, but some do it better than others. The Blues Warriors are that "some." 'Nuff said.
Any fan of real deal, no b.s., nitty gritty blues, is going to be a fan of Mark Wenner's Blues Warriors. If you don't already have a copy in your collection, get two. Just like in the old days, you might just wear the first one out.
Artist: Mark Wenner's Blues Warriors
Title: Mark Wenner's Blues Warriors
Label: EllerSoul Records
Release Date: June 15th, 2018
Running Time: 46:11
*Feature image Linda Parker