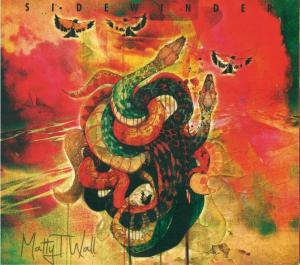 Australian Matty T Wall bills himself as a guitarist, which is true, but he's so much more. Well, not that much more. He's also a songwriter and vocalist, but he's good at both of those things, too. Sidewinder, his latest album, shows off all three of those sides and makes one wonder why Wall doesn't refer to himself as a musician–because that's what he is.
Artists who bill themselves as guitarists, perhaps unsurprisingly, tend to focus on the guitar. It usually means lots of flash with the guitar very much upfront in the mix. Wall is an excellent guitar player who works within the confines of each song. He'll show some flash when necessary, but for the most part, he's just playing soulful solos that sound good. He's not trying to impress the listener. Instead, he's just focusing on ear-pleasing licks. "Can't Stop Thinkin'" is a fairly standard blues-rock number, something you could imagine Bad Company doing, but with an emotive solo, featuring big bends and quick-yet-melodic runs, the extended solo unfolding like a song within a song. But the song component is essential. It doesn't feel like the track stops for the solo; Wall actually expands the song with his solo.
Wall's discipline is palpable on his cover of "Going Down," the Don Nix song made famous by the Jeff Beck Group. The song is most commonly used as a big guitar jam, so many versions degenerate into endless soloing occasionally interrupted by a chorus, which allows guitar players to change strings and rehydrate. In Wall's hands, the song is much more about his vocals. There's some soloing, but the solo climaxes not in more soloing, as one might expect, but rather in a grand string section that plays along with Wall and his band. It's reminiscent of Michael Kamen's orchestral work with Metallica but much less pretentious. A better comparable is U2's "Hold Me, Thrill Me, Kiss Me, Kill Me," which also beautifully, and seamlessly, resolves into an epic string outro. Wall doesn't seem to be trying to show the listener how refined he is. Instead it comes off like he's trying to provide an interesting twist on a familiar song.
A lot of the credit for that orchestral maneuver goes to producer/engineer Bob Clearmountain, who's worked with everyone from the Rolling Stones to Bon Jovi to David Bowie. Clearmountain knows how to get an album sounding sweet, while still keeping things rock and roll. Sidewinder has an accessible sound but still has grit and textures. Wall's voice, which is a strong rock and roll vehicle, doesn't dominate the mix but is upfront. But Clearmountain finds sonic space for the guitar, organ, drums, and even the occasional strings and horns, to exist. Listening to the album, one can't help but think how great it would sound coming from the stereo of a fast car flying down the highway.
While Wall is a guitar player, his guitar playing isn't his defining characteristic. Rather he sees the big picture within songs, allowing them to breathe while also allowing the listener to hear who Wall is, as a guitar player, but also as a singer and a songwriter. Sidewinder is a great-sounding record from a talented musician.
Matty T Wall – Sidewinder
Tracks:        12
Label:          Hipsterdumpster Records Pty Ltd
Released:     July 2nd, 2018
Run Time:    48:00