Wherever You Go, the new album from singer/guitarist/producer Tomás Doncker, was born from hope in a time of crisis. The global pandemic known as COVID-19 has affected musicians, venue owners, promoters, and others in the business possibly harder than any other industry. Many are struggling to keep their heads above water, while others turn to virtual performances, or in Doncker's case to creating new music during this unprecedented downtime. But, that's the blues.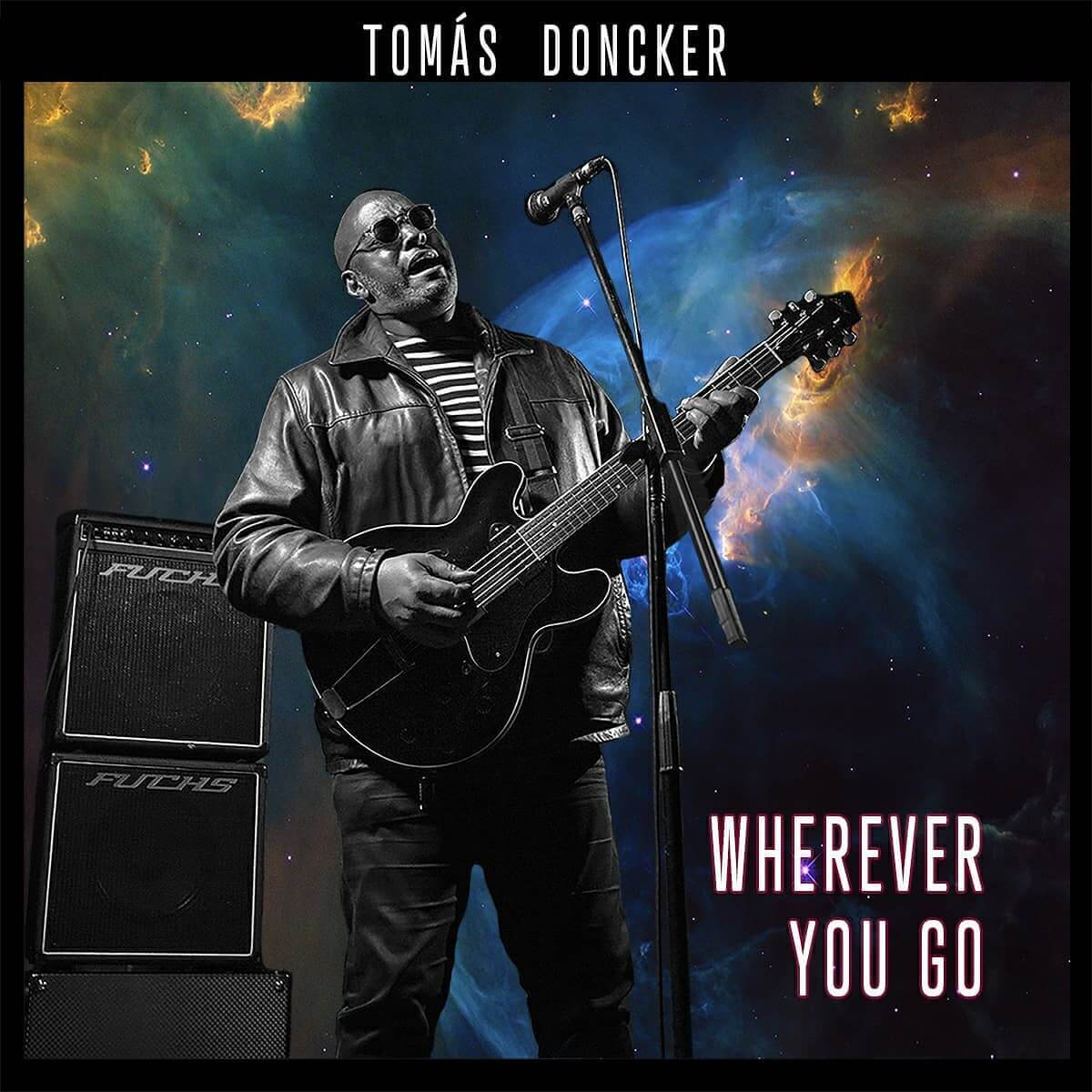 "Music for the apocalypse," is how Doncker describes what he is creating at the moment. "We're just trying to fill the air with goodness. That's where we are the most powerful."
The "we" in Doncker's statement describes not only his band, but the entire stable of artists on True Groove Records, of which he is CEO and whom he describes as "the family." Extending from there, on Wherever You Go, it also encompasses a bevy of musicians in both the US and Europe, who were slated to accompany him on a European tour, the door of which got slammed in the their faces when the caronavirus turned the world upside down.
That group, known as The Blue Ruin Band, includes James Dellatacoma-Guitars (West Orange, NJ); Ed Matthiack-Bass (Altidona, Italy); Julie Parker-Piano, Keyboards (Kent, U.K.); Artur Uronen-Gonzo Pedal Steel (Helsinki, Finland); Regina Bonelli- Vocals (Staten Island, NYC) and James Sedge-Drums (Kent, U.K.). Dellatacoma also produced, engineered and mixed Wherever You Go at OMSS, West Orange, NJ. The album was mastered by Michael Fossenkemper at TurtleTone studio, NYC, with the vinyl mastering performed by Geoff Pesche at Abbey Road Studios, U.K.
"I believe in the power of music," Doncker explains. "Music has always been the narration of what was going on. Not just in the days of yore, but in the modern context as well. Think about this. The Kent State shooting happened, and Neil Young wrote 'Ohio.' Not only did he write it, but it was recorded, distributed, on the radio and in the stores, in just a few days. In those days, when everything was analog and records had to be pressed. Today, you can record a song and literally release it the next day. That is amazing, that the suits in those days could move their asses and release a song of such social importance so quickly. They understood the urgency."
Are Doncker's songs as socially relevant as those of CSNY? In today's context, absolutely. Wherever You Go was recorded entirely in quarantine across the US and Europe by Doncker and the Blue Ruin Band, with all musicians collaborating live across eight time zones (and also adding in parts individually). The record's eight tracks are built on Doncker's deep blues roots and run the gamut from a traditional Chicago style to Gospel-inflected Hill Country to futuristic and psychedelic.
"Necessity and, quite honestly, fear were my prime motivators," Doncker explains.
"The UK-Italy blues tour we were all set for had been cancelled because the pandemic was exploding. We had 19 dates plus a week at the Edinburgh Jazz & Blues Festival and had all been so looking forward to it and it just evaporated overnight. I was stuck here in Brooklyn and, in order to maintain interest and energy amongst the band members who were almost all in the EU, I suggested we record something. Almost instantaneously the song 'Wherever You Go' came together. I thought all I can do is send out a prayer of my own design. It was literally the thought of 'what would my last words be?' It just came to me. It was just one song but it was incredibly heartfelt and deeply emotional.
"So, the feeling and the excitement the song and video for it created within the True Groove family was like an instant creative spark. From there it was almost subconscious. I almost immediately gravitated to Blind Willie Johnson and Skip James to continue that prayerful and mindful approach and we recorded two more songs, 'City Of Refuge' and 'Hard Time Killing Floor Blues.' It was actually fairly easy to do because those are songs we all know and love. They came out well and by that point it was clear everyone was very invigorated by the process and wanted to keep going. I know it might sound strange but it kept it almost wholesome; it gave us something that made us feel like we were expressing our true selves. Music is always the healing force in the world and we knew that if we stayed close to that we'd manage to be all right in this new normal."
The title track is germane to today's happenings:
The circumstance is hard/no sign of happy endings/our world's been torn apart/we search for new beginnings

The road will rise to meet you/wherever you go
If it sounds a bit like an Irish blessing, that's because it is. "I had to keep these guys involved," Doncker told me. "I mean there was no guarantee that they would be available again next year. They had to get on with their lives. So I said, 'hey, let's make a record.' One thing we found out was we didn't have to be in the same room to be on the same page. This record came together so smoothly, you can't even tell we're not in the same room playing.
"The title track was fluid in my head. If I wanted to say one thing to people right now, what would I say to them? It's the old Celtic toast, 'May the road rise up to meet you,' you know what I'm saying? That's what popped into my head. Have you ever heard Public Image Ltd. (PIL)? They also had a song based on that Celtic toast. I woke up one morning humming it, and I thought to myself, 'Whoa, wait. That's what I want to say.' It's like Bob Dylan's 'Forever Young,' It's a very heartfelt, sincere, all-purpose wish. Whatever the arc of your life is, may it be fruitful and joyous. I wish that for you. As we step into this new reality, things are going to change. It's changing already. I wanted to just send this out to the people, because there's nothing left to say."
Tomás says the rest of the record, due to a certain sense of urgency, just came together organically. Since it was a blues tour that was cancelled, then this would be primarily a blues/rock record. Whereas his album from 2014, Moanin' At Midnight: The Howlin' Wolf Project, focused on the Wolf, and his electric Chicago blues, Wherever You Go pays tribute to a couple of earlier artists, namely Texas/Gospel bluesman Blind Willie Johnson, and Bentonia, Mississippi great, Skip James.
"On the record there are only two covers. Blind Willie Johnson's 'I'm Gonna Run to the City of Refuge,' which is a duet with myself and Gina Bonelli, and Skip James' 'Hard Time Killing Floor Blues.' The rest are all originals with 'Wherever You Go' opening the faucet of creativity for the remaining tracks. This album gave me the opportunity to do things I've always wanted. I've always wanted to cover Blind Willie Johnson, and I've always wanted to cover Skip James. Oh, and just so you know, since I wear many hats, and am always thinking of marketing, I called up my old friend Amp Fiddler (Parliament/Funkadelic), and we've already done a re-imagination of 'Change' from this new record. The original on Wherever You Go sounds more like Wilson Pickett, with a touch of Jimi Hendrix, whereas the re-interpretation is funkier, more soulful and longer. Usually you release the original first and then the remix, but I figured it's the end of the world, why not?
"Wherever You Go is my salutation to the planet. It's not a cold-blooded blues album, but it has cold-blooded blues elements. It's got soul/blues elements. It's even got psychedelic/blues elements. The last song on the album is called 'Door to the Dome,' and has a Pink Floyd sound. I'm excited for everyone to hear the whole record. It's kind of expansive. I got a chance to play a bunch of guitars, and just let fly.
"During this time, people are locked away in their homes, but they're inspired to write some very deep stuff. I mean, we're all terrified right? If you're an artist, it's your responsibility to tap into that. You cannot be paralyzed by that fear. It's our responsibility to tap into that anxiety, that fear, that desperation, whatever those pure emotions are. Then regurgitate them out so we can ease people's burden. We take the hit so you don't have to. That's our job as artists; to reflect and illuminate our lives and times.
"People do their jobs, live their lives and come home, put on a record with the hope of being transported to somewhere more pleasant. Our job is to provide that, and in such terrifying times, people are 'LISTENING' to music. Music is always on, but rarely people are truly listening. When we came up, that's what we did. That was our go-to. There was no Netflix, no internet. We would put on Hendrix, or Johnny Winter's And, or BB King's Live at the Regal, and imagine what it must have like to be there. Close your eyes and listen. The Allman Brothers' At Fillmore East. I can't tell you how many times I listened to that record and pretended I was there."
Wherever You Go by Tomás Doncker, which drops digitally today, and on vinyl October 24th (Record Store Day), is that type of album. It's not live, but it is 32 minutes of musical bliss that we will, in Doncker's words "LISTEN" to, over and over. It is a rejuvenating and almost cathartic record, but, above all, it's still the blues.