Strung Like a Horse are part bluegrass, part Southern rock, part folk-punk, and all high energy. Based in Chattanooga, Tennessee, they blend their version of Americana like no one else, and their debut studio album, WHOA!, is the perfect starting point for those who have never heard them. For those who have, you should already be all atwitter.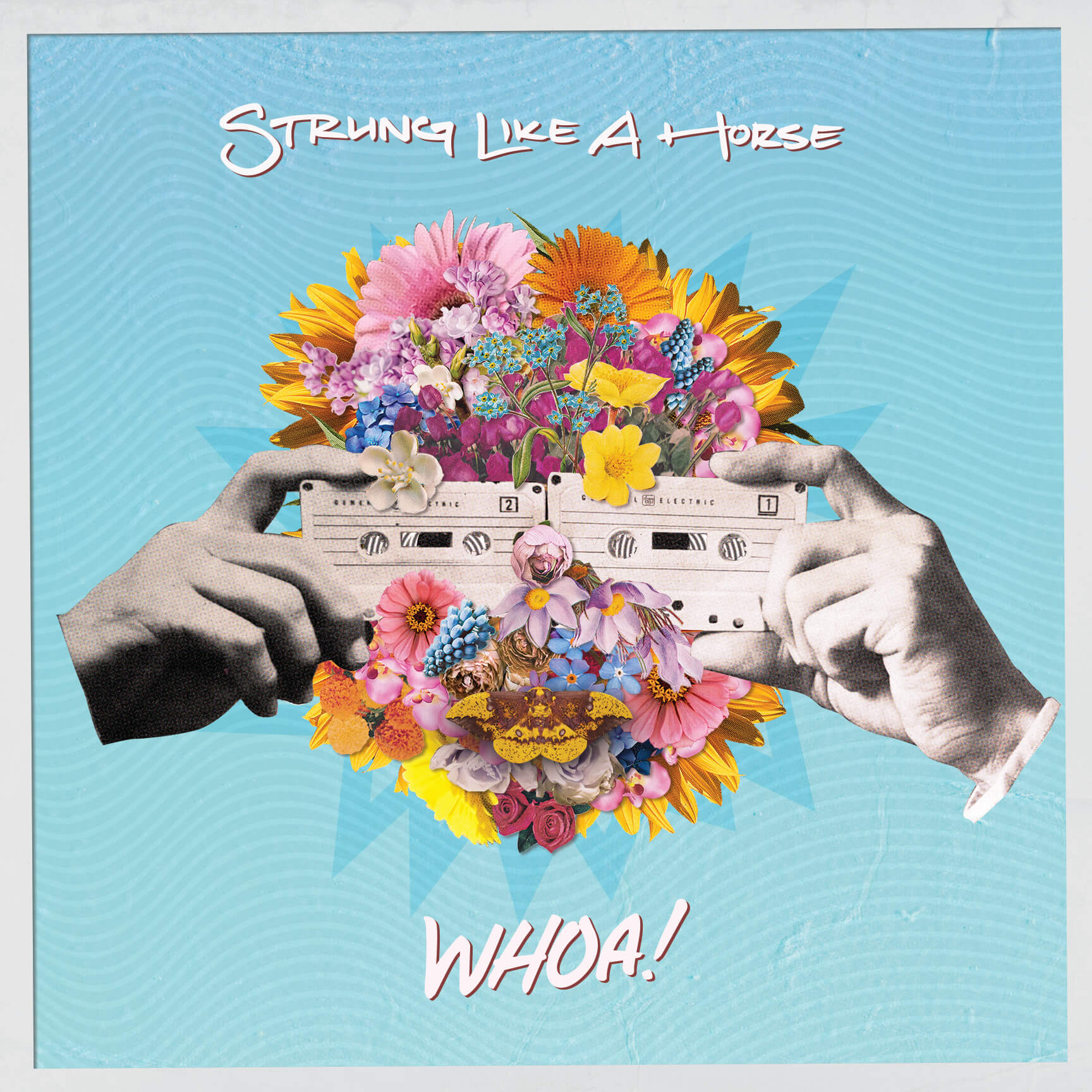 After what was just written, one might expect WHOA! to start off with a rocker, but one would be completely wrong. "F*ck What They Think," is an acoustic ballad, with story-telling lyrics in line with the late, great John Prine. Lead vocalist Clay Maselle (who also plays rhythm guitar and mandolin) further dredges up Prine's ghost (albeit unintentionally) by spot-on nailing his voice. I had to listen a couple times to make sure it wasn't John himself.
The rest of the band, Tyler Martelli (lead guitars, piano, organ, keyboard, mandolin), Eric "Crispy" Crisp (drums, bells, percussion), and Dan Pinson (upright double bass, electric bass, lap steel guitar) make up the foursome that's tighter than a nun's alibi. The fact that WHOA! is produced by multi-GRAMMY winning, Memphis music wizard Matt Ross-Spang (Prine, Jason Isbell, Al Green, Margo Price) is just another feather in the cap of this one-of-a-kind group.
Recorded at Nashville's legendary Sound Emporium Room A, Strung Like a Horse bring their A-game throughout the entire recording. Saying they have a fondness for a good time is like saying Famous Amos has a fondness for cookies. Legend has it the four of them were arrested for stealing a hearse, and they've been inseparable ever since, pickin' and grinnin' as Buck Owens would say.
Their alt-rock meets soul vibe comes out on "Till the Wheels Fall Off," "Crazy Like Me," and "Glowin'." SLAH gets to rockin' on tracks like "Gold in Their Souls," "Smile While We Go," and "Cold & Lonesome," but their brilliance shines the brightest on tracks when they dip into their bluegrass roots. "Pelahatchie Nights," and my personal favorite, "Lookin' For Love," will get your toes tappin' and then some. The latter reminds me of early Eagles when Bernie Leadon was with the band, and songs like "Twenty-One," and "Midnight Flyer," were being played on the freeform FM stations of the day. Make sure you listen until the end to hear just how much SLAH likes how it turned out.
The one ongoing truth throughout is the clever wordplay mixed with stellar musicianship. The lyrics hit home, sometimes humorously and other times like a gut-punch, but always in an unexpected way.
Now, some people may have a problem with the band's name. Seems like there's no middle ground, with folks either loving it or hating it. At first I figured it was a clever double entendre, but then I got the whole story. They came up with it because they were predominantly a string band who were very reliant on bows, which are strung with horse hair. Given their raucous shows, they went through a lot of bows and often had to re-string them ahead of every performance.
SLAH has toured with the likes of Old Crow Medicine Show, Shooter Jennings, Nicki Bluhm (who is featured on "Cold & Lonesome"), Charlie Daniels, Travis Tritt, and a bunch more. They've made fans at AmericanaFest, Bonnaroo, Moon River Music Festival, NAMM, and recently appeared on Jam in the Van. This all on the merits of their live shows, a couple EPs and a live album.
This is my first experience hearing Strung Like a Horse and I couldn't be more glad they were able to finally fly into my radar. I don't look at the album title as WHOA! like stop. I look at it like WHOA! what did I just hear? Let me play that again!
*Feature image credit Joshua Halling courtesy of Missing Piece Group