Freak Juice — the eclectic funk, hard rock, punk, jazz, hip-hop and R&B infused project of guitarist, composer, arranger and singer Tori Ruffin — are set to release their third full length LP, They Call Us Juice, on November 13th via Horton Records. In addition to performing with Prince, Morris Day and the Time, Fishbone, Mariah Carey, Lenny Kravitz and Slightly Stoopid, Ruffin will reprise his role as Sexual Chocolate's guitar player in the upcoming Eddie Murphy sequel, Coming to America 2.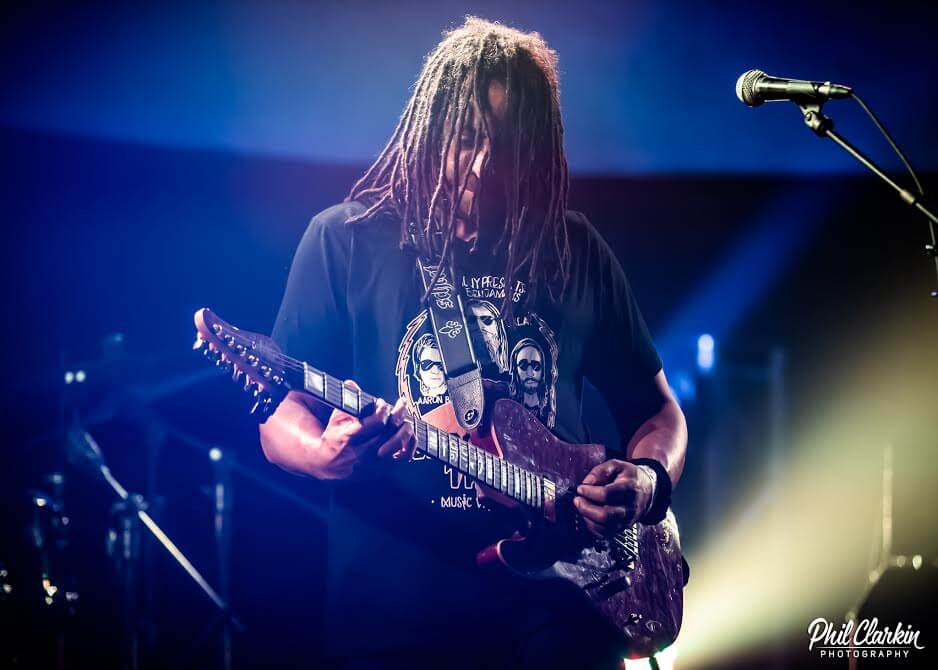 Inspired to pick up the guitar by Jimi Hendrix and Jimmy Page, Tori Ruffin got his professional start in Los Angeles and has called Tulsa, OK home since the early 2000s.  Ruffin's unique guitar playing has found him playing with everyone from Prince, Morris Day and the Time, Fishbone, Lenny Kravitz, Mariah Carey, Aretha Franklin, TLC, Bobby Brown, Slightly Stoopid, DJ Quick, SugaFree, Snoop Dogg, Dr. Dre, Michael Jackson, Smokey Robinson, Euge Groove and H.R. from Bad Brains. Ruffin currently co-owns a live music venue, Juicemaker Lounge in Tulsa.
"For the majority of my career I've made a living playing R&B," says Ruffin, "but I grew up and experienced a time where Stevie Wonder and Led Zeppelin were on the same radio station. And as musicians we loved and played anything and everything from The Isley Brothers to Rush to Fishbone to Prince, Miles Davis, Charlie Parker, Parliament Funkadelic and Jimi Hendrix. When I would come off of the road, I wanted to put together a band where I could play anything I was feeling or liked and that's what is reflected on They Call Us Juice. Juice is what I like to call the music," he explains. "Freak is how we blend all the styles. I had a friend, Michael Landau, a big session player in L.A. We used to call each other 'juicemakers.'
They Call Us Juice is comprised of twelve original songs all featuring Ruffin's signature guitarwork and lyrically touches upon an array of topics. Ruffin is joined by an all-star cast of supporting players on the album including bassist Charlie Redd (Morris Day and the Time, Blues Legend Jimmy Vaughn, Eric Clapton, Bonnie Raitt, LL Cool J), drummer Stanley Fary (Tevin Campbell, Wayman Tisdale, Pink, Nelly Furtado) bassist Christian Mason (T.I., Ledesi, TLC), keyboardist Adrion Robbins (LL Cool J, Tevin Campbell) and co-lyricist, rapper and vocalist, Christopher Simpson who has worked with some of the biggest names in hip-hop.
Today, Freak Juice premiere "Dirty Little Secret," which recounts the hidden history of 1921's race massacre where Tulsa's Black Wall Street was burned to the ground. The song is heavy and dark, like its subject material.
Of the new track, Ruffin shares with ABS:
The song Dirty Little Secret is about the 1921 tulsa race riot/massacre. When I first started coming to Tulsa, I would hear little whispers and stories about the riot. I was  blown away that I was not taught about this horrific incident in American history class in high school or in college. Not a word was mentioned. I've been told and have read it was a cover up and there was an effort to try to bury it until recently. It touched me deeply and I was inspired to write about it in a song.

Lyrically, we labored — Chris, Jode and I on the rap. We had to try to convey the story, the feeling and the horror of it in two verses, but still offer some of hope, love and light. Musically, the track pretty much flowed out of me. The band (Stan Fary and C Mase) helped make it a Freak Juice track.