On February 3, 1959 at 12:55 a.m., a four-seat Beech Bonanza took off from the Mason City Municipal Airport in Mason City, Iowa.  A light snow had just begun to fall. The temperature was in the low teens and a strong wind was blowing, a portent that deteriorating conditions were on the way.
The passengers for the chartered flight had arrived from Cedar Lake, Iowa not long before. They had just finished a performance at the Surf Ballroom, one of many stops on the 1959 Winter Dance Party Tour. Traveling by bus had been grueling at best and they needed a break. They wanted to rest, get some laundry done, and one needed to see a doctor for relief from the flu.
* * * * *
Buddy Holly was one of the passengers on board the aircraft. He was the main headliner on the Winter Dance Party tour. Back home in New York was his wife, Maria Elena Sanitago-Holly. She had traveled with him before, expertly managing the financial and promotional duties of touring. The plan was for her to accompany Buddy on this tour. But when they learned Maria was pregnant, he insisted she stay at home. He believed the rigors of a three-week, winter tour by bus would be too much for her, especially as she was sick during the early weeks of pregnancy. It was better for her to stay at home in New York and rest. Buddy called Maria at least twice a day and when a phone was available Ritchie Valens would hold it up so she could her him sing "True Love Ways." It was a song he wrote especially for her.
Ritchie Valens, the second passenger aboard the chartered plan, also had written a song for a girl he had been dating. Donna Ludwig was a 16-year-old student at Pacoima High School in Pacoima, California. The two had met in 1957 and soon would start dating. Donna's father would have nothing to with Ritchie because he was Hispanic. The song he wrote for her, "Donna," soon became a hit. Singles were released on 45 RPM vinyl records in those days and on the flip side was a tune called "La Bamba," which would also become a hit.
As Ritchie's music career was taking off in 1958 he and Donna were seeing less of each other but she was still Ritchie's girl. She went to school on the morning of February 3, 1959, perhaps counting the days until the 3-week tour would end.
Jiles Perry (JP) Richardson, Jr. was the third and final passenger aboard the plane. Better known professionally as The Big Bopper. His wife, Adrienne Joy, and four-year-old daughter, Debra, waited for him back home in Beaumont, Texas. A second child would be born two-months later. JP was a disc jockey and songwriter as well as a performer. "Chantilly Lace," one of his creations, had been a huge hit. He also wrote "White Lightning" and "Running Bear" — both of which would become hits for George Jones and Johnny Preston respectively. JP planned to invest in a radio station and recording studio after the tour. But on February 3, 1959 he was suffering from the flu and needed to see a doctor.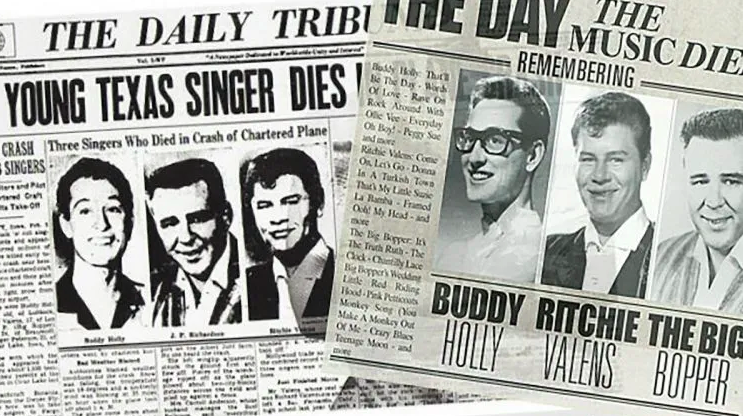 Joining Buddy Holly, Ritchie Valens, and the Big Bopper on the Winter Dance Party Tour were Dion and the Belmonts, and Frankie Sardo. Holly and the Crickets had parted ways in late 1958. So for the upcoming 1959 Winter Dance Party Tour he hired Waylon Jennings, who was playing bass guitar for the first time, drummer Carl Bunch, and 27 year old guitarist, Tommy Allsup who had sat in with the Crickets as lead guitarist in the past.
January 1959 was bitterly cold in the mid-west where the Winter Dance Party was touring.  Temperatures would fall to well below zero.  The bus chartered for the tour would break down, often in the middle of nowhere.  It would be hours sometimes before a replacement bus would arrive.  Sometimes the replacement bus would break down as well. Tommy Allsup would later recall there were eight replacement busses in total.
Carl Bunch had to be hospitalized with frostbitten feet. Buddy, Ritchie, and a member of the Belmonts took turns at the drum kit.  By the time they reached Clear Lake, Iowa, Ritchie and many others had come down with a cold.  The Big Bopper, as already noted, had the flu.
Buddy – tired, cold, and frustrated that he had not been able to wash clothes – decided enough was enough.  He made arrangements for the chartered plane to make the flight to Fargo, North Dakota so he could do laundry and get some rest before the next show in Moorhead, Minnesota.
* * * * *
Heading in a southerly direction at takeoff, the Beech Bonanza reached an altitude of 800 feet and then turned in a northwesterly direction. Jerry Dwyer, who owned the flying service and arranged the flight, watched from the control tower as the plane's lights began to descend and then go out of sight at approximately four to five miles from the airport. He thought it was an optical illusion.
It wasn't.
The next morning, approximately five miles from the airport, the wreckage of the Beech Bonanza was found in a field.  Dead were the pilot, Roger Peterson age 21, J.P Richardson/ The Big Bopper age 28, Buddy Holly age 22, and 17 year old Ritchie Valens. In his iconic song "American Pie," Don McLean defined the crash as "The Day The Music Died." The tragedy went beyond just the music.
Maria Elena learned of Buddy Holly's death from a report on television. She suffered a miscarriage attributed to psychological trauma shortly thereafter. She was too traumatized to attend Buddy's funeral, and to this day has never visited his gravesite though she remains active in carrying on his legacy.
Donna Ludwig was sitting down to lunch at Pacoima High School when her friend Diane broke the news of Ritchie Valens' death. It was her first experience with death and she was overwhelmed with emotion. She went to the cemetery almost every day after the crash and still visits from time to time. Her copy of the original Del-Fi album on which "Donna" appears is sacred to her. If you asked her, Donna would tell you she still loves Ritchie.
Ritchie Valens' family felt the hurt of his loss for decades after the crash. Mario Ramirez, the youngest brother, was only two at the time. At the time, he says, he was "…just walking around in diapers, breaking shit, and checking everything out, you know what I mean? Raising a little hell here and there." But he still felt the loss. It wasn't until the movie La Bamba was made that Ritchie's family began to heal.
Jay Richardson was born two months after his father's death. He dedicated his adult life to carrying on his father's music, touring as Big Bopper, Jr. Jay also collected a vast amount of information on the plane crash. He passed away on August 21, 2013, from heart failure. He had plans to create a musical show about his father as a means to keep the Bopper legacy alive. 
* * * * *
They say the music died that day in the plane crash. The music, of course, was rock and roll, which Muddy Waters tells us is a child of the blues. Rock and roll did not die, not permanently. It would rise phoenix-like from the ashes four years later when the Beatles led the so-called British Invasion.
For Maria Elena Santiago-Holly, Donna Ludwig, the Valens family, Jay Richardson and others, life also would go on. It would just never be the same. 

*Feature image: Photo: Hulton Archive/Getty Images; RB/Redferns; Michael Ochs Archives/Getty Images