When it comes to soul music, who do you love? James Brown? Bo Diddley? Tammi Terrell? Marvin Gaye? Solomon Burke? Otis Redding? "Wicked" Wilson Pickett? Big Joe Turner? Gladys Knight? Maybe someone more contemporary like Amy Winehouse? Perhaps even Hall & Oates?
What about Sugaray Rayford? When it comes to classic soul melodies infused with R&B grooves, a touch of funk, and raw blues power, you gotta love Sugaray. He first appeared on the music scene as lead vocalist for the California-based Aunt Kizzy's Boyz on their 2004 debut album Trunk full of Blues. He released his first solo album in 2010 titled Blind Alley. Three more solo efforts followed including the 2020 Grammy nominated Somebody Save Me on Forty Below records. Sugaray's second full-length album for Forty Below Records, In Too Deep, is out now.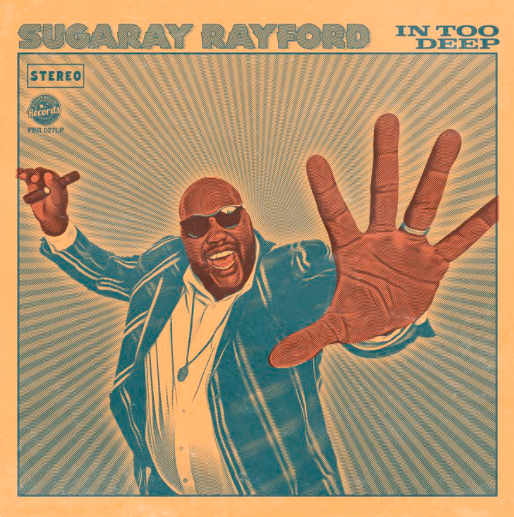 The lead track on the album is "Invisible Soldier" that has its origins in Sugaray's personal battles with PTSD insomnia. He sheds light on the struggles of military veterans who experience the same terrifying movies playing in their heads night after night, over and over again. Nobody told them what they would experience or how it would haunt them once they returned from service. As a 10-year Marine Corps veteran, Sugaray knows all too well.
"In Too Deep," the album's second track, continues the theme of PTSD related struggles. Sugaray tells us of the sense of loss and loneliness a veteran feels after returning home from service. The feeling of being stuck in time, of going nowhere, can be overpowering. At some point, you have to save yourself – through prayer or through help from others.
Sugaray partnered with producer and songwriter Eric Corne on the album, explaining, "I shared with Eric some of what I was going through, and he asked me what I thought about putting it in a song, and that's where 'Invisible Soldier' and title track 'In Too Deep' came from. I wanted to sing about social issues as well as just general feelings of love and loneliness and everything in between."
To get the right balance of lyrics and message across musically on the album, Rayford and Corne enlisted violinist Eric Gorfain (Dionne Warwick, REM), saxophonist Aaron Liddard (Amy Winehouse), Taras Prodaniuk (Lucinda Williams), Matt Tecu (Jacob Dylan), Sasha Smith (Priscilla Ahn), and Sugaray's live show musical director, Drake "Munkihaid" Shining.
Sugaray's interpretations and Corne's production create unique vignettes not only of veterans and their issues, but also of those who have persevered through love and determination to overcome their oppressors. "My arms remain open… Make love the rule" we are told in "Please Take My Hand," and "Miss Information" is a tongue-in-cheek examination of the misinformation being spread every day. Heavy subjects are explored in an entertaining way without losing the message.
"Golden Lady Of The Canyon" is a reverential love song paying tribute to a woman who lifts her man up spiritually and makes him better than he ever thought he could be. The album closes out with the fun and funky "United We Stand." Like "Dancing In The Streets" or "Dance To The Music" from another generation, it is hard to resist getting up out of your seat and boogying to the rhythm. As the music fades, Sugaray reminds us to "be good to one another." And that just may be the most important message the album has to offer.
When it comes to soul music, you gotta love Sugaray Rayford.