A white fiddle that looks like it's been around the world and had its strings beaten to death more times than can be counted takes center stage with fiddle legacy Mark O'Connor on his current Crossing Bridges tour. "I picked it up and couldn't put it down. It was a cannon of an instrument, and that was the white fiddle that entered all the competitions all through my teens and won."
O'Connor is currently on a tour that marks the release of his memoir Crossing Bridges.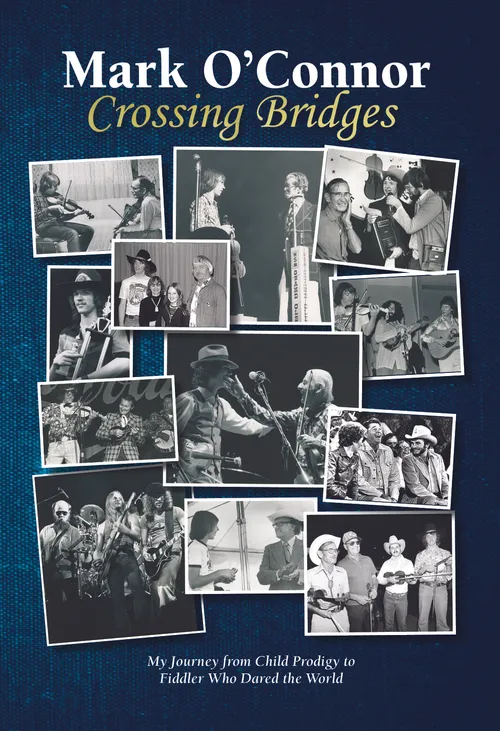 Chet Atkins called Mark O'Connor the greatest fiddler that ever lived. He cut his first record for Rounder when he was 13 years old, the youngest artist ever signed to the label. "It wasn't just a copycat Memorex situation," he explains today. "I came to Rounder Records with my own sound and style and rendition of the old timers."
That white fiddle has been Mark's go-to comfort blanket since he began his career 49 years ago. He began collecting signatures on the instrument of the iconic artists he plays with starting in his early teens. The first signature was of fellow fiddler Benny Thomasson, who had moved to Seattle from Texas just a year or so before Mark met him. "Benny Thomasson was the first signature, and then Stephane Grappelli. Joe Venuti's on there and Stephane Grappelli, Papa John Creach, Merle Haggard, and a bunch of heavyweights.
"The white painted fiddle was so ugly, but for about 15 years it hung up in the Country Music Hall of Fame in Nashville. I got it back out because I had an emotional attachment to it, and it plays that old fiddle music like crazy. It just inherits it. I helped create a modern version of Texas fiddling with that fiddle. It also helps me to play those old tunes. As soon as I pick it up, that's what I do."
I've interviewed child prodigies before, but never one quite as remarkable as Mark O'Connor. His career spans almost half a century across multiple genres with artists that include country music (Chet Atkins, Merle Haggard, Vassar Clemments, and Roy Acuff) rock (The Dregs), classical (Yo Yo Ma), and Americana (Alison Krauss). 
It was the founders of Rounder Records who convinced Mark not to give up playing when he was 15. "I was getting more and more progressive with my musical taste because I was restless. By the time I was 14 and 15 I had largely mastered fiddle music and bluegrass guitar, and I still needed to keep on growing.
"The worst thing for me was boredom, and I was so bored at some point that I literally quit music for nine months. I didn't even touch an instrument for nine months when I was 15 years old. Can you imagine that? After practicing up to 10 hours a day when I was 12 and 13 I quit, and it was a credit to Rounder who kept calling my mother during that time asking for another record.
"I just didn't feel like I wanted to do another traditional fiddle album or bluegrass album or anything like that old-timey album or anything like that, and they kept after me. They kept switching the conversation to include David Grisman, Tony Rice and Sam Bush and more progressive ideas. That got my attention, and then I came back with Markology album (1978) on my guitar that I recorded for Rounder when I was 16."
Bill Nowlin, one of the three founders of Rounder Records, was this music journalist's close friend when we were both students at Tufts University. It was Nowlin who introduced me to the burgeoning coffeehouse scene in Harvard Square and Boston. It was Nowlin who suggested I write about blues and popular music for The Army Reporter when I was stationed at Army Headquarters in Long Binh, Vietnam. He and his partners Ken Irwin and Marian Leighton took on similar roles with thousands of artists they signed to the label between 1970 and early this century. Mark O'Connor was one of them.
"I met with Bill, Ken Irwin and Marian. They knew what needed to happen. I needed to rely more on my creativity and just not replicate what had already been done. So I got into composing, and they turned me loose on it. They probably didn't completely love the direction I was going with composing. I was grounded in what now is called basically new acoustic music that's inspired Nickel Creek and Molly Tuttle and a bunch of people who really thrived on that era of music that Rounder was able to allow me to do.
"It was a little bit of a push and pull. I remember my On A Rampage album (1980) and False Dawn (1982) album that you mentioned. It took me a couple of years for them to release it. Can you imagine being a kid and finishing an album and not having it released for a year and even two years? It was very frustrating, but back then it just took a long time to spin the wheel."
Mark credits the white fiddle with inspiring him to play in so many different genres from blues to classical. "To get where I want the sound, the composition, the genre, I'm really fine-tuning it. And whatever it takes for me to get there, sometimes it is the instrument. That helps. It's not everything by a long shot, but it helps give me a little bit of an edge.
"That is why I finally dropped the white fiddle when I started playing with the Dregs because I was entering that rock fusion part of my life with the Dregs and Steve Morse, and I was gonna play electric violin, and the white fiddle did not have that sound that I was looking for.
"So, that's when the white fiddle went back into the case. And it eventually hung up in the "Country Hall of Fame. Then, the Dregs fiddle ended up being my Nashville fiddle and I played all those albums recording with the fiddle."
It was Benny Thomasson who found the fiddle for Mark when he became his first teacher. "He traded it for a fishing rod. And then he bought the white fiddle back. So, my next lesson I picked it up and couldn't put it down. It was a cannon of an instrument, and that was the white fiddle that entered all the competitions with all through my teens and won. The white fiddle is just an am amazing instrument, and I'm gonna bring it on this tour." Joining Mark on this tour will be his wife Maggie on violin. He will be signing copies of his memoir. He has recently produced a CD of violin duets entitled Duothat he has arranged from American classics featured in the advanced books of the O'Connor Method™ Book series.