Singer-songwriter/vocalist Scott Sharrard was 24 years old in 1999 sitting eyeball to eyeball with Ehmet Ertegun, founder and CEO of Atlantic Records who told him, "If this were the '60s or '70s, we'd be signing a five-album deal, and I would be hiring a producer like Tommy Dowd to make records for you."
The man who signed everyone from Ruth Brown to Led Zeppelin to his label had just listened to Sharrard's first album with a band called The Chesterfields. The young musician was still working as a temp in a New York hotel. Ertegun was telling him that he was good enough for Atlantic to put him together with the legendary producer Tom Dowd who had created career changing albums by everyone from the Allman Brothers to Ray Charles.
Sharrard eventually went to work with Gregg Allman as his musical director and became Little Feat's vocalist and lead guitarist on the day his predecessor Paul Barrere died. "It was in 2019 that I did my first two gigs with them. The first gig was actually a day I was subbing for Paul Barrere, and he ended up passing away about four hours before my first show with the band.
"I only met him once before he died in passing at the New Orleans Jazz and Heritage Festival, but I had been a life-long fan of his playing and writing and singing. And playing that gig with the band where I had just met (Little Feat band members) Fred Tackett, Kenny Gradney and Sam Clayton. The moment I met them, they had just found out a half hour before that Paul had died.
"That was a very emotional couple of concerts we played together, and there definitely was a feeling of brotherhood that came out of that."
Little Feat is currently on tour, and the word on the street is that Scott is injecting new energy into a hallowed legacy of a band. Rolling Stone magazine once described Little Feat as "the archetypal cult band: inspired, turbulent, smart, experimental, deserving – and accident-prone." For a half century of breakups, deaths, and enough other tragedies to fill a bad romance novel they've managed to blend country rock and a Laurel Canyon Americana synthesis that cherry picks the best of New Orleans, Memphis, Macon, Houston, Nashville, Tijuana and their native Los Angeles. Perhaps best of all, they inspire their fans to do the happy dance as if it were their last chance because many times, it seemed like it was.
Scott at age 46 is almost three decades younger than Bill Payne, the only remaining early member of the Little Feat. Scott's last high-profile gig was as the musical director for Gregg Allman's solo career including three albums before Gregg died in 2017. "All of the bands that I've been in for most of the past with the exception of my own solo projects have been with musicians that are 20 or 30 years older than me. Sometimes, 15. So, for me, it's just another day at the office."
It's as if Scott and the band are meeting in the middle. Scott acts older than he is and the rest of the band is infected by his excitement and raw talent, a talent he brought into focus with Gregg Allman, another artist three decades older than Scott. They first teamed up in 2008.
"Gregg used to call the Allman Brothers Band 'my brother's band.' The Allman Brothers Band was Duane Allman's band. (Duane died in a 1971 motorcycle accident). He (Duane) went and got Gregg, talked him into doing it, and then under Duane's leadership that band was completely under Duane's thumb.
"Something Gregg used to say to me every day, 'This is the band my brother and I talked about starting before he got into that Goddamn English music.' So, all of the egos, all of the musicality, everything was under his direction, and that band worked like a charm because Duane was a born leader.
"When Duane died, Gregg went into himself. He went into drugs. He eventually went into the whole Hollywood thing with Cher, and he let Dickie (Betts) run the band. It became hugely successful, and Dickie wrote those amazing songs and played incredible guitar. It was the greatest guitar ever put on records. Gregg essentially took a back seat to Dickie's talent when Duane was gone."
Fast forward to one of the last albums Sharrard made with Gregg. "The only reason that Back to Macon Live happened (2015) was because we were on the road with the Gregg Allman Band and found out they were gonna do a show in Atlanta, Georgia with Don Was and Blackbird Productions. Well, we found out while we were on the road that we were again not invited to be his backing band. They had hired a backing band.
"This is normal stuff in the music business. Gregg was upset. So, he said, 'I want a second album,' and they said, 'What?' And he said, 'I want a live album with my band as well.' They literally sent an engineer to one of our shows in Macon, Georgia at the Opera House for the week after the All My Friends Show in Atlanta. We got back on the road after we did the All My Friends with those guys.
"I'm so proud of that album, and I was so proud of Gregg. That was the week when I became the musical director of the band because Gregg came to me and said, 'Scott, you've got to lead the band from now on. I need you to help make the album happen,' and we worked really hard to redo the arrangements. We rehearsed a lot. We did it without Gregg. We had one shot, one take, one night. Back to Macon. It's two hours front to back.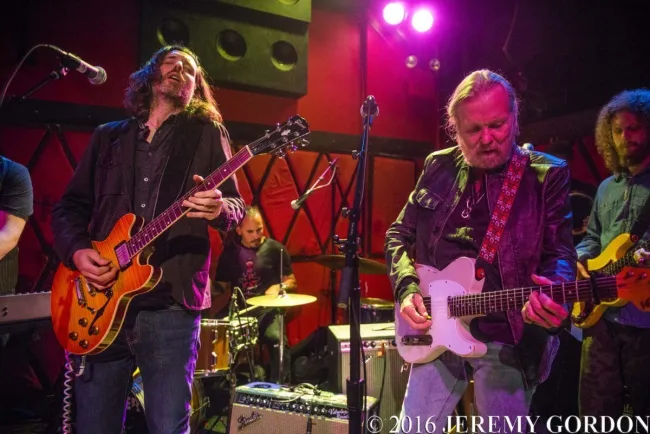 "When Don Was saw us play, he was like, 'Yes, the band is phenomenal. I want to make an album with Gregg, and I will use your band.' And then we were able to make Southern Blood (2017) only when Don blessed us for the label, and then we were able to do it.
"Southern Blood is mostly cover songs, but it struck this chord. And it struck a chord with the band in terms of the finding when the record came out with Gregg having passed away, and I'm extremely proud of the work everybody did on that record."
Two months before he died, Paul Barrere explained to me what sets Little Feat apart from other bands. "We want to experiment. So, a lot of the songs have basically changed in a lot of different ways from tour to tour, and that to me is great. Other bands respect Little Feat. They must think improvisations are jamming, and a lot of bands can get away with that (with) a little stretch or employing improv. I don't call it jamming. I just call it music: those old Miles Davis recordings back in the '50s and '60s where you'd have all these different players and everybody ends up changing up the songs. So, you just go to these places with them, and it's basically a musical free for all."
Barrere must be smiling up in heaven, knowing that Sharrard is filling his big shoes in Little Feat. "I'm certainly not a blues man. I'm probably more of a late generation X architect. You can't play any style of American music if you can't play blues. I mean everybody who is good, whether it's Bob Dylan or Wynton Marsalis, knows how to play blues… I'm wearing a lot of hats these days, and I'm not complaining about it."