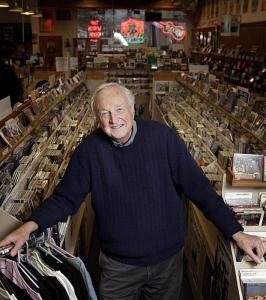 We're thrilled to reprint yesterday's San Fransisco Chronicle article on the upcoming 50th anniversary celebration of Arhoolie Records. Arhoolie played an irreplaceably pivotal role in the development and enrichment of blues, finding and recording acts such as Lightnin' Hopkins, Charlie Musselwhite, Big Joe Williams, and many more.
Chris Strachwitz remembers when giants walked the earth.
He shakes his head as he recalls recording Mississippi bluesman Big Joe Williams, king of the nine-string guitar, at the very beginning of Arhoolie Records, the Berkeley folklore recording empire over which he has presided for a full 50 years.
"Afterward he just disappeared," Strachwitz says. "Ran off. Left his wife and their baby in this fleabag hotel on San Pablo Avenue. It was the worst kind of atmosphere you could imagine, and she was no beauty, I'll tell you that."
Last year, guitarist Ry Cooder, appearing in a benefit for the Arhoolie Foundation at the bootstrap Mexican folklore center in Richmond, Los Cenzontles, spoke about buying the Big Joe Williams album as a teenager and learning to play his "Sloppy Drunk Blues." The admission astonished Strachwitz.
"I didn't realize that those emotional snapshots I captured could do that to someone," he says, sitting on a stool around the shipping table that dominates the bottom floor of his two-story world headquarters in El Cerrito.
"I thought I was lucky to hear it when I recorded it. I didn't realize there were people who wanted to play this stuff."
4-disc anthology of archives
Strachwitz who will celebrate Arhoolie Records' half-century with three gala evening concerts and daytime panel discussions Feb. 4 through 6 at the Freight & Salvage in Berkeley, also recently released "Hear Me Howling! Blues, Ballads, & Beyond," a four-disc anthology of recordings Strachwitz made in and around Berkeley during the '60s.
Strachwitz did many of his most important recordings with artists such as Texas bluesman Lightnin' Hopkins and zydeco king Clifton Chenier on field trips through the South beginning 50 years ago last summer. In those days, he was teaching German in a public school, but spent his vacation making recordings in Texas, where he discovered Mance Lipscomb, a 65-year-old sharecropper who had never left his hometown of Navasota but would become an important figure in the '60s folk revival after the release of the first Arhoolie album, "Texas Songster."
But "Hear Me Howling!" focuses on the extraordinary vitality of the Bay Area music scene from Strachwitz's perspective. Not only did he make studio recordings with visiting folk and blues musicians, but he dragged his bulky recording equipment to nightclubs and parties to capture the music in its raw element.
The CDs, which come packaged inside a lavish 134-page book brimming with photographs Strachwitz took, also explores his experiments with young rock musicians on the periphery of his folk music world. He recorded the original version of Country Joe and the Fish's "I-Feel-Like-I'm-Fixin'-to-Die Rag," more of a jug band record than a rock song, in his living room. He also helped another Berkeley rock band, Joy of Cooking, by recording a demo for other record companies that sounds fresher than anything found on the three major label albums the band eventually did record. (Both McDonald and vocalists Terry Garthwaite and Toni Brown of Joy will appear at the 50th anniversary concerts).
With researcher and writer Adam Machado, Strachwitz combed the dusty corners of his tape library for sessions he never forgot.
"I knew they were there," he says. "These tapes were like little jewels, things I caught back then. I loved to record things that I enjoyed. I used to take that damn machine around everywhere."
Blues guitar great Lonnie Johnson, who played with Louis Armstrong as a young man, was a tribal elder when Strachwitz caught him trading licks with blind bluesman Sonny Terry at a party in a Berkeley living room.
Lifelong love of roots music
Mississippi blues guitarist Skip James stayed at Strachwitz's house during one run through Berkeley folk clubs, and the five songs he recorded at his Berkeley hills home have been sitting in tape boxes ever since. He made location recordings at local nightclubs with Reverend Gary Davis and Mississippi Fred McDowell. An entire world of music – been here, done gone.
Strachwitz, 79, grew up landed gentry in war-ravaged Germany but arrived in Reno with his family immediately after the war. The self-conscious youth identified with the lonely, forlorn voices he heard on blues records aired by late-night radio out of faraway Los Angeles.
He grew avidly interested in authentic American blues and jazz (in particular, at first, the music of New Orleans clarinetist George Lewis), an obsession that reached an epiphany during a pilgrimage to Houston to see Lightnin' Hopkins sing. He returned to Texas the next year with a tape recorder.
One 1963 field trip, recorded by German filmmaker Dietrich Wawzyn, has recently been re-edited by Berkeley filmmaker Maureen Gosling and released on DVD. The film, "Down Home Music," follows Wawzyn's fascination with uber-American exotica such as Baptist church revivals or Navajo rituals, but also caught vanished, fleeting scenes such as Oakland's lone-cat bluesman Jesse Fuller playing his one-man-band rig in his home, or dirt-poor Mississippi farmers the Hodges Brothers playing and singing outside their shack.
Gosling also has been working for several years on a documentary about Strachwitz, who has taken her film crew on tours of the South and Appalachia.
Strachwitz stands outside his folk music empire on San Pablo Avenue, a complex that houses his colossal library of 78 rpm records, his record company offices, and one of the finest retail record stores in the country, Down Home Music.
Low tolerance for cheese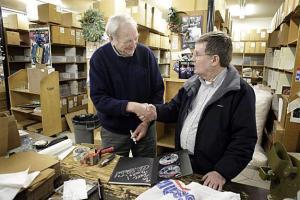 Over his shoulder, a sign on the wall above the parking lot says, "No mouse music." Strachwitz has enthusiastic musical tastes that run an amazing gamut, but he holds in loathsome contempt anything he deems inauthentic, invariably referring with a wrinkled nose to everything outside his exacting standards as "Mickey Mouse music" or, for short, "mouse music." "No mouse music" is something of an unofficial corporate slogan around Arhoolie.
Strachwitz doesn't make records anymore. He thinks the record business is over. He believes all the great records have been made. He did some contemporary bluegrass sessions in 2006 at the Blue Ridge Music Center in Galax, Va., recording live around one microphone, the way they did making his beloved 78s. Now, although he has no idea what to do with the results, he records everything on a video camera he carries around. "I wish they'd invent one I liked," he says.
Charlie Musselwhite is shopping for CDs in the record store, waiting for Strachwitz. The Horowitz of the blues harmonica not only was once the best-selling artist on Arhoolie, but he also found gainful employment at the warehouse. He remembers packing his van so full of albums to be shipped to Japan, he could barely drive away from the loading dock. They are going to have dinner to talk over plans for a memorial for a mutual friend, carefully scheduled to take place after Strachwitz's anniversary party.
Strachwitz plans a major blowout for the 50th anniversary celebration. With appearances by Ry Cooder, Linda Ronstadt and Taj Mahal, the expansive program touches on most of the areas where Arhoolie has operated – Tex-Mex, Cajun, New Orleans jazz, bluegrass, folk and blues, even the sacred steel guitarists – steel guitarists who specialize in gospel music – Strachwitz first exposed in the '90s, an entire offbeat subgenre flourishing undetected until Arhoolie started putting out records. Strachwitz tumbled to this little quirky scene in the deal in the early '90s and put out several albums. Some were collections by different players. Some were albums by groups like the Campbell Bros. The modest sacred steel subgenre, Strachwitz says, drew "the most interest in any of our acts in the last 20 years."
A lot of the greatest Arhoolie artists couldn't make it. "When we tried to find musicians, we had to ask, 'Who's still alive?' " Strachwitz says.
Been here. Done gone.
Arhoolie records' 50th anniversary
Concerts
Friday, Feb. 4
Ry Cooder & Co., Los Cenzontles, Tex-Mex Fiesta with Santiago Jimenez Jr. and La Familia Pena-Govea, Any Old Time String Band, Michael Doucet & Beausoleil Trio, Laurie Lewis with Tom Rozum and Co. with guest Peter Rowan (sold out).
Saturday, Feb. 5
Treme Brass Band, Creole Belles, Terry Garthwaite and Toni Brown of Joy of Cooking, Savoy-Doucet Cajun Band, Barbara Dane with Bob Mielke Jazz-All Stars with guests Lars Edegran and Frank Demond, Goodtime Washboard 3.
Sunday, Feb. 6
Taj Mahal, Savoy Family Band, Campbell Brothers, Country Joe McDonald, Suzy & Eric Thompson, Los Cenzontles.
All concerts 8 p.m. Freight & Salvage, 2020 Addison St., Berkeley.
Call (510) 644-2020 or go to www.arhoolie.com.
Panel discussions
Noon, Feb. 5: Linda Ronstadt with Chris Strachwitz and Nick Spitzer; Arhoolie Movies with Les Blank, Maureen Gosling, Freight & Salvage.
Noon, Feb. 6: British blues scholar Paul Oliver and Strachwitz recall their 1960 trip through the South; Campbell Brothers and "Sacred Steel" author Bob Stone, Berkeley City Club, 2315 Durant Ave., Berkeley.
Ticket-holders to nighttime concerts admitted free; general public $5.
NEW ORLEANS-STYLE PARADE with Treme Brass Band at 4 p.m. Saturday from Civic Center Park to Freight and Salvage.
For information on the 50th anniversary celebration events, go to www.arhoolie.com.
http://sfgate.com/cgi-bin/article.cgi?f=/c/a/2011/01/25/DDS61HC5V9.DTL
This article appeared on page E – 1 of the San Francisco Chronicle