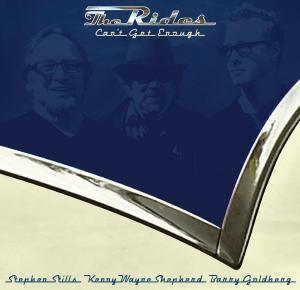 Anytime an album is released by a so-called "super group," there is always great anticipation. So here at American Blues Scene, we were pleased when the opportunity arose to review the debut album, Can't Get Enough by The Rides, issued by 429 Records. Along with anticipation, occasionally there is disappointment too, mostly because expectations are so high, and a project doesn't quite live up to the hype. Thankfully, there is no disappointment here; this album is simply moving, and brilliant.
The musicians on this album are all extremely gifted. Stephen Stills has a storied history having played in Buffalo Springfield, CSN, and Crosby, Stills, Nash, and Young. He is also a two time inductee (same night even!) of the Rock and Roll Hall of Fame.  Kenny Wayne Shepherd hails from Shreveport, LA, and is an amazing blues guitar player who has worked with a who's who of blues greats. Still in his teens, Barry Goldberg played with Otis Rush, Howlin' Wolf, and Muddy Waters. He and Michael Bloomfield gave the world The Electric Flag. The rhythm section of bassist Kevin McCormick and former Double Trouble drummer Chris Layton rounds out this stellar lineup.
Jerry Harrison's production is spot on, and the sound has an almost "vinyl" ambience and feel to it, similar to the so-called "low-fi" Jimmie Vaughan has used so effectively on his recent releases. The album sounds as if everyone is in one room, playing live. A mix of original compositions and covers, several cuts stand out. The Muddy Waters favorite "Honey Bee" is beautiful with its joyful enthusiasm. Neil Young's "Rockin' In The Free World" actually sounds better here than the original version! Also sounding good is the Elmore James classic "Talk To Me Baby." "Don't Want Lies" and "Only Teardrops Fall" sound incredible and are really well played. There is enough excellent and scorching guitar on this album for any affectionado, with delicate playing as well. McCormick and Layton provide nice backing, and the proper thump when appropriate. Goldberg's keyboard artistry really shines throughout, and the "acoustic" piano has a gorgeous timbre and tone.
Can't Get Enough by The Rides is the kind of album a supergroup should be making. It leaves you wanting more.