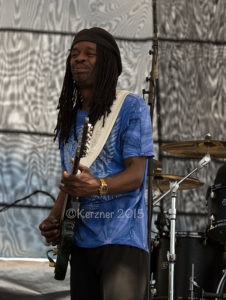 For blues lovers, festivals are always a treat. There is sure to be great music, good food, and often, a chance to catch up with old friends, and meet some new ones. Undoubtedly, the best part of a blues festival is an opportunity to have our souls and spirits nourished. The Tampa Bay Blues Festival has been a cut above since it began in 1995, and has been going strong ever since. Founder and producer Every year, Chuck Ross brings together a great lineup that is enjoyed by fans, and blues devotees from around the globe. Ross strives to present both internationally known acts, and up and coming acts, including local artists.  One of the most celebrated blues festivals in the country, in 2011, the TBBF received the "Keeping the Blues Alive Award" from the Blues Foundation in Memphis for the Festival category. The award is for cumulative excellence over a number of years, and this festival has certainly provided the best blues has to offer over the course of its 20 year history. Past performers have included Jimmy Thackery, John Mayall, Koko Taylor, the Fabulous Thunderbirds, Walter Trout, Shemekia Copeland, Taj Mahal & the Phantom Blues Band, Los Lobos, Ike Turner, Jonny Lang, and The Jeff Healey Band.
TBBF is held every April, in beautiful Vinoy Waterfront Park, in St. Petersburg, Florida. The park is bordered on the east by Tampa Bay, and everything from a yacht to a canoe, can be seen anchored immediately off shore during the festival, as seagoing music lovers pause to enjoy a bit of blues. The sides of the festival grounds are lined with vendors offering everything from artwork and food, to T-shirts and community organization booths. Naturally, the Suncoast Blues Society had a booth set up as well, ably maned by Conrad Sewer and company. The festival also has a premier stage set up, equipped with world class sound, and superior lighting.
Aside from presenting world class blues performances to the public, the TBBF also helps raise money, with proceeds from the event benefiting their charity partner, PARC (Pinellas Association for Retarded Children). PARC is a non-profit organization whose mission is to provide opportunities for children and adults with developmental disabilities to exercise their independence and experience life to the fullest. By creating and sharing, PARC is proud to provide over 40 services to over 800 children and adults with developmental disabilities.
This year's festival kept up the tradition of excellence that has been built over the years. American Blues Scene was there for the Saturday lineup, billed as "a day of blues guitarists," which it truly was. The crowd assembled for this day's lineup was the biggest in the festival's history. The show kicked off with Bernard Allison and his group, fresh off the plane from Europe. Jet lagged and tired, but excited and energized, Allison and his band started out in fifth gear and never looked back. Immediately, Allison's fretboard work had the crowd animated. Eyes were popping, and fans were picking their jaws up off the infield. Allison was hot, and he was enjoying every second of it. The more he played, the more love the crowd showed him. Allison responded by playing even harder, delivering a set that was insanely good. High points included a take-no-prisoners version of "Serious," and a breathtaking version of "Voodoo Child" that earned him a standing ovation, and left the crowd torn and frayed.
The always impressive Carolyn Wonderland followed Allison, giving the crowd a completely different take on the blues, Texas style. Wonderland brought her strong vocals, and serious Texas guitar chops, performing a set that included slower numbers, and barn burners too. In between fingerboard workouts on her Telecaster, Wonderland took time to talk to the crowd. They loved her sweet, Texas accent. They loved her set as well, which included a stirring version of "Two Trains," and the interestingly unique, "Where You Gonna Be When The Moon Goes Missing?"
Crowd favorite, and BMA Award winner Tab Benoit was up next. As usual, he delivered a smoking set. Benoit played several of his crowd pleasers including "Crawfishin'," "Medicine," and a thrilling version of  "Nice and Warm." He joked with the crowd, saying, "What comes out of my mouth is exactly what you hear. No auto tune. It's the real deal." When he broke a G string in the middle of "The Blues Is Here to Stay," he laughed, and kept on playing. Benoit closed his set with another crowd favorite, "Night Train," which had the crowd on its feet.
After Benoit's bruising set, the crowd was treated to something really special. BMA Award winner Ronnie Earl was making a rare appearance in Florida, having not played here for many years. There was great anticipation in the park as he took to the stage, and began to play. From the very first note everyone knew that something special was happening. Earl played mostly slower numbers, and it was immediately evident that he was at the top of his game as his fingers coaxed poignant, lyrical notes, that dripped from his fretboard. His tone was pristine, almost velvety, and full of body. This was blues peppered with discrete, well placed, echoes of jazz, and even a bit a swing. The crowd enjoyed it, but for the guitarists in attendance, it was a living, breathing lesson in technique, tone, control, subtlety, and passion. This was an eloquent performance, filled with joy, and gratitude. Earl really loves playing, and it showed
Following Earl, Grammy Award winner Boz Scaggs took the stage to close out the day's festivities. Scaggs was accompanied by a full band, and they sounded good. While the sound had been mixed perfectly throughout the day, Scaggs and company raised it up a notch, and it was beautiful. The band covered a lot of ground, treating the audience to "Crazy," "Rainy Night In Georgia," "Lowdown," "Lido," "What Can I Say?,"  "Lady Sun," and more. Scaggs was melting people with his slightly gritty, laid back, easy-on-the-ears vocals. Smooth. Really smooth. Of course, he can also play a mean guitar too, and was in great form. The highlight of his set was, "Somebody Loan Me a Dime," a song he had recorded with Duane Allman many years ago. His current performance of this classic is amazing, showcasing brilliant vocals, and guitar playing that had the crowd going wild.
It was a day full of guitar mastery, from five completely differing points of view. The assembled fans were enthralled, and captivated; not even the humidity and heat diminished their pleasure this day. It will be interesting to see who is on for next year. Will you be there?