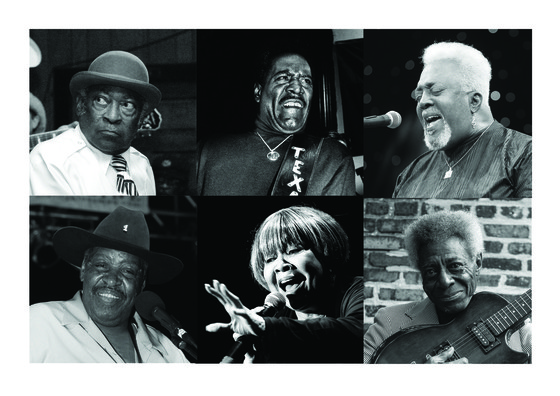 MEMPHIS, Tenn. — The Blues Foundation invites fans, musicians and music world professionals to come celebrate the blues during Blues Music Awards Week, which commences in Memphis on May 8th. A wealth of wonderful events will happen throughout the week surrounding the main attractions: the Blues Hall of Fame Induction Ceremony and the Blues Music Awards.
The 38th class of Blues Hall of Fame inductees will be feted at a ceremony May 10 that will take place at the Halloran Centre for Performing Arts (225 S. Main St.) beginning at 6:30 p.m. Honorees include Johnny Copeland, Henry Gray, Willie Johnson, Latimore, Amy van Singel, Magic Slim, and Mavis Staples, W.C. Handy's book, Father of the Blues, and a number of classic recordings, among them John Lee Hooker's album Real Folk Blues, inducted during his centennial year. A 5:30 p.m. cocktail reception precedes the induction ceremony, which will be highlighted by testimonials, video clips, and acceptance speeches. Tickets cost $100 and are available at Blues Hall of Fame Induction Ceremony Tickets.
On May 11th, the Blues Music Awards will be presented at the Memphis Cook Convention Center (255 N. Main St.). Sugar Ray Norcia leads this year's contenders with seven nominations, with other blues greats to include quadruple nominee Chicago-based guitarist Toronzo Cannon and triple nominees Bobby Rush, Kenny Neal, William Bell and the Nick Moss Band battling it out for the hotly contested Best Album honors. A complete list of nominees can be found at Blues Music Awards Nominees.  Festivities kick off at 5:30 p.m. in the Convention Center's Grand Lobby with a pre-awards party, where some BMA nominees will perform. The ceremony, in the Grand Ballroom, includes more nominee performances, a seated dinner and, of course, the presentation of the awards. Tickets are $150 and may be purchased at Blues Music Awards Tickets.
The week's events begin Monday night, May 8th, with a screening of the acclaimed documentary Born in Chicago at Malco's Studio on the Square (2105 Court Ave.) at 7 p.m. Following the film, legendary Chicago bluesman Corky Siegel will offer a Q&A and a CD signing. The next night, Siegel will perform a special "Chamber Blues" concert at Lafayette's Music Room (2119 Madison Ave.) with musicians from IRIS Orchestra. The Blues Foundation is proud to have brokered this partnership between IRIS Orchestra and Corky Siegel to bring chamber blues to Memphis.
On May 10th the Blues Hall of Fame Museum unveils its new exhibit The Rosebud Agency and Mike Kappus: 45+ Years Sharing the Music in its Legendary Rhythm and Blues Cruise Gallery, showcasing a treasure trove of posters, photos, tour jackets, award-winning CDs, tour passes and more rare memorabilia from Kappus' five decades as a promoter, agent, manager, talent buyer and GRAMMY® Award winning producer. A section of the exhibit salutes the centennial anniversary of John Lee Hooker (a longtime Rosebud client). Kappus, a 2014 Blues Hall of Fame inductee and a four-time Keeping the Blues Alive Award recipient, will attend the 2 p.m. opening reception and share some stories from his career.
Visitors can also view a special exhibit of artifacts and personal items representing the 2017 Hall of Fame class. On Friday, May 12th at 2:30 p.m., the Blues Hall of Fame Museum will welcome Holger Petersen for a book signing. Holger Petersen, the longtime host of CBC Radio's Saturday Night Blues, recently published a new book of musician interviews, Talking Music 2: Blues and Roots Music Mavericks, which contains 25 in-depth conversations with such influential musicians as B.B. King, Solomon Burke, and Steve Miller.
Part of the fun of Blues Music Awards week is enjoying all the music Memphis has to offer. On May 10th, upon the conclusion of the Blues Hall of Fame Induction Ceremony,  Big Llou Johnson will throw his 5th Annual Hall of Fame Tribute Jam with fellow blues DJ Bill Wax. For this Blues Foundation fundraising event, the Warehouse (36 GE Patterson Ave.) will transform into a "Juke Joynt" saluting the Hall of Fame's new inductees as well as the recently departed music icons James Cotton and Chuck Berry.
The following day, May 11th, from noon-2:30 p.m., the Blues Foundation's HART Fund will bring doctors, nurses and other health practitioners to offer a range of health screenings to include full lipid profiles, blood pressure, and PSA screenings. The HART Fund will also partner with MusicCares to provide custom ear-molds for musicians who qualify. In addition, the Recording Academy will host a reception celebrating the BMA's at the Sheraton Memphis Downtown (250 N. Main St.) from 1-3 p.m. To attend this event, please RSVP by emailing.
The morning following the Blues Music Awards, the public is invited to the dedication of a statue honoring the great Bobby "Blue" Bland. Blues luminaries and members of the Bland family, including his widow Willie Mae, son Rodd Bland and daughter Patrice Moses, will be in attendance for the statue's unveiling on the SE corner of S. Main and Martin Luther King Jr. Ave. at 11 am. Capping off the week's festivities will be post-BMA events from Memphis and into the Mississippi Delta, to include a special BMA Fest partnership between The Blues Foundation and The Beale Street Music Association on Friday evening, May 12 in which internationally renowned blues musicians, including many BMA nominees, will perform in clubs along Beale Street. $10 wristbands for entry into all venues will be on sale along Beale Street on Friday evening. Additional details and tickets for all of the BMA Week events can be found at BMA Week Schedule.
About the Blues Hall of Fame Museum: Since opening in May of 2015, the Blues Hall of Fame Museum has become a must-see destination for blues aficionados and casual fans alike. Through its ten permanent galleries and the Upstairs Legendary Rhythm and Blues Cruise Gallery's temporary exhibit space, the museum educates and entertains visitors, providing them a unique way to explore blues culture and history, while also highlighting its 400 inductees. Visitors can use interactive touchscreens to access databases that allow them to hear music, watch videos and read brief biographies about each of the museum's inductees. Guests can also view one-of-a-kind memorabilia, from musical instruments and tour attire to awards and artwork. Located at 421 S. Main Street, Memphis, the museum is open seven days a week (10 a.m.-5 p.m. Mon.-Sat.; 1-5 p.m. Sun.). Admission is $10 per person, with children and Blues Foundation members free. From Memorial Day through Labor Day, The Blues Hall of Fame Museum will participate in the Blue Star Museum program, offering free admission to active US military personnel and their immediate families. The museum is also available for private parties and events after hours. For more information, call 901-527-2583.
About the Blues Foundation: The mission of this world-renowned, Memphis-based organization is to preserve blues heritage, celebrate blues recording and performance, expand worldwide awareness of the blues, and ensure the future of this uniquely American art form. Founded in 1980, the Blues Foundation has approximately 4,000 individual members and 200 affiliated blues societies representing another 50,000 fans and professionals around the world. Its signature honors and events — the Blues Music Awards, International Blues Challenge, and Keeping the Blues Alive Awards — make it the international hub of blues music. Its HART Fund provides the blues community with medical assistance for musicians in need, while Blues in the Schools programs and Generation Blues Scholarships expose new generations to blues music. Throughout the year, the Foundation staff serves the global blues community with answers, information, and news.