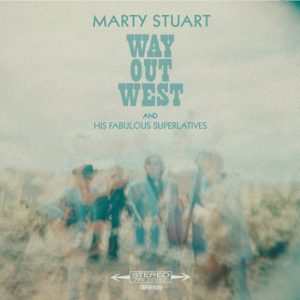 Marty Stuart is something else. A multi-instrumentalist, a fan could hand him a broomstick with a string nailed to it and he could play it; and it would sound good too! These days he is grounded and thriving. He recently issued his 18th album, Way Out West, and he and his merry band, The Fabulous Superlatives are enjoying life and bringing their music to fans everywhere.
For Stuart, this has been a journey that has brought him full circle. He began as "a thirteen-year-old chimpanzee" that his friend and mentor the great Lester Flatt took under his wing so many years ago, and today, he is passing on what he has seen and learned and lived to a new generation. He clearly loves what he is doing, and he also enjoys having the opportunity to give back and help others be successful.
American Blues Scene spoke with Stuart about his mentor Lester Flatt, and Johnny Cash, who was a friend, a brother and a mentor. We also touched on why a desert is really a cool place, what makes a great record, and why this new album is so good.
Barry Kerzner for American Blues Scene:
It has been said of you that the music you record and release is "keenly relevant music, records that honor country's rich legacy while advancing it into the future." Way Out West is your 18th studio album. Do you feel that it honors the past while it looks to the future?
Marty Stuart:
That was the original intent, and I do feel like that was accomplished on this record. We set out to basically tip our hat to many of the people places and things that inspired us as young musicians in our formative years. The closer we got to making this record with those inspirations on the table inside of these songs, it was very obvious to me that everything about this was fresh. It had nothing to do with the past other than the fact that so many things had inspired us before.

It's kind of like a football team or a baseball team that's on fire right now, looking to the greatest team the Yankees ever had. You wish that could happen again, but it never can. You just have to go out and play the game tonight, keep the story of baseball moving forward, and hope you have a good night. It's the same way with this band.
For Marty Stuart, what makes a good record? Any record, whether country, blues, rock, roots, whatever, what makes a good record for you?
Well, man, the absolute bottom line are good songs, surrounded by an authentic band. Good tones. A good record educates me and entertains me at the same time. As soon as it's through, I wanna hear it again, and as soon as it's through the second time, I wanna hear it again. That tells me that it's a good record and if it's forty-five minutes long and it seems like it's fifteen minutes long, that's the ultimate compliment.
You said, "If you go and sit by yourself in the middle of the Mojave Desert at sundown and you're still the same person the next morning when the Sun comes up, I'd be greatly surprised. It is that spirit world of the West that enchants me."  What is it about the American West, and the Mojave Desert that touches you so deeply?
I don't know. The same could be said for the Mississippi Delta. You go down there and sit over in that cotton field next to Robert Johnson's grave and when you look out there, there's absolutely nothing. Same with the Mojave; nothing but cactus and rocks and scorpions. If you look at it from a different angle though, there's EVERYTHING. You close your eyes and look inside yourself there's everything. So, I think when you get one-on-one with all that atmosphere, the creator's, it's a big ride.
Having been to both places, I'd have to agree with you. It is definitely a spiritual experience.
That is exactly what it is.
The Fabulous Superlatives have been called your "secret weapon" and have also been referred to as an extension of you yourself. Would you tell our readers a little about them?
The Fabulous Superlatives, in my opinion — here's the best way I know to tell you. As people, as musicians, it's just unparalleled the exemplary characters that they are. You and I have had bands that we've talked about and said, 'Oh man, I wish I could have seen them.' Or 'I got to see The Beatles one time,' or 'I got to see Otis Redding one time.' Bands like that, and nights like that you go 'I've got to see those people one time.'

I really can tell you from the bottom of my heart, seeing the Superlatives in action on stage at this point in time, I promise you that twenty years from now people will be saying 'I got to see those guys one time and I'll tell ya what, it was one of the greatest nights of my life.' I hear that all the time. So, THAT is the Superlatives in a nutshell, right there.
A lot of artists who don't play blues listen to blues; they enjoy it, and it influences their lives and their performances. Given that, what kind of blues do you enjoy, and how has it affected your life and your music?
First of all, I'm from Mississippi. So, whether on the street corner or at church, or whatever, it was just part of the atmosphere down there. I can tell you the first blues I ever heard was a country or bluegrass band, Lester Flatt and Earl Scruggs. The dobro player was Uncle Josh Graves. He was an East Tennessee boy, but man, he had a case of the blues that sounded like he could have been from Senatobia, Mississippi.

The first blues that hit me, again, was from a country band. Then, I discovered Muddy Waters. Then I discovered Hubert Sumlin, Little Walter, Howlin' Wolf and all those guys.  When I hear myself play the mandolin, I hear all those people coming out of my fingers sometimes. The blues is just a great form of expression, it's a way of life, it's part of the atmosphere. It's hard to shake the blues, so I won't try to.
Indeed. My life would be really miserable without it. It has been said that one reason you've recorded Way Out West is for those who come after. You've been quoted as saying that "There is no greater responsibility in music than to share what you've learned."
You can't keep music for yourself any more than you could put your arms around the water in a river. You have to be a part of the moment. I go back to the beginning of my professional life. For years I really couldn't think why Lester Flatt would hire a thirteen-year-old chimpanzee to put in his bus. It finally dawned on me that he saw something in me and he saw that I was worth investing in, and he passed on so much of who he was and what he knew to me. The same can be said of Johnny Cash as a mentor.

That's what Connie and I… again, we look for young people all the time to help on a recording session, or whatever we can do. We can help with their first cover photo session maybe; whatever. People did that for me. If I can return that, I think that that's the way it really works best is when you just hand it back off to somebody else.
You've also said, "Everything that came out of California captivated my kid mind in Mississippi. It seemed like a fantasy land. Way Out West is a love letter to that." Would you care to say a bit more about that?
I think the music kind of speaks for itself. I think that those inspirations I was speaking of, you can hear them down in there; you can feel them. Whether it's the sound of that old Johnny Cash record, "I'm Lost On the Desert"  that touched me when I was six years old, or "I'll Feel a Whole Lot Better" by the Byrds on that song "Time Don't Wait," you know? Those inspirations are in there. We were honored by them and we were honored to put them back inside of our record.
Given the sonic portrait and texture of this album, it really is a great soundtrack for what you were saying about the desert and Mississippi. The textures that y'all have achieved with the instruments is incredible.
Thank you.
The production isn't flashy, and the mix is great. The sound is so amazing, especially through headphones. You can hear every nuance and even if you try to follow one instrument, everything blends and weaves into everything else.
It's kinda like staring at the Sun or watching Old Faithful go off. At some point, you really can't control it. You just have to look at it, or listen to it and enjoy it. That's the way I have to do it. You're talking about the mix, and that's the work of our engineer Mick Conley. He worked so hard on this record. He is absolutely brilliant.
You had touched on how Lester Flatt saw something in you and gave you his wisdom, his wit, and his music. I know that Johnny Cash was near and dear to you. Would you care to say anything about him as a mentor and a friend?
One of the things that I loved about him and I try to live by, is that he was probably the most creatively fearless human being I've ever known. If he wrote a song that nobody cared about, it didn't bother him; he'd sing that song anyway. He believed he'd bring it to life. If nobody applauded, or the critics didn't care, it never fazed him. He lived from the center of his heart when it came to creativity. He was absolutely fearless.  That inspired me. That's the one place in my life that I reach up toward him, and I try to live up to that.