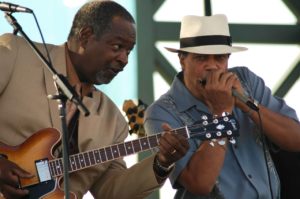 Born William Earl Branch on October 3, 1951, in Great Lakes, Illinois, he is better known as Billy Branch, harmonica master extraordinaire. He has been a staple on the Chicago blues scene for decades now. Branch moved to Los Angeles with his family in 1956. He moved to Chicago in 1969, later graduating from the University of Illinois at Chicago there.
Branch took over harmonica duties in Willie Dixon's Chicago Blues All-Stars when Carey Bell left the group to head out on his own. He later founded the Sons of Blues with Lurrie Bell (guitar – son of Carey Bell), and Freddie Dixon (bass – son of Willie Dixon). The band initially recorded on Alligator Records, and have recored for several labels since. Even with personnel changes through the years, the band has been a standard in representing Chicago blues in Chicago and around the world.
Branch himself has earned an Emmy Award, an Addy Award, and is a retired two-term governor of the Chicago Grammy Chapter. He has also been nominated for three Grammy Awards.
American Blues Scene spoke with him about preserving the blues legacy, 40 years of Sons of Blues, and playing with the greatest generation of Chicago blues masters.
Barry Kerzner for American Blues Scene:
You spent about 13 years in LA before you moved to Chicago. Did that have any influence on your music at any point in time?
Billy Branch:
I would say yes and no; not a direct influence because I was completely unaware of the blues, oblivious, ignorant to the blues during that time in LA. I would say that my style that developed certainly contains some influences of the music that I was absorbing. That was everything on the radio that during that period, during the sixties.

We had, what in my opinion was one of the most vibrant, creative periods of music because all the genres were flourishing. You had rock and Motown; you had kind of a blues resurgence happening.

So, in my style of playing sometimes, you'll hear some R&B, some rock influences, but not direct influences.
You founded Sons of Blues with Lurrie Bell, and Freddie Dixon. There have been numerous personnel changes, and you've put out a lot of good music over the years. What are you the proudest of regarding the Sons of Blues? What do you feel is the best accomplishment of that group?
There's a few things. I could say, arguably, three of the most dynamic blues guitarists of my generation; three of the best, if not the best, have emerged from that group. That would, include Lurrie Bell, Carl Weathersby, and Carlos Johnson. That's one aspect that I think is noteworthy.

I think the thing I'm most proud of is the fact that even though personnel have changed, the band has stayed true to its mission, which was to preserve the integrity of the Chicago blues style and also have an eye to the future and perform with a contemporary kind of flair.

We all came up under the best of the living exponents during those years, who were still in Chicago. I could name dozens… We're talking about Junior Wells, Buddy Guy and Sunnyland Slim, James Cotton and Big Walter Horton, Koko Taylor and Johnny Littlejohn.

Not to mention of course Muddy and Wolf. I didn't have a chance to know Wolf personally, but I had a chance to sit in with Muddy a couple of times. I was six years in Willie Dixon's band. That association and that opportunity to learn from the best that there were, had a profound impact on what we did, and what we continue to do.
You've been so fortunate to have performed with or recorded with Willie Dixon, Johnny Winter, Koko Taylor, Honeyboy Edwards. You even worked with Syl Johnson.
Sly Johnson, Lou Rawls… I'm on close to 300 recordings at this point. But yeah; Son Seals, Lonnie Brooks, Eddie Clearwater, Willie Dixon, Eddie Shaw…
Most folks don't run into that much talent in a lifetime, and you were fortunate to run into a lot of it early on. How has that improved your writing and performing?
Well, as you said, that's a lot of talent, and you have to meet the level of that talent. You're not gonna play with those guys and not be up to speed. They're the standard bearers of their profession. You know that you can offer no less than your best when you're doing that.
Sly Johnson is a name that doesn't come up very often, which is a shame. Could you talk about him for our readers because some of the readers are gonna be scratching their heads and asking who that is and why is he important?
Well Sly is important and raised in the blues, the brother of Jimmy Johnson. He's a very important R&B performer and songwriter. What I just discovered fairly recently, was how much his music had been sampled by pop, rap, and hip hop artists. On his website, there's like, a hundred or so maybe more, various hip-hop and rap artists that have sampled his music.
You know Buddy Guy says that blues doesn't get the respect and air play that it deserves. He has a point. If we don't do something to keep the legacy of these older artists, the pioneers that we revere alive, how can we move forward with anything new?
I've said this in many interviews as well: Everything boils down to the dollars, right? The blues is a very small, minuscule fraction of the so-called record industry. We actively tour around the globe throughout the year. There are thousands of devoted fans that traverse the globe to come to the Chicago Blues Fest. Many of them will embark on a trek to the South and Memphis, to Mississippi and they'll go down the Mississippi Blues Trail. It's like a religious pilgrimage.

I'm optimistic because I see a lot more younger fans, and more younger African Americans entering the blues scene now. It's encouraging, and we have in the making the Chicago Blues Experience, which I'm on the advisory board. That will be a phenomenal boost, a phenomenal platform to present the blues on a world-class, very high profile level, as a permanently located institution.
Are you referring to the Chicago Blues Museum that they are supposed to be doing?
Yeah, called the Chicago Blues Experience.
Can you elaborate on this a bit because there is so little information on this out there.
I don't have much more to add, but I do know that the concept is that it will be a performance venue as well as an educational venue, with interactive exhibits and displays. It's gonna be quite comprehensive – there's gonna be quite a bit of finance involved in it.
You're part of a tribute at the Paramount Music Festival Centennial Celebration. Would you tell our readers why you feel it's so important to preserve and celebrate the history and artists of that particular label?
Right. I've always been a fierce advocate for education, as you probably know because I've been active in the Blues In Schools as long as my professional career; since 1978. The blues, it exists on almost an underground status because you've got these thousands of fans around the globe that actively support our music. They come to our shows, buy our music, and they're devoted fans, but yet somehow it escapes the attention of mainstream music industry, mainstream press, mainstream television, and this is the music that is the roots of all of America's music.

We that are blues fans and players, we know of the connection between the blues and the rock and roll scene. We know that The Rolling Stones took their name from the Muddy Waters song, "Rolling Stone." We know that Willie Dixon penned so many of the hits that groups like Cream and Led Zeppelin and so many others did. So, it's important, although the Paramount artists preceded the Chess Records. I guess they're what you could call the pre-war blues artists. But, they were no less influential.

So, it's important to be able to trace the music back to its roots and know where it came from.
Those players were amazing!
Yes, they were. Big Bill Broonzy I guess you could say was the most modern – he's kind of like the link between the pre-war and the post war Chicago blues scene.

They said he was the guy that would welcome the new artists, that befriended guys like Muddy and various artists. That reminds me: Lefty Dizz, for a lot of us younger cats, at the time was the same kind of figure. Lefty Dizz was the guy that welcomed us to the scene. He was the coolest, the hippest, the funnest, you know.
You guys played with him, but a lot of people that look back on it, they remember his sense of humor and everything else. What gets a bit lost in all that is just how great a guitarist he was.
You know, he was SO flamboyant, and he was such a showman that a lot of times the depth of his playing ability would get lost because he's clowning around.
Absolutely.
I remember one time, I had a little hand-held recorder when Dizz was playing. I remember playing this for Bruce Iglauer; I had occasion to go up there doing a recording for him. I challenged him to name who the guitarist was. Otis Rush? Nope. Lewis Myers? Nope. He must have named five people. When I told him Lefty Dizz, his jaw dropped!

He was one of the Golden cats, man. He was one of the most endearing guys that everybody who knew him always speak so fondly of him. Such a down to earth, funny, warm guy, and very intelligent. You know, he drank as everybody did. I remember at his funeral, I spoke at his funeral. I was saying that Theresa's and the Checkerboard was where we got our college degree, even a Ph.D.

After the funeral, there were about five of us just standing in front because everybody went down to the Checkerboard, which was still owned by Buddy at the time. We were just telling Dizz stories, and then we said, 'Well, here's to Dizz!' I swear, all five of us pulled out a half pint of Grand Dad, 'cause that's what Dizz would drink; Old Grand Dad or Wild Turkey.
What's on the horizon for you?
Again, 40th anniversary, and now, I have a young band. My drummer of over 32 years Mose Rutues, had to retire because his health was not the best. My bass player of 20 years Nick Charles passed of cancer. He played with everybody: Dizz, Junior, Buddy, B.B., Albert King. Matter of fact, he was brought up here [Chicago] from Mississippi to play with Howlin' Wolf as a teenager. Eddie Shaw is the one that hooked him up with that. My bass player, Marvin Little, and my drummer, Andrew 'Blaze' Thomas and guitar player, Giles Corey, they're all in their forties. So, all of a sudden, I've got this young, hot, fiery band. Ariyo is amazing in his own right. He played with Otis Rush and Valerie Wellington.

I'll admit I'm not an expert on the Paramount label, but I certainly recognize the significance, and I'm looking forward to participating in that hundred year anniversary.