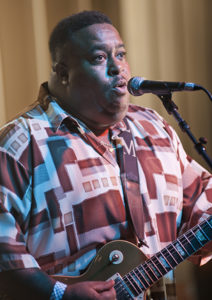 "You don't see any black people playing country," says blues guitarist Larry McCray, "and there's been only one black rock and roll band in my lifetime, and that's Living Color."
McCray certainly doesn't consider himself a rocker. He performs prime time Saturday night, October 7th, at the iconic King Biscuit Blues Festival in Helena, Arkansas, and will be on my Call and Response Blues Seminar at the Festival at noon on Saturday. He was the first artist signed to a contract by the blues label Point Blank in 1991 followed by Albert Collins, John Lee Hooker, and Pops Staples. He was named Top Guitarist in the International Blues Matters 2014 writer's poll. Recent gigs have included Buddy Guy's Legends and the St. Louis Blues Festival.
Yes, he's a blues artist, but he could win a cutting contest with just about any rocker on the arena circuit today. And if you don't believe me ask Derek Trucks and Dickie Betts of the Allman Brothers, Los Lobos' David Hidalgo or Jimmy Herring of the Aquarium Rescue Unit and the Grateful Dead. All of them appear on McCray's 2015 album the Gibson Sessions. That album features numbers by The Rolling Stones, Lynyrd Skynyrd, Bob Seger, and Joe Cocker.
But black people aren't considered rock artists. It's just not done. "It's just that I don't think musically we are accepted across lines as freely as the white artists are in black music," says McCray. "You know, black people don't support black music, not blues music and stuff like that. You have an imbalance in your artists."
I've been involved in the King Biscuit Blues Festival for almost a quarter century. I have Larry McCray on my Call and Response Blues Seminar at the festival this year. One of the reasons I like working for the festival is that there are no color lines drawn. Most of the acts on the main stage Saturday night happen to be white, but nobody's keeping count. The festival hires the acts based on their talent.
The festival's lineage goes back to 1941 when Sonny Boy Williamson became the first black bandleader to have his own show radio, King Biscuit Time on KFFA in Helena, Arkansas. Yes, that show broke through a ceiling. Yes, it's harder for a black artist to be a headliner in the rock world, and Larry McCray plays the blues scene, not the rock circuit. And, yes, most of the other acts Saturday night are white. And if we're lucky – it's not "scheduled" –  we may see them all jamming with Larry Saturday night.
The last six scheduled acts on the main stage include Warren Haynes, Bruce Katz, and Jack Pearson, all of whom have been "permanent" members of The Allman Brothers or Gregg Allman and Friends. Earlier in the evening, Bob Margolin takes the stage. He was Muddy Waters' lead guitarist and the only original participant in The Last Waltz 40th anniversary tour to have performed in the Martin Scorsese film of the same name. Anson Funderburgh is the only artist to have played at all 32 King Biscuit Blues Festivals. Larry McCray's set is scheduled just before Warren Haynes and Gov't Mule close the festival Saturday night.
In a recent interview, McCray checked off his family and friends connections with each of these artists:
Warren Haynes is credited with being the creative spark that kept the Allman Brothers relevant for the last two decades of their existence. "I met Warren Haynes in the late '80s. I forget exactly what year I met Warren Haynes, but I met him in a writers' session in Memphis, and he gave me four cassettes full of unpublished music, and since that time 10 or 15 of those songs have been published songs that were being done by either him or Gregg Allman."
Bruce Katz was a regular piano player in Gregg Allman and Friends from 2007 to 2o13. His credits include Butch Trucks and the Freight Train Band. "You know Bruce Katz played with Gregg Allman and Friends from time to time," explains McCray. "I used to do those tours as well, and that's where I met him. I used to do see Bruce all the time on those festivals, and I used to play the Boston area quite a bit. We'd run to him all the time."
Jack Pearson played lead guitar with Dickey Betts in the Allman Brothers from 1997 to 1999. The Nashville-based musician has also done studio and stage work with Vince Gill, Jimmy Buffett, Lee Roy Parnell, Faith Hill, and Delbert McClinton. "I met Jack Pearson with Warren Haynes in New York City about 25 years ago at the Irving Plaza," says McCray. "We did a gig there, and they were playing somewhere else in the city that night. When we got finished, Warren came over to the gig, and he brought Bernie Worrell, Jack Pearson, and a couple of other guys from the band, and we had a big jam over here.  That's when I first met Jack. I'd never met Jack before. When I heard him play, I was totally blown away in terms of what he could do with the guitar. He just came in, picked up my guitar and commenced to raving." (chuckle)
So how come Pearson played in the Allman Brothers for only two years? "I don't think Jack got to travel a whole lot. Jack is a guitar teacher, and he does that every day pretty much. Maybe he does work on the weekends, but every day 10 hours a day, he's teaching, he's playing all the time He always has his instrument. I used to do the Gibson Guitar parties, and Jack Pearson was one of the artists that played there a couple of times, and I was there doing the same thing three or four times. So, I would see Jack there.
Bob Margolin. "I've been knowing Steady Rollin' since 1990. I used to see him at the Heart of Chicago when he was playing with Sunnyland Slim, and then he left Chicago, and I would see Bob on the festivals. The last time I saw him he and I played in Denmark together with the same group. So, we did a co-thing together. We used to play together, and it was a lot of fun. But I've done about 15 festivals with him.
Anson Funderburgh and McCray both will be on the Call and Response Blues Symposium I will host at noon on Saturday. Funderburgh is also this year's honoree at Warmup Wednesday. Last year's honoree Bobby Rush took home this year's Traditional blues Grammy. Anson performs Friday night with his band The Rockets and Saturday night with Andy T. and Alabama Mike. "I've known Anson since the Sam Myer days. (Sam was Anson's vocalist from 1986 to 2006 when he passed away) So, all of these people I've known since about the early '90s."
McCray combines one of the hardest rocking guitar sounds of any contemporary blues artist with gospel-tinged vocals and a history that includes an incredibly diverse set of influences. One of eight children born to poor parents who lived in a home with no running water or electricity, he moved to Saginaw, Michigan as a 12-year-old with Clara, his only sister, who was 18 years older than he and acted as a second mother. She played in a band with the late Michael "Iron Man" Burks' father. But he soon found out that playing the blues was a dead end in Michigan.
"I started playing out around '76 or '77, somewhere like that. We each started (hustling) gigs, and it was all R&B and soul music and of course some rock music. Wasn't nobody interested in hearing blues? That's the way you clear the club out. At that time, the rock and roll bands were busy. It was like Ted Nugent, and Bob Seger was hit. The metal bands like Judas Priest through the '70s and '80s. Who was hit at that time? Def Leppard, Jethro Tull, Kansas, stuff like that. Just whatever was on the radio, at the time. All the rock bands. Rock was king, and black music was Johnny Taylor and Tyrone Davis, Gladys Knight and Aretha Franklin into the '80s.  It moved on into groups like Fatback Band, War, stuff like that."
Detroit rock certainly has fired McCray's guitarist's muse, but his voice is Arkansas born. "That's the Bible Belt. All the southern people. You were talking about AME churches. They all had music and sanctified. So, we lived on the corner from a sanctified church, and we would set out on Sunday, my brothers and me and listen to the gospel music coming out of the church on the corner. And it was quite impressive."
But they never went inside.
"By that time, I had my horns coming out. But you know, I'm a pretty moral person. I don't go to church all the time because I believe church is in your heart."
It's the way he uses his voice and guitar that is the secret to McCray's signature sound.
"I used my guitar to go places where my voice can't because we only have the voice that we have, and everybody's vocal range is limited somewhat. I'm a baritone, so I can't go up into the high register or anything, so I'll go out there and use a falsetto, but my instrument is to go places I can't reach with my voice, and they kinda go hand in hand. I use my voice to set my instrument up."
In 2014, McCray was named the top blues guitarist by British journalists in the International Blues Matters 2014 Writers Poll. "They do have an appreciation for the roots there and the closer to the roots the better it is for you," says McCray. "Although my music is not so pure, I play a saturated (kind) of music because I use all my influences. I was influenced by soul music, early soul music of the '60s and then it went to being called R&B. Nowadays I don't know what they call black music. They're not necessarily radio bound.  I don't think music should be restricted by genre if you can put it together and make it make sense. Then I think that's a good match."
32nd Annual King Biscuit Blues Festival takes place in historic Helena, Arkansas on Thursday, Friday, and Saturday, October 5, 6 and 7. Warren Haynes and Gov't Mule are this year's Saturday night headliner.  Tab Benoit tops Thursday's lineup,  and J. J. Grey and Mofro on Friday. Roger Stolle and I will each host two hour-long seventh annual Call and Response Blues Seminar from 10:45 to 1:00 p.m. on Saturday.