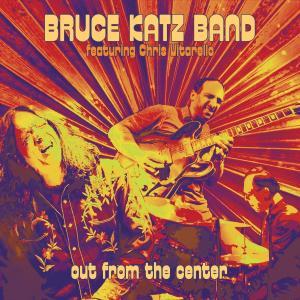 He's played on over 70 albums, and he's not only been educated at Berklee College of Music, he was an Associate Professor there as well. He has performed with Ronnie Earl, the Allman Brothers Band, Gregg Allman, Butch Trucks and The Freight Train, Les Brers, and more.
Gregg Allman has said of him, "He can play jazz, blues, Bach, anything. Man, he's a heavy!" Pinetop Perkins stated, "Now that's a piano player," and John Hammond went a bit further saying, "This man is as good as it gets. One of the greatest keyboard artists I've ever heard."
In 2014 Katz released his solo album, Homecoming, and his latest album is the standout thriller, Out From the Center. American Blues Scene spoke with Katz about playing with the pioneers of rock and roll, playing with the Allman Brothers Band, being mentored, his friendship with Butch Trucks, and much more. Join us.
Barry Kerzner for American Blues Scene:
People may not realize that you've appeared on over 70 albums. You've worked with artists such as Ronnie Earl, John Hammond, Duke Robillard, Joe Louis Walker, Little Milton, Jimmy Witherspoon, and many others. Has working in so many different styles with so many different artists helped you advance your own playing, and does that keep you fresh, with having to change up the process with each artist?
Bruce Katz:
Yeah. Actually, it is really interesting to me. I lead my own band where I can do whatever I want, but I really like to work with a creative artist. I'm trying to be myself and be creative, but I consider the vision of the person I'm working with. If I am recording with John Hammond, I'm trying to see the world the way John Hammond does, and then how I fit into that world and still be creative.

Sometimes if people are working with me, I feel that I'm allowed to say, 'Hey, I would like you to play in THIS way,' because this is my record. If I play with Duke or John, or with Bryan Lee or whatever, I always tell them, 'Give me direction. I want to do this in your vision, but with my own voice.' I really enjoy that process. I think it does advance my own musical knowledge and understanding. It makes me think of new ways to play that I can incorporate into my own playing.
Some of your earliest work was with Big Mama Thornton, and you got to play with Bo Diddley, Chuck Berry and just that level of people. What was that like for you, being so young and being able to step into that?
It was pretty daunting actually. Those guys were only brief things. It was pretty daunting. The first named blues person I played with was Big Mama Thornton and I was scared you-know-what to even meet her. she was really actually very sweet and really thoughtful. All of a sudden I connected with some people and I'm playing real shows, not just playing clubs where they are shooting pool and stuff.

It was kind of life changing I guess. The Big Mama Thornton thing made me – I had been playing a lot of jazz before that. I started off in blues and then I went into jazz and I did the Big Mama Thornton shows and I realized that this was definitely what I wanted to be doing. Blues. It was just so much more satisfying to me, connecting with people on that emotional level.

I love that music more than anything else even though I spent a bunch of years – I went to Berklee [College of Music]. I intellectually know how to play modern jazz and all that stuff. I can do it, but I choose not to. I incorporate elements; that's what I got out of all that jazz playing.
And your own music?
My own stuff? I think it's definitely blues, if you have to label it, but there's always some fringe elements that come in and out because of what I've done.

I toured with Barrence Whitfield & the Savages and we were playing rock clubs and punk clubs, and we opened for The Ramones actually. We also opened a lot for Los Lobos, and they just loved Barrence, and we did whole nationwide tours with them. This was in '87 when Los Lobos was just emerging. They had just had "La Bamba" come out, so they had moved up, from the clubs to the theaters. That's when I really saw the world. They toured incessantly, worldwide.

I learned a lot from that gig too. After that, I went back to school and got a Masters Degree in Jazz. Then I got the Ronnie Earl gig.
I wanted to ask you about that. What was that like?
I joined in 1992 and that was kind of the beginning of the instrumental Ronnie Earl Band. I had admired Ronnie for years before that and I used to go see him with Roomful [of Blues] and I was actually completely intimidated. He was up there all sweating cocaine and playing the greatest guitar I ever heard. That was an incredible gig, and I learned a TON!
He has a really great music sensibility about him.
Oh yeah. What was good, we worked very very well together. Both of us play with a certain kind of intensity that I think is very complementary. What was also good was I was deeply into blues, but it wasn't as deep as Ronnie Earl.
For me, your playing is like, if Django ran into John Coltrane, and they ran into The Clash, and then they ran into Ronnie Earl, that would be you.
I like that one, yeah! Someone came up to me at a gig and said, like, 'Frank Zappa meets Professor Longhair, meets something,' I forget. I like your thing even better, that's pretty good. I think I'm gonna use that!

It's funny because hardcore blues guys think I'm on the outer limits with all this jazz stuff, and the jazz guys think I'm just a blues musician.
I grew up in a house with all kinds of music from Benny Goodman to Zeppelin and it has really made for a more open outlook. When I listen to you, I'm like, 'Oh, OK. There's a taste of Django and there's a nod to Coltrane,' and so on.
Well, that's how I feel because… I mean, I don't think that too many people just have one narrow focus in what they listen to. I don't think it's good just to be completely wildly eclectic where you bounce around from one thing to another. However, when I listen to the new album that we made, I think it's a good program that's all revolving around a rootsy blues American sound, you know? I would personally enjoy an album that had that kind of variety.
So, what was it like working with the Allman Brothers as a touring musician, and then, working with Gregg Allman's band? Any particular stories you'd want to share with our readers?
That was amazing. I had played with well-known blues artists and we drove around in vans, and we played festivals and did some shows. I never played with rock stars and traveled around in a bus before. So, THAT was real different.

I moved to Woodstock New York about eleven years ago and I instantly was asked to start playing with Levon Helm, which was a thrill because I'm old enough I saw the Allman Brothers with Duane, and I saw The Band when the were The Band, and I love The Band.

Through Levon, I met Jay Collins who was playing Saxophone with Gregg and recommended me to him. It was March, and they were doing their Beacon Theatre run, so they were in New York for three weeks. So Gregg told Jay, 'Just tell him to come down to the Beacon Theatre and sit in with the Allman Brothers and I'll check him out.'
That was a lucky break!
Absolutely! So, I go down to the Beacon Theatre, kind of intimidated and freaked out. I meet Gregg for a second and two things happen. One, Warren Haynes walks over to me and says, 'Hey. Dave Mason is here, so when we call up Dave Mason, we're gonna do "Feelin' Alright," and do you know the piano intro?' So I say 'Yes,' even though I don't know.

I call a friend of mine in the Boston area and ask if he has "Feelin' Alright" on CD and he says yeah. I tell him to play the intro for me. He does; like 15 times. I figured it out, so that worked out well.

Then I'm standing backstage and Gregg's road manager says, 'OK they're gonna do "Stormy Monday," get on out there.' The way that Gregg sets up, it's the organ bench, and then the piano at a 90-degree angle, so I'm sitting on the bench WITH Gregg. He's facing forward and I'm facing the piano. I'm trying not to elbow him or push him off the bench because we are both scrunched up on the same bench.

I played "Stormy Monday," and then I played "Feelin' Alright" and it all went well. I got asked to join Gregg's band. Then I did a bunch of Allman Brother's tours. They were my heroes. I got to experience what it's like to be a rock star. It's nice touring on a bus.
You were playing in both of Butch Trucks' bands, weren't you?
Yes, I was. I knew Butch for a long time, and he was a friend of mine. It's heartbreakingly sad man. Those bands were great and Butch was incredibly fun to play music with. Really, I mean I don't just this; he was the most dedicated musician I've ever seen. As far as the music, he wouldn't compromise anything. He lived and breathed that music.

We would play shows that were almost three hours long and we'd be like 'Butch, can we get to the last song?' So anyway, it was a shock and incredibly sad.
Not to mention the talent that Butch was mentoring. Heather Gillis, Damon Fowler, and…
And Chris Vitarello, my guitar player ended up joining the band for the last tour. He became a permanent member of that band as well. Then there was the Les Brers Band, which was essentially the Allman Brothers with me on keyboards instead of Gregg. That band Butch was really into because we would take chances and do things, and Butch said it felt like it was 1970 again.

We all really miss Butch.
Let's talk about your album, Out From the Center. I really enjoyed that. There was a lot of variety.
Yes.
"Don't Feel So Good Today" was a boogie-woogie. "Blues From High Point Mountain" was a jazzy blues, and "All Torn Up" was really upbeat. The one that really grabbed me was "Dis-Funkshunal." That reminded me of the great Grant Green and his funkiness!
Yeah. Yeah. Yeah! "Dis-Funkshunal." The funny thing about that is that I always joke that we're the least funky band in the world. Yeah: Funky Grant Green, with like,  Jack McDuff. I never wrote anything quite like that.
That took me right back to Grant Green's "Ain't It Funky Now."
I think YOU are the first person that singled that song out. I have a soft spot for that one – I really do! It's different from anything I ever wrote.
So, Out From the Center, title track…
I probably saw the Grateful Dead 100 times and "Out From the Center," … I was playing a lot with Les Brers at the time I was writing that tune, and we would play like, 17-minute jams. Chris came up with the melody and I fleshed out the tune and we wrote it together.
It's a well-rounded album; the same kind when I was in the Army we used to sit around at lunch and listen to through Bose 901 speakers on a Denon turntable driven by a Carver receiver. We used to share and experience an album with each other.
The whole notion that everyone listens to music as a solitary experience through their earbuds and it doesn't have that thing of 'Hey, let's put on a Jefferson Airplane album and all sit there and stare at the cover, and listen to the music TOGETHER.

I just want to make sure that Chris Vitarello, it's actually featuring who is on the album, has been in the band for eleven years. I think he's one of the greatest guitar players in the world and he sings great, and he wrote a few of the tunes. So, just want to shout out to Chris.

So, I'm sure you noticed that on all the organ tunes I'm playing bass, so, I'll shout out to myself.
You started out playing bass, didn't you?
Yeah. Having been a bass player for years, I understand bass, in ways that a lot of keyboard players don't. So when I'm playing the bass on the organ, whether it's foot pedals or left hand, I'm thinking like a bass player.

When we play live, we are just a three piece band: Organ, guitar, and drums. And I am playing bass on the organ. It's challenging, and it's really fun.
What's coming up for you? What's in the future for you?
Right now, we are starting to write tunes for our next album. I record for American Showplace Music, which is a wonderful label based in New Jersey, and they have all kinds of good people, like Sean Chambers, Alexis P. Suter, Chris O'Leary and me. They have an incredible studio, and I think Ben Elliot is literally a genius at recording and producing. They want to do another record this year to follow up 'Out from the Center.' It will probably end up coming out next year.

We have tours; we're going to Europe and traveling around the U.S. I just got into the King Biscuit Blues Festival, in a featured spot too, on Saturday on the main stage. We also have four or five festivals so far, but that's the biggest one so far. I played that festival with Delbert [McClinton] and with Ronnie, but I never made it on my own.

I should mention that I played with Delbert for three years, and I loved it.
Yeah, his new album is insanely good.
He was starting to write that album as I was leaving. Another hero of mine, I've been so lucky. I tell people I've gotten to play "Johnny B. Goode" with Chuck Berry. I've played "Ball and Chain" with Big Mama Thornton. I've played "Whipping Post" with the Allman Brothers. I don't know what to say. I was in the right place at the right time.

There's lot's of worthy musicians out there that may not get a chance to do stuff, I've been very lucky.
Do YOU have a Bruce Katz experience you want to share? Add it in the "comments" section below.