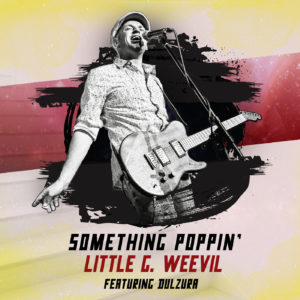 Starting his musical journey as a drummer, Little G. Weevil, né Gábor Szűcs, later picked up guitar and was influenced by the likes of B.B. King, Chuck Berry, and others. He honed his chops in his native Hungary, and eventually moved to the United States.
Since landing in America, Weevil has released three albums: Southern Experience in 2008, The Teaser in 2011, and Moving in 2013. He's won several awards including the 2014 Blues Blast Music Award "Acoustic Album of the Year" for Moving, and also in 2014, Blues Music Award as "Acoustic Artist of the Year." In addition, Weevil earned 1st place in the singing / duo category at the 2013 International Blues Challenge.
Weevil's latest album, Something Poppin', out on VizzTone in the U.S. on November 17th, is packed full of winning new songs including "Here I Come Knocking."
Much of this album is inspired by the early 70's afro American blues, soul, R&B, funk, African rock genres and the sounds of the black exploitation movies such as Superfly, which is the source or the album's only cover, Curtis Mayfield's "Pusher Man." Weevil mixes blues with hip hop beats and rap, and the result is fantastic.
Weevil tells us:
This is definitely the most creative work of my career and I'm enjoying every second of it. I love it because it carries the honesty of blues but gave it a more modern jacket. To me this is not blues rock. This is 21st century rhythm and blues.