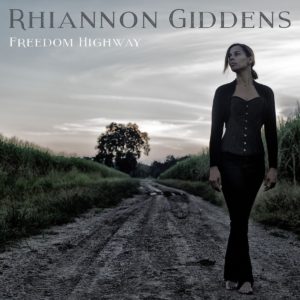 The John D. and Catherine T. MacArthur Foundation has announced that singer, songwriter, and multi-instrumentalist Rhiannon Giddens has been named a MacArthur Fellow. The MacArthur Fellowship, is often referred to as a "genius grant." In dollars and cents, it offers an unrestricted $625,000 grant, distributed over five years. The awardees are described by the Foundation as, "individuals who show exceptional creativity in their work and the prospect for still more in the future."
The 40-year-old Giddens, a native of Greensboro, North Carolina, was chosen by the Foundation for her reclaiming of African American contributions to folk and country music and bringing to light new connections between music from the past and the present. Her expertise in traditional music also includes bluegrass, Gospel, blues, jazz, soul, Americana, and Celtic. Giddens holds a Bachelor of Music degree from the Oberlin Conservatory of Music, and trained in opera before directing her course toward a more old-timey sound.
Giddens was a founding member of the GRAMMY® Award winning, Carolina Chocolate Drops, has recorded with several projects, and as a solo artist, has released two EPs, two live albums, and two studio albums. She is currently on tour in support of her latest release, Freedom Highway. She said of being awarded the Fellowship, "I am just thrilled! So many things I want to do – but the first thing is to thank whoever nominated and supported me for this grant – it means the world to me, and to the projects I have been longing to do."
An inductee in the North Carolina Music Hall of Fame, Giddens appeared in the powerful documentary film, Rumble: The Indians Who Rocked the World. She also has a recurring role in the CMT series Nashville, the new season of which begins in January. Her GRAMMY®–nominated duet with country superstar Eric Church on his powerful anti-racism song, "Kill a Word," reached the top ten on country radio, and is nominated as "Musical Event of the Year" at the 51st Country Music Association Awards.