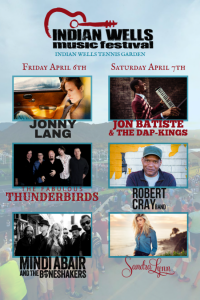 Indian Wells Music Festival, the popular music event that has taken place in the Coachella Valley for the past two decades, arrives again this weekend. Newly expanded into a two-day festival, it incorporates more musical styles than ever before.
Presented by Fisherman's Market & Grill, Indian Wells Music Festival brings Rock, Blues, Jazz and Country to the spectacular setting of the Indian Wells Tennis Garden.
"We're excited to once again be partnering with the Indian Wells Tennis Garden team for this signature desert event," said CV 104.3's Jim "Fitz" Fitzgerald, co-founder of Wendy Jayne Productions, Inc. "Our goal is to always up the experience for loyal patrons, and we believe we did that this year by expanding the event to two days and putting together an impressive line-up of talent. This year we kick-off 'Music Month' in the desert, and what a way to start it off!"
Two-time GRAMMY-nominated saxophonist, Mindi Abair and The Boneshakers will open the event on Friday, followed by The Fabulous Thunderbirds, and Jonny Lang. On Saturday, California native Sandra Lynn will open the performances, followed by the multi-GRAMMY award-winning Robert Cray Band, and Jon Batiste with The Dap-Kings.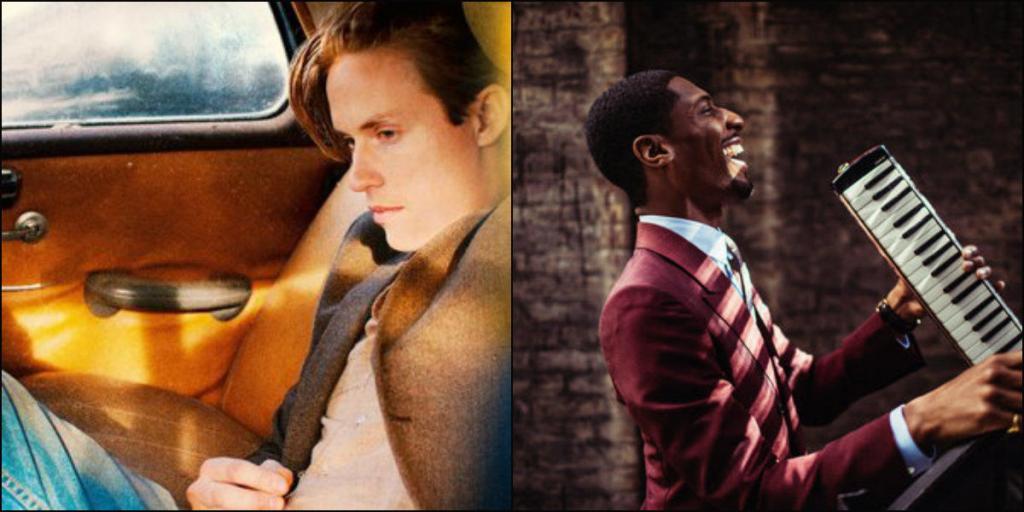 A third generation working musician, Mindi Abair has combined her rock and soul sax prowess with the Detroit rock/funk of the Boneshakers to kick off the Indian Wells Music Festival in style.
Quintessential American band the Fabulous Thunderbirds, spearheaded by Kim Wilson, has been thrilling audiences since they broke into the Austin, Texas music scene in the mid-1970s. "We started as a straight blues band," vocalist and harmonica player Wilson says. "We now incorporate a mixture of a lot of different styles. We're an American music band and we're much higher energy than we were before."
At 36 years old GRAMMY-winner Jonny Lang has already had a successful career for over two decades. On a reputation built as one of the best live performers and guitarists of his generation, Lang will rock the desert as the headlining act on Friday night.
And that is just night number one.
A California girl with a Nashville heart, Sandra Lynn is one of country music's sweetest rising voices. A singer/songwriter with a pair of hit singles under her belt, Lynn will open Saturday night's show ahead of her debut album release.
With five GRAMMYS and a suitcase full of Blues Music Awards, Blues Hall of Famer Robert Cray has created a sound that rises from American roots and arrives both fresh and familiar. The Robert Cray band has been featured in concert with artists like Clapton, the Stones, John Lee Hooker, BB King, and Bonnie Raitt. Now he'll be serenading the California desert skies at Indian Wells.
The Dap-Kings recently joined forces with Jon Batiste after years of performing with the late Sharon Jones. Born into a long lineage of Louisiana musicians, Batiste received both his undergraduate and master's degrees in piano from the Juilliard School. The New York City-based musician has released several self produced independent albums, and will be in command of the Dap-Kings to close the show on Saturday night.
The event will be held under the Indian Wells Tennis Garden shade structure, offering seating for 2,000 patrons. The Tennis Garden, home to the BNP Paribas Open, the largest men's and women's combined tournament in the world, underwent a full site beautification project ahead of the 2018 event to showcase the venue in "Full Bloom." The extensive project added palm trees, floral installations, pavers, plants and greenery throughout the Tennis Garden, reminiscent of a garden blooming to life in the springtime.
In addition to an impressive lineup of artists, the Indian Wells Music Festival will also feature an assortment of vendors offering food, wine, art and more. Reserved Table seating is available for each night, as well as two-day packages to ensure the same seats for both days of the event.
Indian Wells Tennis Garden is located at 78-200 Miles Ave, Indian Wells, California. For ticket information and purchase, click here.