Update from Don Wilcock: I love writing for American Blues Scene because this website is always current in a field that rarely is, but I get a little superstitious when an article of mine is prescient concerning a passing. My Rearview Mirror article ran a couple weeks ago, and today he's gone. I wrote a retrospective about John Prine when he was ill with the coronavirus and he died a couple weeks later. 
I learned a few weeks ago from a very reliable source that Bobby Rush was ill with an undisclosed virus. I resisted writing about it, and he's now back in fighting shape. My worst offense occurred decades ago when I ran an article in a local newspaper with the title "Who Will Be the Next Pop Star to Die." Mama Cass choked a piece of food the next week.
Little Richard turned my head as a child. My mother had told me I had to take piano lessons or art lessons and I picked art because the piano at that time represented old folks' music. Little Richard changed the definition of piano the way Hendrix did guitar. And not even Pat Boone covering "Tootie Frutti" could take his hit away from him. God rest his soul.
The wild, over-the-top Little Richard of "Tutti Frutti" fame almost never happened. "They didn't even know I played piano because I hadn't told nobody. They wanted me to sound like B.B. King and Muddy Waters, those people who are fantastic artists, the originals," Little Richard told me in 1994.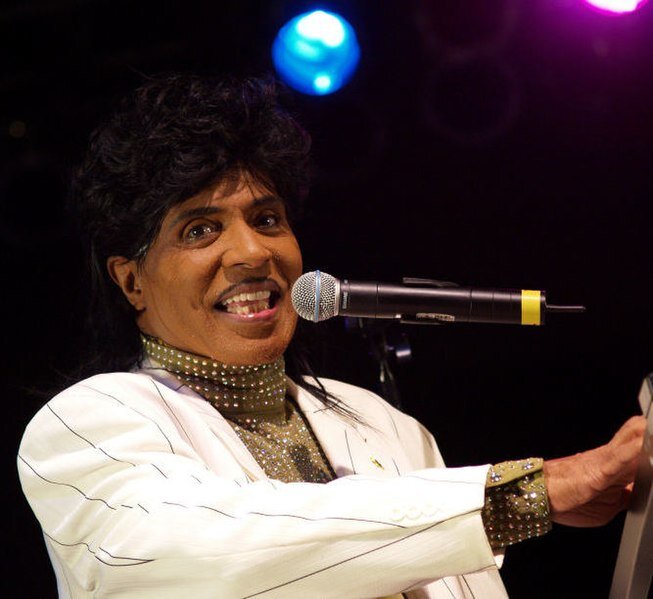 Originally, he had chosen to record generally slow blues for Specialty Records in 1955, but he wasn't happy with the recording sessions. During a break he and his producer Otis Blackwell went to the Dew Drop Inn. In front of a small audience Richard let his primal self loose on the piano. Blackwell couldn't believe what he was hearing at the club.
Specialty Records dropped their idea of making Little Richard the next Muddy Waters or B.B. King. "Those people are fantastic artists, the originals. But, being young, I was trying to record the pulse of my time. 'Tutti Frutti' had that pulse."
The label brought in a local lyricist Dorothy LaBostrie to clean up the lyric. "Tutti Fruiti, good booty" became "Tutti Fruiti, aw-rootie" and Little Richard was on his way to pushing the envelope and closing the gap between rhythm 'n' blues and rock and roll. If parents' eyes bulged at Elvis' gyrations, they simply shook their heads in disbelief at Little Richard's hedonistic hysterics. Post war Eisenhower America wasn't ready for this ghetto music to slip into the mainstream. But the genie was out of the bottle. And white parents wanted to lock up their daughters.
By the time I interviewed Little Richard in 1994 he had become known as a tough interview, complaining to journalists that he'd been robbed of his rightful place in music history. I was surprised when he gave me what I considered to be middle of the road comments about his place in rock history. As far as whether he felt he'd invented rock and roll, he blinked, calling Elvis one of the greatest entertainers he ever met, regardless of color.
"But Elvis is not the founder of rock and roll," he added with assurance. "Rock and roll is black rhythm 'n' blues music. When Elvis came around, you could hear the sheriffs and different people saying, 'We ain't gonna let that white boy come and sing this n****r music to us.' You've heard that before. So, how can Elvis be the founder of n****r music?"
Instead, he said, his place in the pantheon was as the architect of rock and roll. "I am the one who took rhythm 'n' blues and made it into rock, but I am not the founder of rhythm 'n' blues. Rhythm 'n' blues is the foundation of rock 'n' roll. I'm the innovator and the architect of rock and roll.  I didn't say nuthin' about no king and all that. The architect! You understand me?
"Jerry Lee Lewis is one of the greatest entertainers I ever met. He's one of the pillars, and he's one of my best friends. And he don't deny that. (I'm) not the founder of rhythm 'n' blues. Sonny Boy Williamson, Muddy Waters, Guitar Slim, Fats Domino was playing blues at the time. John Lee Hooker, those people."
In the two years between 1955 and 1957, Little Richard single-handedly closed the loop between rhythm 'n' blues and rock and roll with a string of top-10 hits with "Tutti Frutti," "Good Golly, Miss Molly," "Lucile," and "Keep A Knockin."
In 1988, he presented a Grammy to Jody Watley with the following words, "I have never received nothing, and I have been singing for years. I am the architect of rock and roll! I am the originator."
Four years later, the National Academy of Recording Arts and Sciences threw him a bone in the form of a Lifetime Achievement Award, and at that, they wouldn't let him speak at his acceptance. "They kept silencing me 'cause I'm outspoken. They gave me the award, but they didn't let me say thank you or nuthin. I thought it was very dirty, and I still don't like it."
Gradually, Little Richard gained some of the respect due him. He appeared in numerous films, including Down and Out in Beverly Hills. He recorded a bestselling song for Disney, "Itsy Bitsy Spider," and a successful children's record, Shake It All About.
He also overcame a long internal struggle between his profession and his religious beliefs as a Seventh Day Adventist preacher.
"I've learned, and now I understand that religion is my personal belief in God, and I learned rock and roll music is my living," he concluded in 1994. "This is my craft. This is my form of art I present to the world. This is how I make my living. So, it's two different things altogether."
The interview preceded a local appearance at the Starlite Theatre in Albany, New York. "I'm just glad to be alive, and God has given me longevity to be here, and I just want people in your area to know that this is seeing history alive. This is what you call once in a lifetime. And they can come out and witness the show of shows, full of energy and electrifying. It will make their big toes shoot up their boots."
*Feature image: Specialty Records Archives