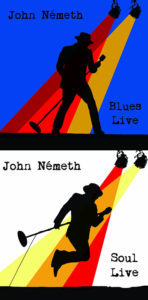 He's been called a "virtuoso vocalist." He is notorious for his relentless touring schedule. His blues is tinged with soul, and his brand of soul is infused with blues. His harp playing has been called "insanely good." He has been nominated for nine Blues Music Awards. He is renowned for his live performances, and now he is back. John Németh returns with Blues Live and Soul Live, a self-published, dual album release.
The music presented here is culled from three live performances, and benefits from a stellar group of supporting musicians. The band is: Kid Anderson and Bob Welsh – guitar, guitar and vocals – A.C. Myles, and Tommy Folen on bass. Rounding out the band are Nick Fishman on drums, and John Lee Sanders on keyboards.
As this is a dual album release, there is a lot of music here to enjoy! Basically, the live shows have been broken into two sets, Blues Live with 13 tracks, and Soul Live with 12 tracks. Blues Live has some really impressive cuts. "Blues In My Heart" is slow, with great harp and guitar work. The vocals here remind us of a young Buddy Guy. Another slow cut is "She Did Not Show," which also features good harp and guitar work. This sounds like an old club cut, with vocals that approach the Robert Cray sound. "Love Gone Crazy" is really funky, showcasing some fine harp playing from Németh. "You're An Angel" has a sweet 1950's vibe to it that suits the song perfectly. Robert Johnson's "Stop Breaking Down" is some fine soul infused blues, and this rendition is well done. While the sound quality is decent, the mix could have been much better. There is a slightly muted quality to the sound; a lack of depth and richness. Also a shame, is that the keyboards and bass are somewhat "buried" in the mix.
The second album in this dual release, Soul Live, contains some real gems, and a slightly better sound mix. "Love Me Tonight" reminded us of the magical, energetic stage performances of the Temptations. "Do You Really Want That Woman" is rich, delightfully good funk, with excellent backing vocals. "Fuel For Your Fire" is some beautiful Johnny Taylor style soul that is nicely played, and delivered with a lot of love. "My Future" is a breezy  feel-good jaunt, and "She's Looking Good" is some late 1960's style funky goodness! The band does an excellent job throughout, delivering superior playing with feeling.
For those familiar with John Németh's work, this dual album release is a good collection. For those who are new to John Németh's work, this dual album release represents a great start. Pick these up soon!