Editor's Note: Our embedded journalist Elayna Scott files this report as she travels the highways and byways with one of our favorite bands, Southern Avenue.
Another week of tours with Southern Avenue has come to a close, but not without its set of "Ohhhs" and "Ahhhs" and a lot of applause from fans, new and old. In every location, the band was greeted with fans, excitement, and smiles. To be able to be behind the scenes during a week of festivals and shows was a privilege beyond words. All last week the music was elevated through the work of a variety of distinguished musicians and top artists filling the lineup, from Luther Dickinson, The North Mississippi Allstars, and Samantha Fish, to Walter Trout, Lil' Ed & The Blues Imperials and many more.
All of the performances raised the energy to an unprecedented level with incredible showmanship, engaging the assembled crowds as blues players do best; with Soul. Years ago, Ori Naftaly took his dreams with him from Israel and walked forward into the blues world opening it up like the Red Sea, and when he walked in, it closed behind him, and he found a home. You can feel that in the music of Southern Avenue: soul, blues, passion.
As far as music goes Southern Avenue does not play just any blues, they take it in a different direction bringing to the table a force of authentic, deeply rooted blues and soul with a sense of hard-won survival. Tierinni attacks lyrics the way Ori attacks his guitar: with blistering bare bones intensity that makes each word sound like infectious energy. Southern Avenue is gaining an ever-growing following, along with a solid reputation.
The band, featuring Tierinni Jackson as lead vocal, with her sister Tikyra (TK) Jackson on drums, Jeremy Powell on keys and Ori Naftaly on guitar brings the stage to life. They electrify whenever they perform, leaving fans to say "Listening to them play is an experience like no other. If you love blues and soul, they are a must see. You will be delighted."
Last Tuesday and Wednesday, Southern Avenue enjoyed the privilege of performing with The North Mississippi Allstars in both Houston and Dallas, Texas. The North Mississippi Allstars invited Southern Avenue to support them on their "Prayer For Peace" tour. Based on their live shows, The North Mississippi Allstars are often considered a jam band, but as "Prayer For Peace," and their short songs demonstrate, the Dickinsons are a blues-roots outfit that through thoughtful arrangements and great playing and singing, make the old songs fresh and new. Luther [Dickinson] recorded on Southern Avenue's STAX Records debut album. They will be collaborating and doing more shows together in the future. Both bands sounded more fresh than ever. The combination of Southern Avenue and The North Mississippi Allstars was an inferno, delivering Memphis music as only Memphis blues can.
On Saturday, June 10th, Southern Avenue was excited to perform live in beautiful Greeley, Colorado at the "Greeley Blues Jam." Everyone I spoke with said that every show was "the best show" at the festival. "Did you catch Samantha Fish or Walter Trout?"  "Did you see Lil' Ed & The Blues Imperials? WOW! They killed it!!" Saturday was hot and humid but that did not deter people in the least and the festival grounds were filled with adoring fans of all ages. Lots of fans said the lineup was the strongest one yet.
Always an exciting act, award winning guitarist Walter Trout certainly lit up this year's lineup. Trout is a monster guitar player with a long history in the blues lime-light. His show was energetic, soulful and full of powerful guitar oriented music. I love him the most when he plays live slow blues. There is nothing that beats the feeling he gives when he plays. Hearing Chicago legend Lil' Ed & The Blues Imperials was amazing beyond words! Standing tall for almost 30 years, the band focused on the essential Big Band techniques and specific elements that are used when playing guitar. He rewinds time with his music and techniques, and when they overlap, the music is electrifying, emotionally intense and downright fun!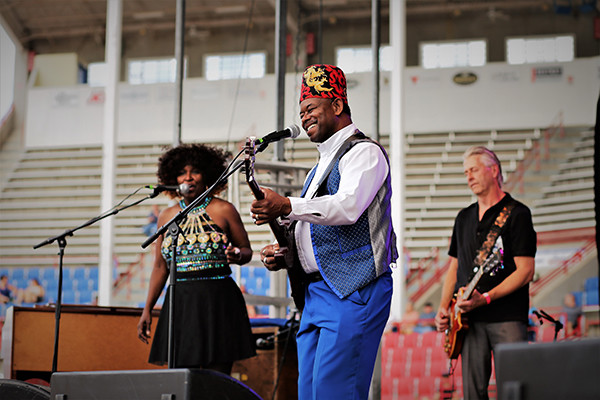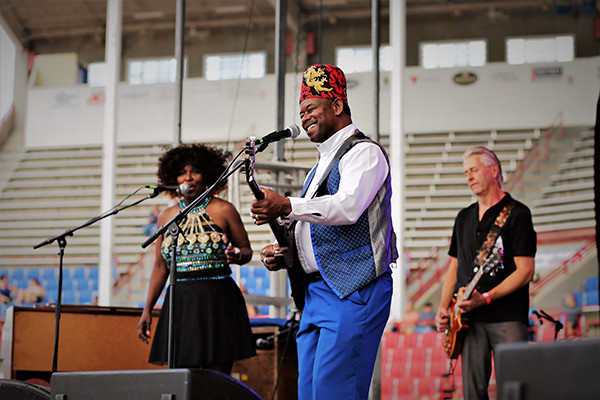 Let me just say; there is nothing more exhilarating for a music lover than taking in the center stage performance of Samantha Fish. She's a show stopper on her "Chills And Fever" tour. Her latest album, released in March of this year, is a hit among many blues platforms. She has an outstanding brass duo that supports her unique style, and they are a snarling boogie-blues machine; they blow down the walls.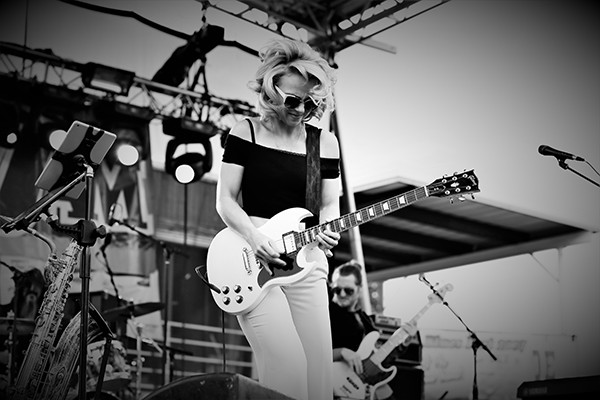 What is next for Southern Avenue? Well, they will be performing in Nashville on June 15th and making stops in Asheville, North Carolina on June 16th and Staunton, Virginia on Saturday, June 17th. Southern Avenue continues to bring fans their blistering Memphis blues, filled with infectious energy, joyful showmanship, and masterful playing honed to a razor's edge by their years together. Their music will stand the test of time. "We are not band members," says TK, "we're family, and families stay together." Night after night, gig after rigorous gig, the musical family called "Southern Avenue" brings their big, dynamic Memphis blues to fans across the country and around the world.