Rock and Roll is a term that goes back much further than Alan Freed's use of it in 1951. It's described the motion of a ship, a state of religious fervor, and an analogy for sex. As a musical genre, Rock n Roll arguably dates back almost a century. But who really invented the music known as rock and roll? Here are the contenders.
The Mississippi born truck driver recorded "That's All Right" on July 5th, 1954 at Sun Studios in Memphis. Fifty years later, Rolling Stone Magazine argued that it was the first rock and roll record. But 'That's All Right' was a cover song, originally recorded by Arthur "Big Boy" Crudup in 1946. And some of Crudup's lyrics came from an earlier song: Blind Lemon Jefferson's 1926 release, "That Black Snake Moan." "That's all right mama / That's all right for you / Mama, that's all right / Most any old way you do."
Ike Turner
Nineteen year old Ike Turner from Clarksdale, Mississippi, recorded "Rocket 88" in March, 1951. Credited to Jackie Brenston (Turner's saxophonist) and His Delta Cats, it's long been in contention as the first rock and roll record. This is mostly due to Raymond Hill's wailing tenor sax, and one of the first examples of "fuzz" guitar, thanks to Willie Kizart's damaged amplifier. Turner was later quoted as saying, "I don't think that "Rocket 88" is rock 'n' roll. I think that "Rocket 88" is R&B, but I think "Rocket 88″ is the cause of rock and roll existing."
Bill Haley
Michigan born Bill Haley holds the honor of having the first "charting" rock and roll
record. "Crazy, Man Crazy" hit the Billboard charts in June, 1953. Haley had even more success with his next two releases. "Shake, Rattle and Roll" was recorded the same week that Big Joe Turner's version topped the R&B charts. "Rock Around the Clock" brought rock and roll into American popular culture in 1955. Perhaps that's because it's very similar to Hank Williams' "Move it on Over" from 1947, which itself bears a close likeness to Charley Patton's "Going to Move to Alabama" from 1929.
Chuck gave his first musical performance at the age of 14 in his hometown of St. Louis, Missouri. He took his guitar riffs and showmanship style from T-Bone Walker, and sang like Nat King Cole set to the music of Muddy Waters. Recognized as a pioneer of rock and roll, Berry's big break came on May 21st, 1955 when he recorded an adaptation of Bob Wills' "Ida Red," which he called "Maybellene." Chess Records had another hit-maker on their hands, and he was performing a brand new genre of music.
Born Ellas McDaniel in McComb, Mississippi, "The Originator" knew rock and roll. Moving to Chicago at age six, Bo Diddley became proficient on trombone and violin. But the pulsating music of the local Pentecostal Church, and some inspiration from John Lee Hooker led him to the guitar. He had his first hit record with "Bo Diddley" on Chess Records in 1955, backed with "I'm a Man." He also created the "Bo Diddley beat," a hambone rhythm that is the cornerstone of pop, hip-hop, and rock and roll music.
Creole artist Fats Domino began playing in New Orleans bars at the age of 14. An accomplished pianist Fats mixed traditional R&B with electric guitars, bass, and saxophone to create his brand of rock and roll. In 1949, he recorded "The Fat Man," for the Imperial label. By 1951, it had sold a million copies, making it the first rock and roll song to do so. He had thirty five Billboard Top 40 hits in his career, including eleven in the Top 10. What puts Fats in contention is the fact that he released five million selling records before 1955.
Little Richard
Richard Penniman began cranking out hits in 1951, with "Every Hour." In 1955, "Tutti Frutti" hit #2 on the R&B charts, with "Long Tall Sally" taking the top position a year later. Richard's rock and roll shows were the first to use spotlights, and "flicker lights" to accentuate his flamboyant costumes and method of playing. He was a millionaire by 1956 and Ray Charles called him "the artist that started a new kind of music." That's high praise for a singer that was discovered at the age of 14 by Sister Rosetta Tharpe in Macon, Georgia.
Sister Rosetta Tharpe
Born in Cotton Plant, Arkansas, Sister Rosetta's combination of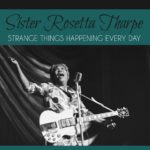 Gospel lyrics and distorted electric guitar led her to be called the "Godmother of Rock and Roll." She brought spiritual music into the mainstream with her 1939 hit "This Train." In 1944, she recorded "Strange Things Happening Every Day." A year later it became the first Gospel record to reach Billboard's Harlem Hit Parade Top 10, and is acknowledged by some as the first rock and roll record. Sister Rosetta was selected for induction in the Rock and Roll Hall of Fame as an Early Influence.
With the exception of Bill Haley, we see a pattern here. It seems that whether one thinks that Ike Turner was the first, or Sister Rosetta Tharpe, or even Charley Patton, Jim Jackson, or Trixie Smith, the vast majority of artists who influenced the creation of rock and roll came from the American South. A combination of blues, folk, and Gospel music given voice by the ingenious artists who sprung up in and around the Mississippi River Delta is who invented rock and roll.