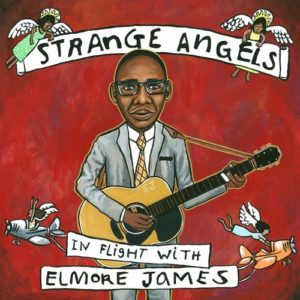 January 27th, 2018 marks what would be the 100th birthday of Elmore James. James is acknowledged as giving birth to blues rock, with some accounts claiming he beat Muddy Waters to the punch of electrifying the Delta blues sound. A century later, Sylvan Songs Records is releasing a tribute album to the "King of the Slide Guitar."
Strange Angels: In Flight With Elmore James is scheduled for release on January 26th, to coincide with the Elmore James Centennial celebration. Chronic heart problems led to James' death at the age of 45, but not before he blessed the world with dozens of songs that have influenced hundreds of players.
Produced by drummer Marco Giovino, the bulk of the material was played by Elmore's Latest Broomdusters, which also includes Rick Holmstrom (guitar), Doug Lancio (slide guitar), Rudy Copeland (Hammond B3), Viktor Krauss and Larry Taylor (bass).
The star-studded array of guest artists come from nearly every musical genre. Indie soul singer, Elayna Boynton breaks the ice on "Can't Stop Loving You." Her sultry vocals atop the Caribbean beat graced our earholes with the perfect opener. Soul songstress Bettye LaVette follows nicely, bringing some true blues to light with "Person to Person."
Rodney Crowell, known best as an Americana singer/songwriter, adds a country flavor to one of James' greatest hits, "Shake Your Money Maker." His voice isn't quite on par with Elmore's powerhouse vocals, but then, whose is? Perhaps Sir Tom Jones, who at age 77, still belts out "Done Somebody Wrong," with authority.
One of James' blues rock disciples, Warren Haynes, performs a six-minute version of "Mean Mistreatin' Mama," that is at times as pure as Ivory soap and at others as grimy as a garage floor. In a word, spectacular! The honor of singing Elmore James' signature song, "Dust My Broom," went to commanding British vocalist Deborah Bonham. She sings the way her brother (Led Zeppelin's John Bonham) played the drums, with sheer force.
Another of James' staples, "It Hurts Me Too," has outlaw country artist Jamey Johnson as guest. His countrified version of this blues standard was a little bizarre to our ears at first. However, after a couple more listens to this nine-minute epic, his growling voice combined with some stellar B-3 and piano solos is just the ticket.
Nashville royalty seemed to come out in force to support this celebratory release. Sisters Shelby Lynne and Allison Moorer provide a sweet 40's sounding duet of the title track. There is also a gathering of more eclectic artists including rock/soul/R&B vocalist Mollie Marriott on "My Bleeding Heart," Addi McDaniel providing a torch burning version of "Dark and Dreary," and the ever eclectic Chuck E. Weiss giving us a "phoned-in" cover of "Hawaiian Boogie."
Elmore's Latest Broomdusters close out the 13 track offering with the delicious instrumental, "Bobby's Rock."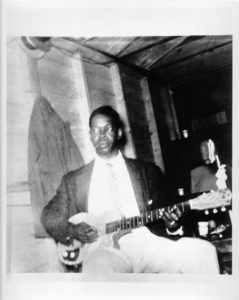 As always, we do have our favorite. On this collection that distinction goes to Keb' Mo's nearly zydeco version of "Look On Yonder Wall." With all the spirit of Mardi Gras, Mo' just nails it.
Most tribute albums released these days are dedicated to artists who are still living or have recently passed. Strange Angels: In Flight With Elmore James, does an incredible job of paying homage to songs that are at least 50 years old. If you're a fan of Elmore James, or just coming to learn about the great slide player, you'll put Strange Angels: In Flight With Elmore James on repeat just like we did.
Artist: Various
Title: Strange Angels: In Flight With Elmore James
Label: Sylvan Songs
Release Date: January 26th, 2018
Running Time: 50:05
Tell us what you think. What is your favorite Elmore James song? Let us know in the comments below.