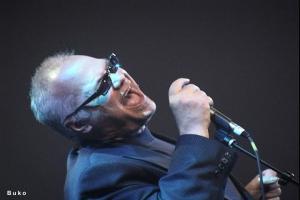 Award-winning soul and blues singer Curtis Salgado will undergo triple bypass surgery at a Lebanon, New Hampshire area hospital on Friday, March 10, 2017. Salgado was admitted to the hospital on March 7 after what doctors described as a mild heart attack. A cardio catheterization revealed arterial blockage. According to Salgado's manager, Shane Tappendorf, "We expect the surgery to be successful and anticipate a full recovery."
All of Salgado's regular performance dates have been cancelled through May, though he still intends to perform at the 2017 Blues Music Awards ceremony in Memphis on May 11, where he is nominated for three top awards, including Album Of The Year (for his recent release The Beautiful Lowdown), Soul Blues Artist Of The Year, and Song Of The Year (for Walk A Mile In My Blues). He won the 2010, 2012 and 2013 Blues Music Awards for Soul Blues Artist Of The Year. In 2013 he also won the coveted BMA for B.B. King Entertainer Of The Year—the highest honor the blues world has to offer—and took the statue for Soul Blues Album Of The Year for his Alligator Records debut, Soul Shot.
Born February 4, 1954, in Everett, Washington, Salgado grew up in Eugene, Oregon. His home was always filled with music. His parents' record collection included everything from Count Basie to Fats Waller, and his older brother and sister turned him on to the soul and blues of Wilson Pickett and Muddy Waters. He attended a Count Basie performance when he was 13 and decided then and there that music was his calling. Curtis began devouring the blues of Little Walter and Paul Butterfield, fell in love with the harmonica and taught himself to play.
By his early 20s, Salgado was already making a name for himself in Eugene's music scene. He developed into a player and singer of remarkable depth, with vocal and musical influences including Otis Redding, O.V. Wright, Johnnie Taylor, Muddy Waters, Little Walter, Sonny Boy Williamson I and II, Lightnin' Hopkins, Howlin' Wolf, Otis Spann and Magic Sam. Once Salgado joined forces with Robert Cray and they began playing together as The Robert Cray Band, he found himself sharing stages with many of his heroes, including Muddy Waters, Bobby "Blue" Bland, Albert Collins and Bonnie Raitt
In 1977, comedian/actor John Belushi was in Eugene filming Animal House. During downtime from production, Belushi caught a typically ferocious Salgado performance and introduced himself during a break. Once Salgado started sharing some of his blues knowledge, a fast friendship grew. Salgado spent hours playing old records for Belushi, teaching him about blues and R&B. Belushi used his new awareness to portray "Joliet" Jake Blues in The Blues Brothers, first as a skit on Saturday Night Live and then as a best-selling record album (which was dedicated to Curtis) and finally as a major motion picture (Cab Calloway's character was named Curtis as an homage).
After Salgado and Cray parted ways in 1982, Curtis went on to front Roomful Of Blues, singing and touring with them from 1984 through 1986. Back home in Oregon, he formed a new band, Curtis Salgado & The Stilettos, releasing his first solo album in 1991. His friend and fan Steve Miller invited Curtis and his band to open for him on a summer shed tour in 1992. Two years later, Salgado spent the summer on the road singing with Santana. Salgado signed with Shanachie Records in 1999, putting out four critically acclaimed albums. He successfully battled back from liver cancer in 2006 and lung cancer in 2008 and 2012, reemerging stronger and more determined to share his music with the world.
Salgado joined Alligator Records in 2012, releasing Soul Shot that year and The Beautiful Lowdown in 2016. The strength of his records and live performances has led Salgado to tour far and wide, appearing at major festivals including Portland's Waterfront Blues Festival, The San Francisco Blues Festival, The Chicago Blues Festival, Memphis' Beale Street Music Festival, The Tampa Bay Blues Festival, Denver's Mile High Blues Festival, Toronto's Waterfront Blues Festival, Thailand's Phuket International Blues Festival, Poland's Blues Alive Festival, and recently in the Philippines, Guam, Brazil, Saipan and Panama.