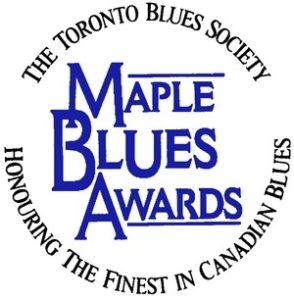 Toronto, ON — The 21st Annual Maple Blues Awards nominees have been announced, and 2017 has proven to be a banner year for Canadian blues artists from coast-to-coast. The nominees, selected by a panel consisting of industry professionals from across Canada, are recognized both for their talent as well as their contribution to the growing Canadian blues music scene
Female blues artists are well represented this year in the instrumental categories with nominations for Montreal's Cecile Doo-Kingue for Guitarist of the Year, as well as Female Vocalist of the Year, and Songwriter of the Year. Austin, Texas-based Toronto expat Lindsay Beaver has been nominated for Drummer of the Year, Halifax-based Shirley Jackson received a nomination for Horn Player of the Year while Ottawa's Laura Greenberg is nominated for Bassist of the Year.
In keeping with the mandate of promoting and preserving blues music, as well as introducing blues music to younger fans, there are several first-time nominees including Edmonton's Boogie Patrol for Electric Act of the Year and the five New Artist or Group of the Year nominees that include Toronto's Bad Luck Woman & Her Misfortunes, St. John's Earle & Coffin, Victoria's Jason Buie, Montreal's Justin Saladino Band and the Ottawa-based Lucas Haneman Express.
Online voting is open from November 1st, 2017 at 12:01 am Newfoundland Daylight Time. Canadian blues fans can vote online in the eligible categories until December 1st, 2017 at 11:59 pm Pacific Standard Time. Register HERE.
The 21st annual Maple Blues Awards are hosted by by the Toronto Blues Society and co-produced with Koerner Hall. The awards ceremony takes place on Monday, January 15th 2018 at the Royal Conservatory's Koerner Hall in Toronto.
Tickets are on sale now for $45 – $80. They are available for purchase at The Weston Family Box Office, located in The Royal Conservatory building at 273 Bloor Street West, Toronto. TBS Members and nominees can purchase best available seats for $35.
Tickets can also be purchased by phone at RCM box office (416) 408-0208, or online HERE.
Your 21st Annual Maple Blues Awards Nominees are:
Entertainer of the Year
Dawn Tyler Watson
Paul DesLauriers Band
The Harpoonist & The Axe Murderer
Steve Hill
Angel Forrest
Electric Act of the Year
Colin James
Steve Hill
Boogie Patrol
Paul DesLauriers Band
Dawn Tyler Watson
Acoustic Act of the Year
Harrison Kennedy
Michael Jerome Browne
Big Dave McLean
Rob Lutes
Tim Williams
Male Vocalist of the Year
Harrison Kennedy
Duane Blackburn
Matt Andersen
Donald Ray Johnson
Jon Knight (Soulstack)
Female Vocalist of the Year
Dawn Tyler Watson
Angel Forrest
Shakura S'Aida
Samantha Martin
Cécile Doo-Kingué
New Artist of the Year
Bad Luck Woman & Her Misfortunes
Earle & Coffin
Jason Buie
Justin Saladino Band
Lucas Haneman Express
Recording/Producer of the Year
Colin James – Blue Highways (True North); Producers: Colin James & Dave Meszaros
Harrison Kennedy – Who U Tellin' (Electro-Fi); Producers: Harrison Kennedy & Alec Fraser
Chris Antonik – Monarch (Self); Producers: Chris Antonik & Ted Onyszczak
The Harpoonist & The Axe Murderer – Apocalipstick (Self); Producers: Matthew Rogers, Shawn Hall & John Raham
JW-Jones – High Temperature (Solid Blues); Producer: Colin Linden
B.B. King International Artist of the Year
Rick Estrin & The Nightcats
Gregg Allman
Mavis Staples
Eric Bibb
Joe Bonamassa
Songwriter of the Year
Cécile Doo-Kingué
Chris Antonik
Diteodoro, Marriner, Sobb (MonkeyJunk)
Harrison Kennedy
Rob Lutes
Blues with a Feeling Award (Lifetime Achievement Award)
Alec Fraser
Brent Parkin
Danny Brooks
Diana Braithwaite
Ellen McIlwaine
Joe Murphy
Ken Whiteley
Michael Fonfara
Michael Jerome Browne
Tom Lavin
Guitarist of the Year
Cécile Doo-Kingué
Colin James
Michael Jerome Browne
Paul DesLauriers
Steve Hill
Harmonica Player of the Year
Guy Bélanger
Harpdog Brown
Jerome Godboo
Shawn Hall (The Harpoonist & The Axe Murderer)
Steve Marriner (MonkeyJunk)
Piano/Keyboard of the Year
David Vest
Duane Blackburn
Julian Fauth
Kenny "Blues Boss" Wayne
Michael Kaeshammer
Horn Player of the Year
Chris Whiteley (Diana Brathwaite & Chris Whiteley)
Frankie Thiffault (Ben Racine Band)
Jon Wong
Mat "Moose" Mousseau (Ben Racine Band)
Shirley Jackson (Good Rockin' Daddys)
Drummer of the Year
Lindsay Beaver
Matt Sobb (MonkeyJunk)
Nicky Estor (Ben Racine Band, Dawn Tyler Watson)
Sam Harrisson (Paul DesLauriers Band)
Tom Bona
Bassist of the Year
Alec Fraser
Gary Kendall (Downchild & Mighty Duck Blues Band)
Greg Morency (Paul DesLauriers Band)
John Dymond
Laura Greenberg (JW-Jones)