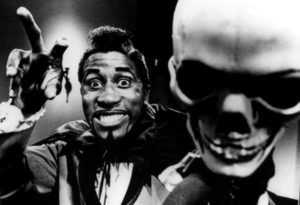 It is that time of year once more. The days are shortening, the air is crisp, and leaves are falling. Soon, children in their hobgoblin finery will be knocking on doors extorting treats to save the homeowner from potential tricks. It's Halloween.
The origins of today's costume and candy fueled holiday stretch far back in the mists of time. But this isn't a history lesson. Whether or not one celebrates Halloween, most will agree that there always seems to be a tinge of evil in the night air.
Blues music has always incorporated these images. Possibly because the local pastors proclaimed it the "devil's music." Maybe because stories of ghosts and such permeate ancient folklore. Perhaps graveyards, black cats, and tribal religious ceremonies can be just plain eerie. For whatever reason, and whether or not we believe in such things, we are offering up ten examples, in no particular order, of the blues that fit the season like a second skin. Enjoy.
Skip James – "Devil Got My Woman" – Bentonia, Mississippi bluesman, Skip James, made his first recordings for the Paramount label in 1931. Among them, was this classic. The combination of open D-minor guitar, and James' haunting falsetto made for a spine-chilling track.
Muddy Waters – "Got My Mojo Working" – McKinley Morganfield, better known as Muddy Waters, made his way from the Stoval Plantation to the Windy City. In 1956, his cover of this Red Foster song about a failed hoodoo charm, became arguably his most popular recording.
Tampa Red – "Witchin' Hour Blues" – Hudson "Tampa Red" Whittaker, came to Chicago from Smithville, Georgia by way of Tampa, Florida. One of the first black musicians to play a National resonator guitar, he recorded this song in the mid-1930s. It's a tale of his deceased wife coming back to haunt him on a regular basis.
Dr. John – "I Walk on Guilded Splinters" – Written, and recorded by New Orleans native Mac Rebennack in 1967, this is another nod to voodoo, astrology, and metaphysics. It was released as Dr. John the Night Tripper on the album Gris-Gris, in 1968.
Johnny Winter – "Black Cat Bone" – While Europeans consider black cats to be unlucky, African hoodoo practitioners believe that each one has one magic bone. Powerful enough to bring fame, followed by an untimely death, they are a powerful charm. Various versions were recorded by artists such as Lightnin' Hopkins, and Albert Collins. Our Halloween favorite came from Texas slide master, and growling bluesman, Johnny Winter.
St. Louis Bessie (Mae Smith) – "Ghost Creepin' Blues" – St. Louis Bessie had a number of mysterious songs in the late 1920s and early 1930s. "Creepin' Eel Blues," "My Daddy's Coffin Blues," and "Death Valley Moan" were among them. This late 20s song, possibly with Roosevelt Sykes on piano, is a quintessential Halloween treat.
John Lee Hooker – "Graveyard Blues" – In 1959, Hooker recorded the album, Burning Hell. It was, inexplicably, not released in the US until 1992. A mixture of original songs, and brilliant covers, it contained this unearthly masterpiece.
Howlin' Wolf – "Evil" – Written by Willie Dixon, "Evil" was recorded by Howlin' Wolf in 1954, and again in 1969, when it became the last charting single of his career. His signature growling voice breaks into falsetto, creating a truly sinister effect.
Screamin' Jay Hawkins – "I Put a Spell on You" – Written by Hawkins, and originally recorded as a blues ballad in 1955, it was his re-recording of the song for the Okeh label in 1956 that made the screaming, former opera singer a Halloween cult hero. Covered hundreds of times by artists such as Nina Simone, Annie Lennox, CCR, and the weird Sanderson Sisters for the movie Hocus Pocus, Hawkins' original is the benchmark.
Robert Johnson – "Hell Hound on My Trail" – No Halloween influenced blues list would be complete without at least one song from Robert Johnson. Legendarily making a Faustian deal at a mythological crossroads, Johnson recorded this song during his second Texas sessions, a year before his mysterious, and untimely death.
*Special Mention* – Elise LeGrow – "Who Do You Love" – Previously released as a swaggering, six-piece vamp, this brand new version has LeGrow breaking the Bo Diddley classic down to a new set of bare bones. Watch her rasping howl bring "a tombstone hand and a graveyard mind" to life. Her debut album, Playing Chess, is scheduled for release in February.
We know there a great many more blues classics that fit in this category. Please feel free to add your favorites in the comments below. Also, check out our previously published list articles here.